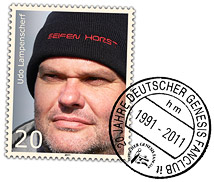 How to find Welkers ...
by Udo Lampenscherf

I have been asked to write a bit about my time in the German Genesis Fanclub it. For their 20th anniversary probably. What? 20 years – if you had asked me about it I would have guessed I had been in it for thirty years... you are so easily mistaken if something accompanies you like a neighbour or a friend or so... I was not among the very first to join, but I have been in it for so long that I still remember the irregular arrival of the fanzine, the club fee and other things from the early days. That was at a time when Christian probably did not even know who or what Genesis might be (he probably knew it from Sunday school, the old altar server ...) and when some of the current users of the Fanclub website had not even been born yet.

Back then we waited, nay, longed for the fanzine (some funny people even locked themselves in the garden shack with it for days ...) to find out news about Genesis and the solo artists. I think we already had computers, but having a dedicated it website was out of the question. In the magazine whole pages were used to dissect Genesis songs or whole albums (is it F sharp major or A minor? – as relevant for me as an Antarctic telenovela). Peter opened his shop, and there was a bootleg page where new releases were reviewed (Tom would have chained himself to the printers' shop). Torrents were not invented, recordable CDs were prohibitively expensive, and if you were not content with swapping squeaking BASF cassette tapes you had to buy bootlegs. The club was managed by Peter, Bernd and Helmut.

There were club meetings at irregular intervals (I am most embarrassed to admit I missed the Selling England event) where the highlight, apart from the market place (people occasionally rushed into the venue as if there was a summer sale – terrific!), used to be the quiz with Darmstadt-Olli. Olli grew crazier and the quiz more tricky every year. It was stunning to see that someone (probably Helmut) could come up with such questions – and that there were people who could actually answer them (who held the drumsticks for Phil Collins during his first date with Andrea). But people enjoyed it. There was a special breed of security guys, but the most important thing was: each knew the other.

The club helped me to distribute my extensive Genesis collection amongst the fans. I will probably see some of my precious items in March in the display cases in Welkers. I wanted people to have them that had an emotional link to them. And the club and Peter with his network were instrumental in it.

And then there was Christian, and with Christian and time came the Fanclub website on the internet, thousands and thousands of users, countless topics about Genesis and related things, everything was carefully addressed and examined – and people do not know each other anymore, or only few of them, as the uphill struggle of local club meetings reveals.

Many members from the early days have lost interest over the years, not least because of the new medium where sometimes some people would make rather inappropriate remarks. Another reason are certainly the countless activities of our favourite musicians (compare, if you will, the Dark Side... box by Pink Floyd, the upcoming Aqualung box by the Tull or the Quadrophenis Box by the Who with the extremely lovingly made Genesis boxes..)

What remains incredibly enjoyable club meeting in and out of Welkers. Each of those was special, but the one that topped it all was the Musical Box event in Duisburg.

And people I have come to know and appreciate.

In this spirit – keep on.

I am looking forward to March.