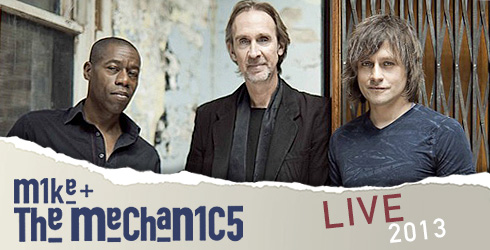 Mike + The Mechanics - Live 2013

All shows 2013
Mike + The Mechanics are back on the road this summer. Some dates are scheduled for May-July in Europe, while further activity has been confirmed for 2014 - for the Living Years 25 jubilee. Mike explained his plans to us in an interview this year (the interview can be found here). Information about the Living Years 25 tour can be found on the Living Years 25 tour dates page. Find here all dates and ticket info for the 2013 shows here.

last update: 05/06/2013
Please note: The spring / summer shows 2013 are "normal shows" and DO NOT relate to the Living Years Anniversary! The Living Years 25 Shows are scheduled in early 2014 (click here)!

2013

City / Venue

Country
Tickets

19/04/13


Rust

- Radio Regenbogen Awards *

Germany


04/05/13


Bayreuth

- Weißbierfest (Maisel's Brauerei)

Germany
free

16/05/13


Merkers

- Erlebnisbergwerk

Germany
17/05/13


Siegen

- Kultur Pur 23 Festival

Germany


23/05/13


Halle (Saale)

- Händels Open

Germany


14/06/13

La Sagne - Festival des Gouttes


Switzerland



15/06/13


Rome

- ** show not confirmed yet **

Italy


28/06/13


Rapperswil

- Blues'n'Jazz Festival

Switzerland


06/07/13


Arras

- Main Square Festival

France


11/07/13


Heilbronn

- Gaffenberg Festival

Germany
18/07/13


Epsom Downs

- Racecourse Festival

UK
25/07/13


Lauchheim

- Festival Schloss Kapfenburg

Germany
27/07/13


Perth

- Scone Palace: Rewind Festival

UK
31/07/13


Bukarest

- Romexpo (Support for STING)
Romania
10/08/13


Schaffhausen

- Herrenacker (Stars In Town)
Switzerland
17/08/13


Sun City

- Harley On Safari

South Africa



18/08/13


Johannesburg

- Carnival City (Harley Event)
South Africa


20/08/13


Cape Town

- GrandWest Grand Casino
South Africa


Living Years 25 Tour 2014

All dates are available
here
Band line-up
Mike Rutherford (guitars, bass)
Tim Howar (vocals)
Andrew Roachford (keyboards, vocals)
Gary Wallis (drums) or Ben Stone
Anthony Drennan (Guitars, Bass)
Luke Juby (Keyboards)