Phil Collins - No Ticket Required (VHS)

Prologue
With No Jacket Required, Phil Collins presented his most successful album to date. In 1985, the little gentleman was overpresented worldwide. The time was right for his first big solo world tour. In 1982 he had already toured once as "Phil Collins and the fabulous jazzucies" on a comparatively small scale, but very successfully, supporting his first two albums. With pretty much the same line-up (bassist Mo Foster was replaced by cult beard Leeland Sklar), the band toured the world for 90 concerts from February to July 1985. The end of the tour was marked by the legendary performances at both LiveAid concerts in one day in London and New York.
With No Ticket Required, an edited concert was released on VHS in 1985, shortened by a whole seven songs. It was based on a recording from 29 May 1985 in the Reunion Arena, Dallas Texas, USA.

The Band "The Hot Tub Club"

"Now I would like to introduce these fabulous musicians, playing up on stage for you tonight...unfortunatly they couldn't be here, so I'd like to introduce these gentleman to you..."

Phil Collins (Vocals, Drums, Yamaha CP, Yamaha DX7)
Chester Thomson (Drums, Percussion)
Leeland Sklar (Bass, Backing Vocals, Additional Keys)
Daryl Stuermer (Guitars)
Peter Robinson (Keyboards)
The Phenix Horns
Don Myrick (Saxophone, Backing Vocals)
Louies Satterfield (Trombone, Backing Vocals)
Rhamlee Michael Davies (Trumpet, Backing Vocals)
Michael Harris (Trumpet, Backing Vocals)

Setlist Dallas 1985-05-29
(bold marked songs are on the VHS video)

I Don't Care Anymore
Only You Know And I Know
I Cannot Believe It's True
This Must Be Love
Against All Odds
Inside Out
Who Said I Would?
If Leaving Me Is Easy
Sussudio
Behind The Lines
Don't Lose My Number
The West Side
One More Night
In The Air Tonight / Band Introductions
Like China
You Can't Hurry Love
It Don't Matter To Me
Hand In Hand
Take Me Home
People Get Ready
It's Alright
Droned (End Credit Music)
Director: Jim Jukich
Producer: Paul Flattery
Executive Producers: Bob Hart, Tony Smith
Director of photography: Daniel Pearl
No Ticket Required VHS
Originally filmed for the US television station HBO and broadcast as No Jacket Required...Sold Out, a compilation of this concert was released on VHS in 1985.

From a production point of view it is, of course, not comparable to more recent releases like the First Final Farewell Tour DVD, this video is an impressive, if incomplete, document of the '85 tour. Collins is in great spirits and voice, and many of the songs were unfortunately never played again with this power on later tours. As there were no background singers on that tour, the Phenix Horns took over, as well as some percussion work, which comes across very charming and sometimes very funny (Hand In Hand, You Can't Hurry Love, It's Alright), bassist Lee Sklar sings on Against All Odds and can also be seen on the keyboard on In The Air Tonight. Also worth mentioning is keyboardist Peter Robinson, who played with Collins in Brand X from 1979 to 1980, has more of a jazz-rock-fusion background and plays correspondingly differently from permanent keyboardist Brad Cole from the Serious Tour onwards, who gave many songs more of a West Coast pop feel.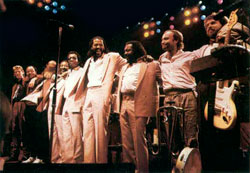 Highlights of the film are Against all Odds, which at that time was still played in its original key (at that time still played by Collins himself on the Yamaha CP), the definitely most breath-taking versions of In The Air Tonight, Behind The Lines, The West Side, the hilarious Bandinstructions, in which Collins shows off his talents as an emcee, and a grandiose Take Me Home.
The Collinsmania in the arena is also impressive, with people jumping from their seats, cheering and celebrating a veritable Collinsfest.
Regrettably, older important songs like I Don't Care Anymore, I Cannot Believe It's True and If Leaving Me Is Easy are missing as well as incomprehensibly then current songs like Inside Out and Don't Lose My Number. Audio documents from this tour show that these songs were also performed incredibly well back then. All in all, a good mix of songs from the workaholic's first three albums, not just a greatest hits concert, where there was also room for instrumentals like The West Side and Hand in Hand.
ALL LIVE DVD
A DVD called All Live appears from time to time in specialist shops, which contains exactly this concert, but in the end can only be a VHS transfer. The soundtrack of this DVD is extremely treble-heavy, while low frequencies are almost imperceptible.

An official reissue on DVD or Blu-ray of No Ticket Required is currently written in the stars, just like that of Live at Perkins Palace (the other 80s Collins live gem). That's a shame, for one thing because they would do the Phil Collins catalogue good, showing an artist who wasn't yet the pop millionaire many can't stand, but a serious musician, comedian, entertainer with tastes in Motown and RnB, who was damn proud to have the horns of Earth, Wind & Fire in his band and who wrote some damn good songs.

We can only hope that in the event of a re-release, the songs missing from the VHS will be included (which is highly unlikely, considering the DVD and Blu-ray versions of Genesis' Three Sides Live and Mama Tour), but at least If Leaving Me Is Easy has been filmed and is available (see Face Value documentary DVD) and should be included as bonus material.

Author: Bert Wenndorff