Ray Wilson - Four Shows in Poland (2008-2010)
Everything started on 31st January 1998 in Katowice, where Genesis played their first concert in Poland. It was a unique event promoting the latest Genesis' album, Calling All Stations. At that time nobody knew that a lovely Scotsman, Ray Wilson, would ever visit Poland again. However he played an acoustic show in 2003 in Warsaw. Ray was enchanted with a great fan's enthusiasm for a second time and that was the reason why he started coming to Poland more often. On 16th May 2010 he played his 50th concert here.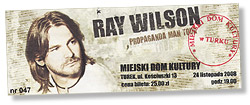 The first concert I had opportunity to see was in Turek, a small town in the central part of the country. It was promoting new Ray's solo album – Propaganda Man, which wasn't available in shops at that time (November 2008). That was the first time I've heard Propaganda Man, Cosmic Baby with a beautiful intro by Ali Ferguson, Frequency or Space Oddity – David Bowie's cover.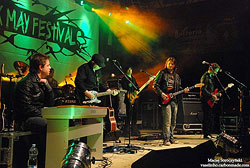 Ray played some older songs as well like Sarah from Millionairhead album, Change from 2003 and tracks from She, a summer time love song called Lemon Yellow Sun, a tune which was written about Ray's wife – Constantly Reminded, the powerful Fly High and the gloomy She. Ray couldn't do without some Genesis covers as well, but the best was yet to come – I mean the encores. It was a pure pleasure to sing No Woman No Cry or Knockin' On Heaven's Door with Ray . Unfortunately, our sheer delight ended very quickly, those two hours seemed like 15 minutes. As Ray's habit is to come to the audience after each concert, there was a time to talk with him or to get the autograph. Then I realized that I wanted more…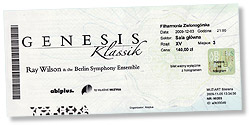 For my next concert I had to wait quite a long time, till 3rd December 2009. Before this happened, I became more and more interested in Ray's music and I was looking through his website when I saw a message that Wilson had launched a new project called Genesis Klassik. Mainly it's a classic remake of many Genesis' hits like Land Of Confusion, No Son Of Mine, Follow You Follow Me, Not About Us etc. The band consisted of the whole Stiltskin members plus one new person, Filip Walcerz (a talented pianist from Poznan), Ray's brother Steve and the Berlin Symphony Ensemble. There were some promo materials attached on website which astonished me and when I saw tour dates I knew I soon will be able to see Ray live again. Listening to the new project made it even more tempting. Even before going to Zielona Gora's concert I bought myself a ticket for Lodz's gig – since it was my home town I couldn't miss that show.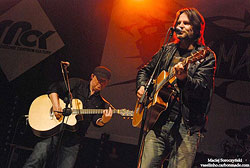 What's interesting, the show in Zielona Gora was the second Genesis Klassik gig in Poland. First took place a day before, on 2nd December 2009 in Wroclaw. It was something new for me to see Ray & the others in a philharmonic but as long as we are in a show with a classic section it sounds alright. They started with No Son of Mine, the song which was quite important in Ray's career – it decided about his participation in Genesis as a lead singer. Even though this song was too high for him, Tony Banks and Mike Rutherford were taken aback. Apart from festival gigs, this was also the song which started all shows during the Calling All Stations Tour in 1997-98. This tune with Ray on vocals is different from Phil Collins' version but it is still a masterpiece, especially if we are on Genesis Klassik show – violins fits here well and put this song in different dimension than the original. Unfortunately the classicsection wasn't good all over the show, in some songs it was hardly audiable, like on That's All or Carpet Crawlers.
A good idea was introduced during this kind of shows – songs from Genesis members' solo careers. It varied the material played during the show, which made it even more interesting. Worth mentioning are Peter Gabriel's Solsbury Hill and Phil Collins' Another Day In Paradise. These tunes fit the show perfectly, and, what's more, they were played fantastically – it hard not to love them. Collins' Another Day In Paradise was paired with a great song by Mike and the Mechanics – Another Cup Of Coffee. This two songs impressed me the most among the whole show. Ray also played tracks from his favorite Genesis album – A Trick Of The Tail and some from his own career, Change and Lemon Yellow Sun. There were also songs from Calling All Stations – Not About Us with a stunning Filip Walcerz's piano intro and Shipwrecked. The encores during the Genesis Klassik show were quite funny, because it contained of three songs – I Can't Dance, Constantly Reminded and Inside. Do they have actually something in common with Genesis? Apart from the first one which is from Genesis' We Can't Dance album I don't think so. After the concert there was a time to talk with Ray or get his autograph, something usual for him.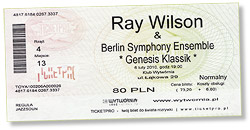 Here we are in 2010, 6th February, another Genesis Klassik – this time in Lodz. I had the opportunity to be on a rehearsal of this concert, which gave me a slightly different view to the concert. I saw the whole band preparing, tuning their instruments and then doing the sound check. The last thing was quite unique, because there was a new technician – Alex. After some difficulties they finally were ready. I was deeply interested whether the setlist would differ from the one in Zielona Gora. The three starting tracks (No Son Of Mine, Land of Confusion, That's All) remained the same. I could see the difference in musical aspects, I felt that the material is being played better and better – perfection is possible due to time spent on the rehearsals. Of course there were my favorite tracks – Another Day In Paradise and Another Cup Of Coffee.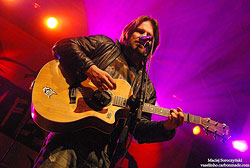 However, after the pause (the concert was divided into two parts) Ray Wilson and Berlin Symphony Ensemble surprised me with Propaganda Man, the title track from the latest Ray's album, but that's not all – it was an extended version with Filip Walcerz's piano solo and Ali Ferguson's guitar solo. I was shocked, this song performed in more progressive way made it an excellent piece of music. Another nice surprise was a Peter Gabriel's Biko, played as second track of the second part. During the break, fans added some "corrections" on Ray's setlist (Calling All Stations, Supper's Ready, The Knife, In The Air Tonight etc.). As he is a cheerful person, before playing Lover's Leap he announced it as a "special request". Those who have seen the "corrected" set list knew what was Ray talking about. After that Ray was left on stage with Tobias Unterberg on cello in order to play Shipwrecked. With out a doubt it is a wonderful song. Apart from that, this particular concert was a first meeting of Polish Ray Wilson's fans from rayzone.pl forum. I came up with the idea to come to the stage as near as possible in break before the encores in order to support the artists entertaining us that night. It was really successful; almost everyone was standing and enjoying themselves with I Can't Dance, Constantly Reminded and Inside. Some people (me as well) were singing with Ray during the encores.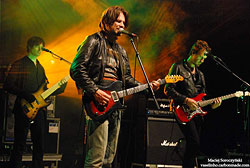 After the show, we had a special surprise for Lawrie MacMillan, who had birthday few days before. We had a cake for him and a birthday card. It wasn't easy to call him, as he was engaged in packing the instruments but when we started singing Happy Birthday To You, he knew that he has to come. He received the cake and birthday card (signed by everyone from Polish forum) and then everybody who wanted was able to tell his wishes to him. We even encouraged the whole band (with Berlin Symphony Ensemble) to come on stage an make us a souvenir photo with them. That was a great concert due to the atmosphere, lots of small talks made between Ray's fans and between us and members of the band. As usual, everything which is good passes by so quickly. Then I knew I was addicted to Ray's music, in positive way of course.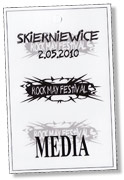 I remember when Ray's Polish Manager – Bartek, ensured me that there will be some Ray Wilson & Stiltskin events in 2010 but we had to wait for further information. I was surprised when I got a message from my friend Ewa, that they are going to play in Skierniewice during the Rock May Festival 2010. I didn't know anything about the festival but I didn't care, the city was 60 km from Lodz and there was no problem with getting there, so I was planning my 4th concert. Despite some difficulties I arrived on 2nd May in Skierniewice with my friends. We met with Bartek, received press accreditation and we waited for the show.
Before Ray's performance there were plenty of beginning rock groups which songs were completely hopeless. About 2 hours before the show I spotted Ali and Lawrie near the stage watching a performance, so I decided to talk with them. I asked for Summer Days, because they played it so rarely and wondered what would they play today. I was curious about Calling All Stations and Propaganda Man with those breathtaking piano & guitar solos. Ali said that they'll play both of those track and he'll mention my request for Summer Days to the band. When they appeared on stage I was quite confused. The band had to install their instruments by themselves and they weren't really happy. I thought, well, this is a festival so they can play one hour and then say goodbye. As far as they were quite furious it was possible.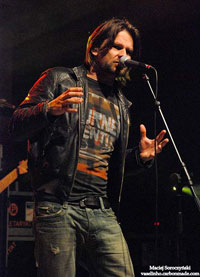 As Ali said they had no rehearsals so there was just a short sound check after the fight with their equipment and the show started. When they welcomed us with Bless Me I felt like I turned back to 2008, when I was on Ray's concert for the first time – it was something unique. The whole show was great, that was what I actually expected, they played only one Genesis cover – Follow You, Follow Me. The rest was the compilation of Ray's best songs from his overall career, from 1994's The Mind's Eye album till the latest Ray's solo – Propaganda Man, released in 2008.
Worth mentioning are non-genesis covers, I mean David Bowie's Space Oddity, Gabriel's Solsbury Hill and U2's One sang by Ray's brother – Steve. Apart from that, Calling All Stations, She and fabulous Propaganda Man. During the encore we were served two great Stiltskin songs, one from 1994 – Sunshine And Butterflies and one from 2007 – Fly High. The second one was probably played due to my request for Summer Days, still better than nothing. Ending was quite ordinary – Knockin' On Heaven's Door mixed with No Woman, No Cry and… The Airport Song!

As you can see, many things changed from 1998 and we have to say, that those changes are good. The number of Polish fans increased, so there's a possibility of planning more gigs in our beautiful country. After the news, announcing new album, I can't wait to see Ray on Tour in autumn 2011.
Author und Photos (all from 2nd May 2010): Maciek Soroczyński