Steve Hackett phone interview
Discussing Genesis Revisited II and the upcoming tour
Steve Hackett is facing one of the biggest tours he ever did. For the first time, he brings out his band to play Genesis material only, and for the first time, he has a lead singer in his band and - the tour is about to become highly successful. A lot of shows are sold out, venues are bigger (compared to previous tours) and the number of shows is increasing week by week. Reason enough to discuss the whole Genesis Revisited project with Steve and the concept of his new live show. Steve made himself available for a phone interview on sunday, 17th March 2013.
GNC: Steve, we will focus on the Genesis Revisited project during this interview. Let's start with the album. Why did you decide to keep the material on the second Genesis Revisited album closer to the original arrangements, whereas the first one was more an experimental kind of record?
Steve Hackett: I think the second album ... this one worked in two ways. To do an authentic representation of the songs, and also it should work as an advert because I knew that I wanted to tour with the material and I wanted people to realize that we are not trying to do some kind of jazz interpretation or something like that, but if they came to the concert they would get something that was very faithful to the original songs. The way we, as Genesis, were interpreting the same material that we recorded in 1971 or 1972 and playing that live in 1977. There may have been some alterations, but they were very close to the original script.

GNC: Do you plan to be more flexible with the arrangement during the live shows?
Steve: No, I don't intend to be free with the arrangements and the idea is to interpret it as faithful as possible and the idea is to occasionally change solos and do little improvisations, but the basic idea is: what you see is what you get.
GNC: So, also the material from the first Genesis Revisited will then be presented with arrangements that are closer to the originals?
Steve: I think so, yes. Dance On A Volcano for example is very close to the original arrangement - including the end section, that was part of it on A Trick of The Tail. That was something we did with Genesis but at one time we abandomed the end section and used it as a segway. But we will do the full arrangement of that tune. But also we will play around a bit with some stuff, like Los Endos. It works as a kind of improvisation.
GNC: What about the selection of singers on the album? There are some usual suspects from the prog business, but also some suprising choices like Nik Kershaw. So what was the reason you have chosen these people?
Steve: I was choosing singers as I was going along. I also had to work with people who gave the greatest response to the original idea. I didn't know up until the last minute whether Conrad Keely would be singing on that, and also Simon Collins came in late. We had to wait a bit longer until it was all set, especially with people from the United States. But many of the other people, like John Wetton, were old friends I have worked with in the past. But I've never worked with Mikael Akerfeldt before, or Nad Sylvan. I found it very interesting the way they work and how they interpreted the material, also Francis Dunnery, although he is English, he also was working with Dave Kerzner in the USA, sending the stuff over. Many of these vocal performances were a surprise for me. When you are standing right next to a singer when he's doing something ... like John Wetton does, he likes to work face to face. But many of the singers don't work that way, they prefer to work at home and send in the stuff they did. That happened often. And also I did something with Ray Wilson for another version of the album, because InsideOut wants to do a single album, so a shorter version of the record. This will be one CD, some sort of edited highlights from the album and I have recorded a version of Carpet Crawlers with him. And he will also join us on three shows as well. The list is somewhat flexible. And yes, it's lovely to work with Nik Kershaw. So there are some people you might expect and some you might not expect. It was a very complicated business to get the album finished in the timeframe.
GNC: You mentioned the new version of Carpet Crawlers you did with Ray Wilson. But how did you get in touch with him?
Steve: He and I have spoken at times in the past and so I have approached him about singing this particular tune and he said 'yes, fine'. He sang it and did a really marvellous job on it.
GNC: You mentioned a special single-CD version of Genesis Revisited II, and this song will be on the album?
Steve: It will be on the album, yes. It's just another version of the album. InsideOut came up with the idea to do it, especially for certain outlets that are not necessarily record shops. It gives them more alternatives to place the product.
GNC: Why was Ray not involved in the making of the original double album?
Steve: Because the idea came up late in the day on that. It's a fluid concept and an ongoing cast-call, also when I play it live. There will be some guests at certain places. He will be joining us in Glasgow, Milan and Munich.
GNC: Have you made your mind up what he will sing?
Steve: We don't know that yet, we're exchanging emails about what would be good for him to sing. He wanted to have some flexibility with the choice of songs he wants to do. It's not cut in stone yet.
GNC: You have some guest musicians, I doubt you have a lot of time to rehearse their parts. This is where my questions comes from. Do you think about that early enough or is it some kind of trial and error during soundchecks, what these people will do live?
Steve: That's what we might have to do, we have to be flexible. Also, we have an extra show at Aylesbury. If people are free, we can arrange they come to this show to rehearse the stuff to make the Hammersmith show smoother. We are now rehearsing with the band and you try to put things as perfect as you possibly can. But obviously when you have guests, you have to have a very flexible attitude. In terms of what you gain, when you get another rabbit out of the hat is the surprise element. And you might lose some precision. That's the nature of gigs and doing things live and it's part of the risk when you go on stage. It's also part of the excitement. You take these chances because it gives you a different kind of energy.

GNC: Fans keep asking us - and now that Ray is also involded, it's only logical this question is being raised again: Did you consider to ask Mike or Tony if they wanted to participate?
Steve: Not really, I tried to do that in the past and there has been a resistance to it, so I already had the answer before I even asked.
GNC: Let's speak more about the tour. Will there be more North American shows?
Steve: Yes, more North American dates are being put in as we speak. All I can say is yes! A lot of people write and ask 'why are you not coming to my home town' but it's a very big world and on it goes. I can't cover everything. I'm really pleased we're doing the places we are doing. And it's doing well. I am really amazed by the response. It's selling out almost everywhere. This is an amazing feeling, believe me.
GNC: You do shows in Japan. Will there be more shows in this region?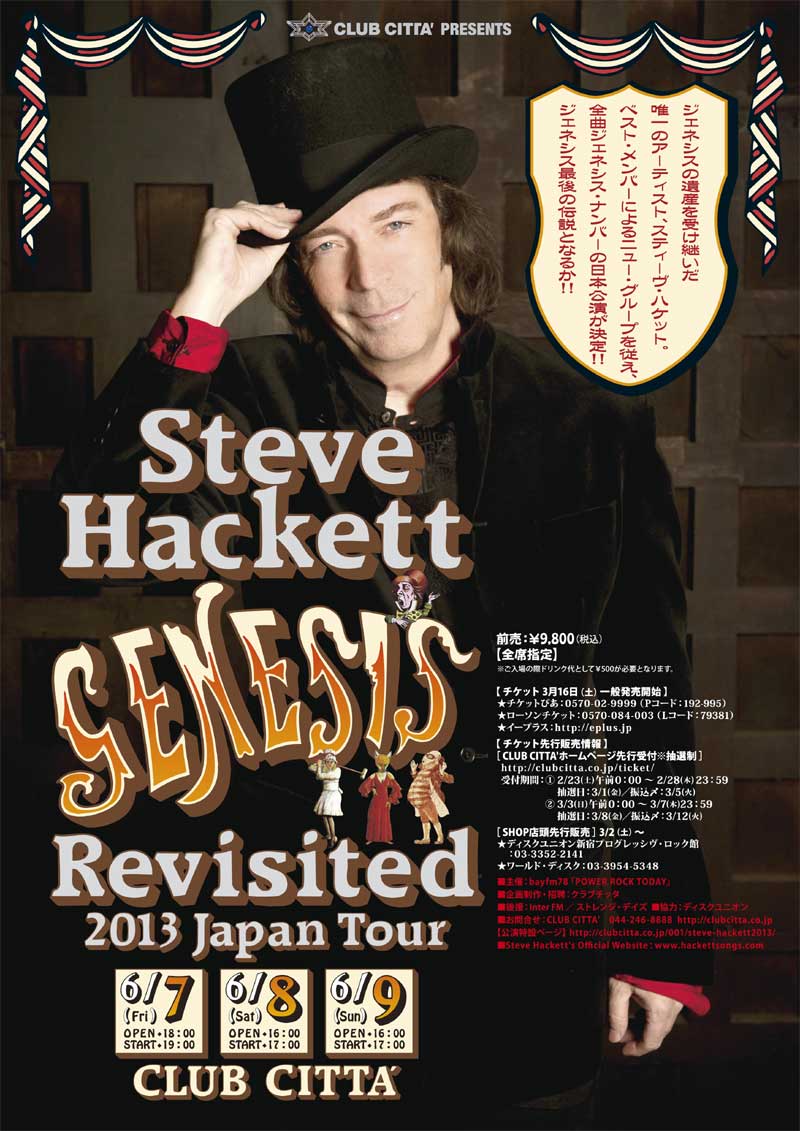 Steve: There may be other shows in that region, but that 'region' as you say is a really big area. The whole Far East. We have the attitude that we cast a very wide net. The way it works - I have two agents, Wayne Forte in America and John Giddings in England. And between them, they are contacting the whole world. The Far East is a very big place. Also, some fans have a bit of a misperception, that I may pick up the phone to anywhere in the world to arrange to come and bring my band. It doesn't work like that, it's a business between agents and promoters, they negociate and if the fee seems right and it's economically feasable, then we commit to it. It's a world of finance and contracts. Although I'd love to visit all places - like for instance, I have never been to Australia, I would love to go there. We have some offers, but they have to be right, we need to move the band and equipment around, it's really expensive. It's already expensive to have one day rehearsals. I have to be very pragmatic about this kind of stuff. I would love to tour everywhere, believe me. If I had to tour 365 days a year, I'm crazy enough to say yes. But it's not just me.
GNC: A bit surprising was the second leg of the UK tour toward the end of the year. Will this be the end of the tour or can European fans expect further shows after these UK shows?
Steve: At the moment, I'm flexible about this. We have these extra british dates because the repsonse was so strong, Hammersmith sold out almost immediately. That's why I do the Royal Albert Hall. But I suspect, there probably won't be any other shows in Europe after that this year. If people really want to see this show and see this show when it's best rehearsed, I strongly recommend the Albert Hall Show most of all. At the end of the day John Giddings might come with additional dates at the end of the year and I just have to ask everybody then. Nothing is 100% at the moment. I'm always open to fruther offers, both from John Giddings and Wayne Forte.
GNC: You mentioned John Giddings. He's well known, since he did the big tours with Genesis and Phil Collins and recently the Mechanics also. How did that connection happen?
Steve: He loves the Genesis music and is also a guitar fan. So he likes my acoustic work as well as the electric work. His involvement with the band goes way back to the early seventies. He was connected with Genesis and I gave him a call. I said 'look, I've got an idea at the moment and I'd like to talk about that with you' and he said 'I saw a video of you playing in Estonia in front of a huge crowd playing the acoustic guitar' so he thought I would come up with that, and he wanted to do some shows like that, but I said I've got this much bigger idea. I don't consider myself to be Genesis, but I can certainly deliver a Genesis shows that has the level of authenticity that we achieved in 1977 when Phil took over from Peter Gabriel, Genesis was already .. I wouldn't say functioning as some kind of tribute to itself, but making the adjustments so people were aware that we were doing the same material we did when Peter was in the band. Luckily, the Genesis fans were really flexible to accept that. So the real star of Genesis is the music. I spent many years working and writing with the band, trying to shape the band into my idea of a perfect band and show all those years ago. Of course, pretty much everything I've done since I did to establish myself in the business, but I don't think you can separate out the two. You can't say what's Genesis about me and what's me about Genesis. It's all mixed together. I think nobody cares anymore. At the end of the day, if you love the music, you come to the show, you may enjoy the reinterpretation, the inclusion of orchestra, a wider cast of singers etc. On the other hand, if someone thinks the perfect version of Genesis is only Nursery Cryme in 1971 and only Peter Gabriel can do that - then I accept that opinion. But Genesis have also proven to be a music franchise, travelling throughout the world. There are more tribute bands than of any other band I can think of. So obviously the level of theatricality and the quality of the music has survived many different lineups and interpretations. There are still many fans very in love with that music. Just like myself, I love that music, I wouldn't put myself through the agony of doing all this and trying to remember every last note, trying to do that with all the skill and professionalism needed. I do it, because I am still passionately involved with it.
GNC: What is unique about Genesis is that nearly everybody has solo careers with different types of music. So, was it difficult for you to kind of switch your brain from being a solo artist to recreating the Genesis stuff?
Steve: It came naturally. I started to include more and more Genesis songs in my shows and nobody minded. I didn't get complaints. It was only natural from doing 1/3 Genesis material to 100%. It will keep me busy for the rest of this year. But at the same time I am writing new material. I certainly don't want to get stuck as a kind of curater in the museum of my own making. There wouldn't be any point. I'm doing that for a while now. And I'm looking forward to doing it. And I hope the whole audience will be in the band, sing along, clap along, that's part of it too. As I said, the music much bigger than any of the members of the band. The music is the star and the memory.
GNC: Will you include some solo tracks also?
Steve: We will stick to Genesis, but when Amanda joins in, we'll do Shadow Of The Hierophant with her, it was co-written with Mike Rutherford anyway. It's from my first solo album Voyage Of The Acolyte, where we had three members of Genesis at that time for that song. We did also rehearse that with Genesis back then. The end section is basically Mike Rutherford's idea and I came up with a new, faster arrangement. It's something ... if you have a crossover between Beethoven and the Beatles, you would have quite the feel of what that song was all about. I'll be doing that when she's around. And that's very rarely, she has domestic commitments, so I have to respect that. So pretty much 100% is Genesis material. There may be occasional diversion of the material, but in the main, what you see is what you get.
GNC: For the first time you have a lead singer. Will Nad Sylvan sing all songs?
Steve: Nad sings most of the songs, but Gary does some. They do both harmonies, also with Lee Pomroy. For this show, I will just be the guitarist. I am not the vocalist. I remember Phil Collins saying when we were discussing to play The Lamb Lies Down On Broadway live, he said 'I only want to be the drummer'. And in a way the important thing is I have to make sure to get my guitar parts right rather than being distracted by anything else. And the guitar parts are really complicated enough on their own, believe me.
GNC: Back in the 90ies you did a few shows with the first Revisited Album and Chester Thompson was the drummer. Have you considered to bring him in, maybe as a second drummer?
Steve: Yes it was under consideration, but we had to work out at that time 'how many people do we want in the band?' and we thought we were going to have Amanda with us, so the die was cast quite early on. So for these shows, we have one drummer, which is Gary. Obviously in the future it is possible if I do any more of these shows, then with two drummers, reinvent it that way. But at the moment, we will do it that way with one drummer. They only needed one drummer to play it in the early days. From the practical point of view I find it the best way to go. I realize the two drummer thing is popular, also among tribute band, but this is my interpretation at this point in time.
GNC: The double drums thing was popular, especially when Phil took over lead vocals, that's why I'm asking. But did I understand you correctly that the tour will continue in 2014?
Steve: I haven't got it planned right now. My main concern is that people come aware of the fact that I'm not going to be a tribute act to myself for the rest of my life. There's too much new music in me. New music is the life blood. It's ok to go back and reinterpret things from your past every now and then. It's like Peter does it with his So record or the New Blood Orchestra thing. There comes a point when you say: 'no, I still have the fire in my fingers and I feel the need to play new things and want to reinvent myself'. I am too determined to avoid that. I leave retirements to other people.
The need to climb is bigger than the fear of falling

GNC: You mentioned the shows are running well, the venues are three times as big, you are selling out venues. So do you feel more pressure now to get things right?
Steve: It is an extra pressure, of course, not only the bigger venues, but also the material. I owe it to the material to do the best interpretation I possibly can. I would be lying if I said I didn't feel the pressure. But at the same time the anticipation, the joy etc - that's bigger than the pressure. It's a bit like a mountaineer. The need to climb is more important than the fear of falling. I know the stuff is in the hearts and minds of the listeners. It's also in the hearts and minds of the team I am working with. Everyobody grew up listening to this material, so there's a lot of love there. It's a huge emotional commitment.
GNC: Do you plans some kind of stage show?
Steve: Yes, we are planning to do a bit of video screen stuff, I haven't seen them yet, so it's too early to say what will be in the show. But we are developing ideas. I will check soon how far the visual thing has improved. It's an exciting area with LED screens and stuff.
GNC: Is there a support act for the show?
Steve: No, the show is very complex, we have a lot of instruments, and equipment on stage. There is no support act.
GNC: You are developing new ideas. What's that?
Steve: I'm still in love with the sound of the guitar and I try to find ways to make the guitar sound ever more exciting. The thing I fell in love with when I started to make music was the sound of the guitar itself. That's the exciting thing. So how do you make to guitar sound terribly attracting? I did stuff with Nick Magnus for his next album, and I love working with him, we developed some wonderful sounds and melodies. I've done a lot of these guests spots recently. I also did some stuff for my brother's upcoming album, like acoustic and electric stuff. I work with all sorts of peope in all sorts of spots. Recently I did something with Transatlantic in London and it's always fun! Working with other people is simply wonderful. All these people who are doing music throughout their lifetime, they haven't even reached their peak. They are still improving. It's the complete reversal of the idea of young popstars having one hit-album and then doing something else for living or even taking drugs over this success. But with all these prople improving, so people are getting better and better. That's the club I am part of.
GNC: You worked with Djabe. You did a video with them. How did it feel to stand in the tank, doing the video?
Steve: That was very funny. The tank was part German, part Russian. We were driving this tank around Budapest, doing this crazy video. It was the coldest video shoot I have ever done. It rained and was freezing all day. The Djabe guys are very clever. They work with people from all over the world and I found it very interesting and it's a very flexible way of working. If I jam with them, the most important thing is improvisation. In progressive music, you normally have people sticking to arrangements, no variations. But it doesn't work like that with Djabe. It's Jazz, it's Gypsy, Central European, everything. Whenever I show up, you never know what players are around.
GNC: Ok Steve, have a nice start of the tour
Steve: Yes, ok - thank you also and see you on tour.
Interview and transcript: Christian Gerhardts, by phone 17/03/2013
Photos: Jo Lehmann