Living room with international influences
Steve Hackett's new album "The Night Siren"
Steve Hackett has been remarkably present and productive in recent years. At 67, he is so busy touring all over the world, recording new albums, re-issuing old ones, releasing live recordings and working with other artists that it is a joy to see the full-blooded musician at work in him. If you see the man on stage in well-filled, not-so-small venues, if you keep tabs on what he says about his work, the positive response from audiences and not least his third wife Jo, his connubial as well as creative partner, you get the impression that this friendly Englishman could not be happier.
And yet the upcoming release of his new album The Night Siren (release date: March 24 or March 27, 2017) is accompanied by very pensive promo noises that look at world issues: As a passionate traveler (even beyond tour obligations) who claims the ethos of a musical migrant who knows now borders, Hackett criticizes growing extremism and nationalist walling-off. He confesses himself anti-protectionist, a worried opponent to the Brexit, and he calls attention to how we all deal with refugee migration. He sees his new album as a wake-up call in dark times, a testimonial to the opportunities of inter-cultural exchange where the artistic plane can provide a blueprint for all other areas in life.
It fits the image that both the list of musicians and the list of instruments on this album are particularly long and particularly international. The recordings took place not only in his home studio (a new one is being planned) but partly in Israel, the United States, Hungary and in Sardinia. The lyrics for Behind The Smoke focus on the dramatic situation of refugees who have to leave their destroyed homes behind and move into uncertainty. West To East has Israeli Kobi Farhi (who has also worked with Steven Wilson) and Palestinian Mira Awad who has been working for peace between Arabs and Israelis for a long time – their collaboration embodies the tearing down of ideological borders. A good thing.
So what can listeners look for in The Night Siren?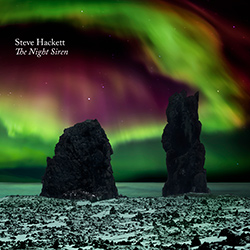 Christian Gerhardts concludes his mainly positive review of the predecessor Wolflight by challenging Hackett to surprise his audiences, play around with sound and production, leave the comfort zone of his tried and trusted ways, to boldly go forth and carve new ways. It seems like a direct reply when Hackett's label InsideOut states in their press release that he was not one of those established musicians who remain in their artistic comfort zone. "This can never be said of Steve Hackett."
Yes, it can. The Night Siren is comfort zone from the first to the last, offering almost everything you would expect from a typical Hackett album in 2017.
Stylistically it is the familiar mix of playful rock with jazz, classic and (folksy) world music sprinkled in. Some bits sound a lot like film music. It is an eclecticism that does not want to fuse the genres, and Hackett fans know he does not want to do that. The night siren is rock music throughout. The use of more or less exotic instruments such as didgeridoo, uillean pipes, oud, charango, sitar and tar (the last three are non-European string instruments) are subordinated to that. Some of them could already be heard on previous albums; here they add a bit of exotic flavor, brief moments and short bits that add to the colour but leave the style and composition of the music mostly untouched.
The arrangements were arrived at in collaboration with keyboarder and computer whiz Roger King; very massive sounds dominate, loud beats with lots of echo, strong drum cascades (some of which were programmed). Synthetic strings are frequently piled on, as are big harmonic vocals, polyphony. There are, of course, also the guitars that aim for strength and brilliant sound. Combine all this with the other acoustic and/or synthetic elements and you get a sumptuously produced big sound with a combination of the human touch and technical construction that seems to fit Hackett's ideas. Brownie points for the drums. They have been produced very well, and they sound much better and more natural than on previous recordings. You hardly notice the transition from artificial to real drums and back – as a layman I wonder whether you can always make out whether the drums are real or not.
Steve Hackett has surrounded himself with many of the usual suspects in the recording of this album. There is not only Roger King, but also Gary O'Toole (dr), Rob Townsend (various woodwinds), Amanda Lehmann (voc), Dick Driver (double bass), Christine Townsend (vl, va), John Hackett (fl) and, not least, Steve's wife Jo (voc, lyrics). And these are just the musicians who worked on more than one track. Apparently Hackett did not see any need for major changes after Wolflight. His current work is standing firmly on tried and trusted keystones.
Is it all in all just an expendable "more of the same"? Will this album enter the solo catalogue as one of many?
Hackett is very candid about the fact that it is rather difficult in general to cover new ground in music. He asserts that this is not even the point. The Night Siren proves his point: As familiar as his style is and despite the big production the songs sound agile, fresh, even catchy. Of course a weighty instrumental like El Niño can resemble passages from Clocks – The Angel Of Mons or Please Don't Touch, but that makes it neither worse nor superfluous: The track develops its own flow, it takes the listener on a brief, but powerful trip into the eye of the storm – because it works really well on its own and because the catchy tune and the diverting melody make it catchy.
The songwriting is focused and versatile, there are few long-winded bits. Hardly anything follows the standard pattern – you never know what idea, which twist Hackett comes up next with and how the song will develop. Many songs go off in a completely new direction when the reach the mid-point or, at least, they find a refreshed starting point for a final climax (sometimes along with a guitar solo). This is true even for relatively straight compositions like Anything But Love, where Hackett shows that he is able to pour a certain pop appeal into simple, grooving yet forms and still avoid the stereotype. Compare, similarly, the up-tempo Martian Sea: This song is so straight that the first sequence of intro, verse and chorus is completed in 45 seconds flat. Hackett adds a crisp solo that makes as much of a fun rock 'n roller as the next person. Then the sitar joins in and helps the track avoid a traditional form. Instead there is a mixolydian exotic double solo of Western electric guitar and Eastern sitar. Hackett may have had the sitar in his portfolio for a long time, but this is a beautiful and very original context.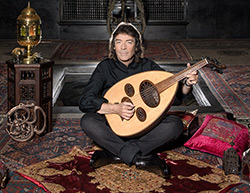 The guitar work on The Night Siren is excellent. This cannot be news to anyone who has followed Steve Hackett's career through the decades with half an eye. Hackett has kept developing his phrasing and timing so that each line, each figure is absolutely on the mark. The guitar solo at the end of the opening song Behind The Smoke is simply brilliant. It has the mark of an accomplished artist who does not flash his technique for the sake of showing off, but to present and shape a great musical idea in a convincing manner.
The vocals are also worth a comment. There is no other album where Hackett's voice sounds as strong and trained. Take, for example, Other Side Of The Wall: The vocals are the most prominent part of the song. The bits with just one voice are simple but sung so expressively that it would have been good not to water down the impression with technical effects and polyphonous vocal arrangements.
All in all ….
The Night Siren is not the wake-up call that was announced. The chorus from West To East is not much more than a lofty but simple rock cliché, though it is a well-meant thing along the lines of "let's make this world a better place". The oh so familiar means of artistic impression employed by the maestro may cause some weariness in standing fans. What is new comes from Hackett's musical living room in which he feels audibly comfortable. There are a number of souvenirs from all over the world on the mantelpiece, and these souvenirs are brought out on occasion.
There has been, on the other hand, no solo album of his own compositions since Spectral Mornings that one would simply have to prefer to the new album. The Night Siren is among the leading group as far as the quality of the songwriting and its musical rendition are concerned. Most of the limitations outlined above do not apply to this album, in fact, they are sometimes even stronger on previous albums.
Hackett cuts another selection of good songs from his personal style. If you reset your ears and ignore all the music from Steve Hackett's back catalogue you will find that many things have been taken down from the crowded shelves in the living-room for just the right purpose. This is a number of tracks that sound very much like Hackett and still original and accomplished. The rockier parts really stand out – particularly in the final section of Inca Terra which is bursting with positive energy – and so do the moments with streamlined arrangements. Another song worth trying out is Fifty Miles From The North Pole, where a relaxed groove develops into unexpected musical drama close to prog ideas. It must be repeated that Roger King's programming and Hackett's vocals have probably never been as good as on The Night Siren. We may well see an advantage of the comfort zone in that they both have achieved further sophistication in the way they work. Hackett has obviously developed a good idea of what he can do with his voice and how best to stage it.
In the end we would like to express the hope that Steve Hackett really goes through with his image of the musical migrant who knows no borders. Why not have more of that on the next album, more courage to experiment and to go beyond his own borders.
Author: Christoph Laakmann
English by Martin Klinkhardt
---
Tracklist:
01 Behind the Smoke
02 Martian Sea
03 Fifty Miles from the North Pole
04 El Niño
05 Other Side of the Wall
06 Anything but Love
07 Inca Terra
08 In Another Life
09 In the Skeleton Gallery
10 West to East
11 The Gift
Line-up:
Steve Hackett
– electric & acoustic guitars, oud, charango, sitar guitar, harmonica, vocals (1 – 11)
Roger King
– keyboards and programming (1 – 10)
Amanda Lehmann
– vocals (1,2,3,6,7,8,9,10)
Christine Townsend
– violin, viola (3, 4, 5, 7, 9, 10)
Rob Townsend
– baritone & soprano sax, flute, flageolet, quena, duduk, bass clarinet (1, 4, 7, 9)
Gary O'Toole
– drums (3, 4, 10)
Nick D'Virgilio
– drums (2)
Gulli Briem
– drums, cajon, percussion (7,9)
Leslie-Miriam Bennett
– keyboards (11)
Troy Donockley
– Uilleann pipes (8)
Dick Driver
– Double bass (3,4,5,7)
Benedict Fenner
– keyboards and programming (11)
John Hackett
– flute (2,10)
Ferenc Kovács
– trumpet (3)
Sara Kovács
– didgeridoo (3)
(Pre-) order here:
CD/Blu-ray Digibook:
amazon-uk
|
amazon.fr
|
amazon.com
CD:
amazon-uk
|
amazon.fr
|
amazon.com
2LP/CD:
amazon-uk
|
amazon.fr
|
amazon.com
Various Vinyl-Variations can be ordered directly at
Steve Hackett's webstore
oder at the
InsideOut Shop
.