Ali Ferguson: First solo album by Ray Wilson's guitarist
"The Windmills And The Stars" released as a digital album
Ali Ferguson has been playing the guitar in Ray Wilson's live band since 2006 and can also be heard on Wilson's most recent studio album Propaganda Man.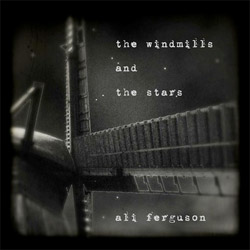 The friendly Scot always leaves a good impression in Ray Wilson shows with his great guitar work. Concert goers may also know him as a singer: every now and then Ray plays the Pink Floyd classic Wish You Were Here, for which Ali Ferguson then provides the vocals.
Ali has now released his first solo album. The Windmills And The Stars contains eight songs and is available as a digital album. It is a remarkable journey through Ali's musical influences but it does not lose his personal handwriting. You will recognize the styles of bands and musicians such as Porcupine Tree, Sigur Ros, Fish, Pink Floyd and particularly David Gilmour. The eight songs on the album are:
01 Hidden Instruments (6'14)
02 Coincidence Is No Accident (5'31)
03 A Child's Song (6'37)
04 Flickering Golden (4'55)
05 Awakening (The Stars) (5'34)
06 In Morning Sky (6'52)
07 Bending Bullets, Breaking Falls (5'52)
08 The Windmills (7'15)


Besides Ali (Vocals, Guitars, Keyboards, Programming) you can hear Ray's bass player Lawrie Macmillan (bass), Chris Agnew (bass), Liam Saunders (keyboards and Kim Shepherd (vocals, backing vocals).

The album is available for €7,50 in many formats (including FLAC) with extensive album artwork from this link.
Links:
Ali Ferguson - The Windmills And The Stars -
album review
Ali Ferguson
at Facebook
---
published on 31.07.11 19:24 by
martinus
@
Ray Wilson
---
Ali Ferguson: First solo album by Ray Wilson's guitarist Comments:
Kein Kommentar möglich

If you want to submit a comment, you will have to log in!
---