Mike Rutherford: 'Silent Runner' by Mario Giammetti
Mario Giammetti publishes a new biography
Mario Giammetti has been very busy writing biographies about individual members of Genesis. He has been working as a music journalist forever, and he is also the founder and boss of the Italian Genesis Fanclub 'Dusk'. Who would be in a better position than he to write competent books about the lives and works of Genesis & co. It takes a sound command of Italian to prove or disprove this proposition because Mario's books have only been published in his mother tongue so far. The current 5th volume of Giammetti's Genesis Files series covers Mike Rutherford's career. Mario takes the chronological approach and adds appropriate pictures (some of them very interesting one that have rarely or never been seen before) as well as a comprehensive discography. Printed in a handy A5 format, these books are an ideal travel companion or a perfect bedside book ... if you can read Italian, that is. At the very least it is the Italian fans to whom Mario brings great joy with this series, for good books about Genesis, and particularly about Steve, Mike, Tony and Anthony, are rather rare. Grazie Mario, ben fatto!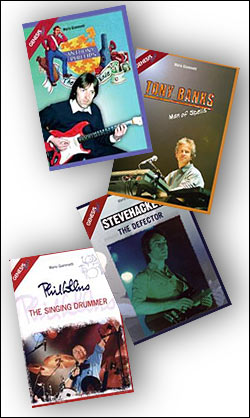 So far these books have been published:
Phil Collins - The Singing Drummer
Steve Hackett - The Defector
Tony Banks - Man Of Spells
Anthony Phillips - The Exile
Mike Rutherford - Silent Runner
(all from Edizioni Segno publishing house: www.edizionisegno.it)
---
published on 05.01.12 17:39 by
martinus
@
Mike Rutherford
---
Mike Rutherford: 'Silent Runner' by Mario Giammetti Comments:
Kein Kommentar möglich

If you want to submit a comment, you will have to log in!
---