Peter Gabriel: More New Blood shows
Additional concerts in North and South America, Europe and Australia
It appears that Peter Gabriel enjoys the New Blood shows. Though he has announced earlier this year that he wanted to retire the project after the North American tour and the upcoming releases New Blood (CD album) and Live In London (DVD / blu-ray; we reported), it now looks as if he is going to make New Blood live a world-wide tour.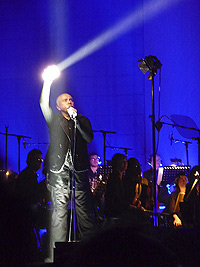 According to the tour blog additional shows in North America and also in South America and Australia are being looked into. Further European shows are also possible.
The North American tour has ended today in Milwaukee with a show at the traditional Summerfest. Gabriel has varied the set several times in North America; most recently he even played Secret World (see below). For all the setlists 2011 see this link.
More information as we get it.
UPDATE: As daily newspaper "O Globo" reports, Peter will perform a New Blood show in Paulínia (Brazil), between 12 and 14 November 2011.

Links:
Peter Gabriel: New Blood live -
all the tour dates
Peter Gabriel: New Blood
concert reports
Peter Gabriel: New Blood
setlists
Peter Gabriel: New Blood -
information about the new album
---
published on 29.06.11 20:45 by
martinus
@
Peter Gabriel
---
Peter Gabriel: More New Blood shows Comments:
Kein Kommentar möglich

If you want to submit a comment, you will have to log in!
---