Phil Collins: Going Back 60 years ...
Happy Birthday, Phil!


Phil Collins - 60 years in fast motion

Philip David Charles Collins prefers to be called Phil Collins. He has enjoyed a long and less ordinary career that goes far beyond his current profession as a Grillmeister. We take a look ahead, or back or wherever.
Phil Collins first called attention to himself with an album called Going Back that has 29 songs he did not write, songs that would supposedly become big hits of something called Motown a couple of years later. He actually learned to play the drums for the album, which he found particularly hard because he has a neck injury. He played a couple of shows after the album and then took a break.
After that he joined a band called Genesis for a big tour that was called, ironically, Turn It On Again. Collins met some of the musicians from this band at a Hall Of Fame event. He worked very hard on his drumming skills to relieve Chester Thompson and also in order to not have to stand around on stage during the instrumental songs. In almost 50 shows Collins and the band present material they are going to release on CDs and vinyl LPs in the course of the next three and a half decades. The tour is so well-received that Genesis decide to look back on the tour at a press conference. Collins himself visited the Broadway when the Genesis tour took them to New York. It was there when he was almost run over by Peter Gabriel on a Segway. For some reason this prompted Gabriel to write a peculiar story called The Lamb Lies Down On Broadway. Over a post-accident beer they agree that Gabriel could do that story with Genesis in case Phil does not feel like singing anymore and his drumming has improved. They decide to do that in September, but never actually specify the year.
This story and a meeting with Disney executives inspires Collins to write a real Broadway musical. The press felt ambivalent about it; some journalists speculate that Collins may end up writing pop hits and becoming unavoidable on the radio. Collins acts on this idea and, like Genesis, embarks on a kind of Greatest Hits tour. Knowing perfectly well that this will not be his last tour he calls it the First Final Farewell tour and tours where people will not notice it right away, i.e. the United Arab Emirates, the Lebanon or Romania. Collins then marries his first wife, Orianne. The first leg of the tour is a big success and Collins quickly tacks on shows in North America and Europe. His drumming has become quite good in the meantime. After the tour Collins writes the soundtrack for a Disney film called Brother Bear before he proved that he is actually able to release a pop album with only average songs - Testify. He then wonders what to do. Using the experience he gained from the musical he writes another Disney soundtrack, Tarzan, and wins an Oscar for it - which makes him wonder whether he should perhaps try his hand at acting. But many other things keep him busy.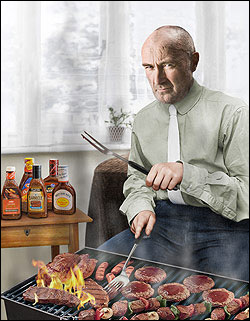 He goes on a Big Band tour where he can improve his drumming because he does not have to sing. On this tour he performs some of his own unpublished songs, but also material by Genesis who still had not got around to recording an album. Finally Collins goes on another solo tour and discovers the word "dance" for both album and tour. "Dance" was actually a word Tony Banks and Mike Rutherford of Genesis were keen on using. They were ticked off because they could not get Phil to record an album with them and decide to record one with Ray Wilson. Collins registers that and plays another Big Band tour. After the tour and an accompanying album he officially announced that he intends to join Genesis. The press statement reads: "Genesis end 3 year experiment, deciding to send Wilson and Nir Z to the Congo and have Phil Collins as permanent singer and drummer." Soon after that Collins feels like releasing another album with songs he has rarely played before and goes on another world tour to promote his album Both Sides. During the tour he breaks a bone in his hand, but fortunately this does not bring any limitations with it. His marriage dismantles during the tour and shortly afterwards he marries Jill.

Collins finally has some time for Genesis. Together, they play big stadium shows and record the album We Can't Dance. The band shoot funny videos for some of the songs, which impresses half a generation of MTV watchers. Though he is a funny guy Collins also sees the serious sides of life and documents them in his next tour/album cycle. But Seriously would be, well, serious. Both We Can't Dance and ...But Seriously sell many million times and Collins becomes a legend.

He has not nearly finished, though. After all, he wanted to do some acting. He records a couple of songs, two of which become mega-hits, for a film called Buster in which he also plays the lead role. This does not fetch him another Oscar, though. By coincidence he begins to produce the albums for other artists, which means he spends a lot of time working with Eric Clapton and later on also with Robert Plant and Frida from Abba. Genesis also got ready to take another swing at the charts, but it turned into a kind of Invisible Touch. As things get hectic Phil decides that No Jacket is Required anymore and proves a trendsetter once more. For Live Aid he even flies backwards through time from Philadelphia to London in order to play London before the Philly gig - a real world record! More hits come together, and while he is on tour with Genesis again (they call it the Mama tour because it is dedicated to their mothers) he even manages, against all odds, to write another world-wide hit. Genesis record another album. The last song on it is called It's Gonna Get Better. Fans are excited.
Collins' next album is of a more sullen nature. 28 years after Going Back he once more approaches the genre he calls Motown with You Can't Hurry Love. Collins predicts that we will all be hearing lots more of that. In the meantime Peter Gabriel has run out of money and Genesis decide that he may join the band. In Milton Keynes they play a test concert with him. The performance is rather bad, and Genesis agree with him that they will all wait a while until Gabriel can join the band. Collins, on the other hand, would rather play the drums and is not happy at all. He sits down at home and writes his album Face Value; it is recorded with a bunch of interesting guest musicians - and it features his drumfill of a lifetime. While he is writing the album his marriage breaks down again and he meets his third wife, Andrea. Phil does not feel like Genesis, he wants to drum and therefore joins the jazz band Brand X. Genesis reunite, however, and record the albums Duke and And Then There Were Three. The latter album title puns on the fact that guitarist Steve Hackett joins the band because Rutherford wants to play more bass.
Collins then withdraws from his side projects and also decides not to release any more solo albums. Experts agree that Face Value was his best album, and Collins decides to leave it at that. There will also be no solo tours anymore. He tells the others that he would rather play the drums than sing. When live drummer Chester Thompson leaves the band he is briefly replaced by Bill Bruford before Genesis finally place Collins at the drums for good and ask Peter Gabriel to do the singing. Gabriel now can finally realize his Lamb Lies Down story with Genesis - to the point of a big tour and an album with the story.
Collins cannot keep away from the microphone just like that, though, and so he sings a song on the album Selling England By The Pound and later another one on Nursery Cryme. In the meantime he establishes his reputation as a superlative drummer with songs such as Apocalypse In 9/8. After Nursery Cryme Peter Gabriel throws a party for the band at his parents' place in the country where they have Collins drum some songs they are planning to release. At this party Collins surprises everybody by announcing that he is leaving Genesis and calmly going for a swim afterwards.

Collins then plays for smaller bands like Flaming Youth, Freehold and The Real Thing. After that he plays in a musical and also works briefly as a model. The Motown genre he would always talk about has really come to full bloom. Currently, however, he thoroughly enjoys being a grillmeister. But tomorrow never knows.


Phil Collins is 60 years old today - congratulations and many happy returns!

PS: An overview of his life and career in an order less extraordinary can be found here.
Author: Christian Gerhardts
Links:
---
published on 29.01.11 23:01 by
martinus
@
Phil Collins
---
Phil Collins: Going Back 60 years ... Comments:
Kein Kommentar möglich

If you want to submit a comment, you will have to log in!
---