Phil Collins: New album possible
Collins may write new songs and play live again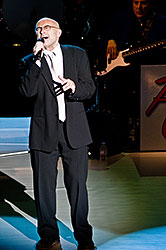 Yesterday (21/11/2013), the Tarzan-musical was premiered in Stuttgart, Germany. Phil Collins attended the show and made himself available for interviews. Collins spoke about the musical, but also about his life as a father and, surprisingly, about a possible comeback. Collins said that his sons want him to return to work and also to go on tour again. He said he wouldn't care if his manager asked him that, but now that his sons want him to return, he is more motivated and takes it rather seriously. Collins may also be writing new songs ("I have started thinking about doing new stuff"). No further details nor time-frame were mentioned. It is the first time that Phil Collins has publically expressed interest to write new songs or to play live again since he retired after his last album Going Back. Collins is still suffering from an verteba-injury, which makes it impossible for him to play drums these days.

You can see a short interview in German on German TV station ZDF (click here and choose the right film on the right side), and there are also several reports in newspapers and news-websites today in Germany (click here to see an example).
UPDATE 24/11/2013: The german boulevard newspaper "Bild" quotes Phil: "I'm thinking about doing some shows again, even with Genesis. Everything is possible. We could tour in Australia and South America. We haven't been there yet". Click here to see the whole article (in German!). The "Hamburger Abendblatt" has published a similar article here.

Photo: Warner Music / Sean Berry

---
published on 22.11.13 10:59 by
Christian
@
Phil Collins
---
Phil Collins: New album possible Comments:
Kein Kommentar möglich

If you want to submit a comment, you will have to log in!
---