Phil Collins: Not Dead Yet live 2017!
Shows scheduled for London, Cologne and Paris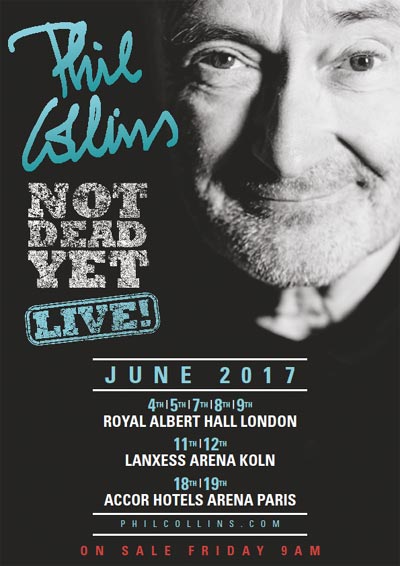 Phil Collins has announced today that he will return on stage next summer for a short European tour. The tour is called Not Dead Yet Live! and Phil Collins and his band will perform five shows each at London's Royal Albert Hall, Cologne's Lanxess Arena and Paris' Arcor Hotels Arena. His son Nicholas will play drums during this tour. Phil also indicated that he will try to play some drums as well, but people should not expect too much.
At this point, only two shows are announced for Cologne and Paris. It can be expected that the remaining three shows will be announced when tickets sell well. Tickets go on sale this friday, presales vary from city to city.
More information to follow.
---
published on 17.10.16 10:40 by
Christian
@
Phil Collins
---
Phil Collins: Not Dead Yet live 2017! Comments:
Kein Kommentar möglich

If you want to submit a comment, you will have to log in!
---