Ray Wilson: New album 'Chasing Rainbows' in the works
Recordings start this summer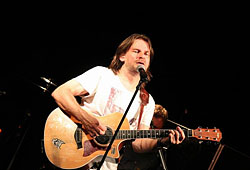 Last year saw the release of Unfulfillment, the latest Ray Wilson & Stiltskin album. But Ray is already working on new songs. He has been writing since the beginning of this year. Eleven songs are completed, and he used ideas of Peter Hoff's; Hoff already contributed major parts of the songs that appeared on the two previous Stiltskin records. The new album is to be recorded in summer, so that it will be released in spring 2013 at the latest.
The current working title for the album is Chasing Rainbows; its style is going to be acoustic rock, or, as Ray put it, "Tom Petty-ish". It is not yet certain whether Chasing Rainbows will be a Stiltskin album or, after Propaganda Man, a pure Ray Wilson solo album.
Songs from the new album may begin to pop up in live setlists in autumn.

Incidentally, Ray Wilson has been declared one of Poland's twelve official ambassadors for the football EM.

Links
Ray Wilson: tour dates 2012
Ray Wilson & Stiltskin:
Unfulfillment
-
album review
Ray Wilson:
Propaganda Man
-
album review
---
published on 28.05.12 17:38 by
martinus
@
Ray Wilson
---
Ray Wilson: New album 'Chasing Rainbows' in the works Comments:
Kein Kommentar möglich

If you want to submit a comment, you will have to log in!
---