Ray Wilson ZDF@Bauhaus - CD/DVD and Blu-ray
New live album and concert film out 5th October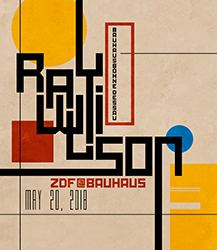 Ray Wilson will release his first ever Blu-ray next month (5th October). His performance on the Bauhausbühne in Dessau earlier this year (20th May, as part of the ZDF@Bauhaus television series) was recorded and 14 tracks from that show will appear on the Blu-ray and CD/DVD release Ray Wilson ZDF@Bauhaus.

Pre-orders are now possible in Ray Wilson's Webstore

More information can be found on our info page at this link. Additionally, you can discuss the release with other fans in our forum.
---
published on 02.09.18 05:46 by
Christian
@
Ray Wilson
---
Ray Wilson ZDF@Bauhaus - CD/DVD and Blu-ray Comments:
Kein Kommentar möglich

If you want to submit a comment, you will have to log in!
---