Tony Banks: Live presentation of "SIX" on the radio
Alan Titchmarsh Show, Classic FM
The new classical album by Tony Banks is going to come out on March 23. SIX: Pieces For Orchestra is released, as was SEVEN: A Suite For Orchestra on NAXOS. The album can be preordered. from amazon.co.uk.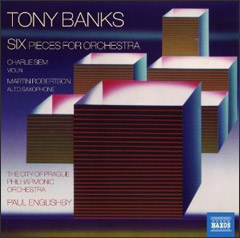 SIX: Pieces For Orchestra contains six movements which Tony Banks describes with the following words in the booklet:
Seductress
Journey
Quest
Decision
Hero
Goal

Different titles (Siren, Still Waters, Blade, Wild Pilgrimage, The Oracle, City Of Gold) are mentioned elsewhere, so it is not quite clear yet which is the right set, but, as Tony has it in the booklet: "I leave it to the listener to fill in the details, although really it is just music, a story without words...". We did an interview with Tony Banks yesterday that will of course be put up on the website in the next couple of days.
The album will also be presented live in the Alan Titchmarsh Show on Classic FM on February 18. At least one, probably even several of the pieces of the album, will be played in the show that runs from 9 to 12. If you have a UK postcode you can listen to the livestream on the Classic FM radio website.
Links:
forum discussion
---
published on 17.02.12 16:50 by
martinus
@
Tony Banks
---
Tony Banks: Live presentation of "SIX" on the radio Comments:
Kein Kommentar möglich

If you want to submit a comment, you will have to log in!
---