Genesis: 15 Years "Calling All Stations"
There Must Have Been Some Other Way …
Genesis has always been a band that has lost some fans and won some fans on their way along the River Of Constant Change. Minor as well as major changes in their musical direction often coincided with a change of personnel. And yet they managed over and over again to make themselves relevant to new musical fan groups. The Genesis fan community increased up to We Can't Dance, and everybody knew that the re-launch after Phil Collins left would be a larger challenge than every change before.

The 90s were an interesting decade for music. After the 80s, which had not had a lot of musical substance, so that the sound was the defining element of the time, the 90s turned into a veritable frenzy of experimenting. New bands brought fresh ideas – grunge, drum & bass, triphop and all sorts of electronic set about turning the rules of normal rock bands upside down. Some of the older bands left their mark, too. U2, for example, probably preempted their becoming irrelevant by releasing Achtung Baby and Zooropa, thus setting a standard for what the 90s had to sound like. Bands that wanted to remain interesting in the 90s had to have splendid ideas or risk provocative disruptions of style – like R.E.M. did when they followed up their über-album Automatic For The People with the loud brute called Monster. Then there was a band named Pink Floyd who probably could have sold their rendition of the phone directory, even on vinyl, which already became irrelevant by 1994.
After We Can't Dance and the triumphant world tour Genesis took their time to record a new album. The loss of the singer and drummer meant that the band had to change again. Many names were in the hat for asinger; Nick van der Ede of Cutting Crew probably did not make it because he is an icon of the 80s. It was a young Scotsman called Ray Wilson who nabbed the job. His striking vocals had helped to give the grunge outfit Stiltskin a mega-hit. But grunge and Genesis – could that work?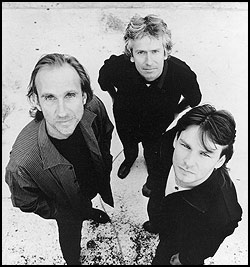 Dark, proggier, more Genesis – many epithets were applied to the "new" Genesis. Indeed it had been Banks and Rutherford who wrote most of the songs throughout the years, and so it was really exciting to see where the journey would go. In August 1997 the band came to the Berlin TV Tower for an album launch event. The schedule consisted of interviews and four live songs that were performed unplugged – another first in the band history. There were two memorable moments in that event: Ray Wilson sings No Son Of Mine, and it is evident that he can pull it off. Then he sings a great Lover's Leap, and one could be confident.
1997 was also the time in which a band like LIVE had a big hit, particularly in the U.S., with their gloomy album Throwing Copper. Genesis may possibly have hoped for similar success in North America, for Calling All Stations went for that sound in places. The title song was remarkable – when has a Genesis album ever begun with such a big guitar sound? Other songs could be filed as "nice to listen to"; Shipwrecked and Not About Us are fine songs that one can stand to listen to now and then. Genesis also had a go at several musical ideas in one medium-sized song in Congo (if you don't count the single version). The problem: The keyboard solo is the most trite on Calling All Stations – almost, for there is There Must Be Some Other Way. That song was rumoured to be "similar to Home By The Sea". The structure does resemble the classic, but it did not really take off, which was also because ofthe abysmal keyboard solo.
The real qualities of Ray's voice can be admired on Uncertain Weather. This longer ballad could have been a pearl, but the album also holds a Lite version of the style in If That's What You Need. In the end one of the songs seems like a filler, and Uncertain Weather is left dangling.
Small Talk indicates the band's potential, it was even shortlisted as a single, but they did not live up to fulfill it. The band have not gone far enough here. More guitars, a slightly more daring arrangement and a more sophisticated ending, and Genesis would have had another Keep It Dark or All In A Mouse's Night. Which begs the question what ever became of the return to prog? Apparently it was supposed to come with Alien Afternoon, but apart from the fantastic finale the song is piecemeal. The album closer, One Man's Fool, is a bit more edgy and shows best how it could have been. As it is, it is a Banks album with Mechanics influences – with the exception of The Dividing Line: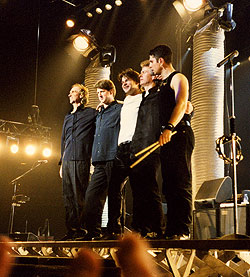 It is rather ironic that the first drum solo appeared on a Genesis studio album only after Phil Collins had left. The Dividing Line is much more, though, the full potential shows itself only in the live album. The Dividing Line is pure Genesis and, along with the title song, a strong hint that they could have done it without Collins if only theyhad played their strong suits. Anthony Drennan, for one, enthused about the guitar battle in the live performance of The Dividing Line only recently in a GNC interview.
Curiously enough, the interesting songs seemed to end up as B-sides. Banjo Man was an almost absurd loose groove number, Papa He Said a weird "rap" whatsoever-song, Sign Your Life Away a straight rock pop piece that was justly not considered good enough for the album. Anything Now sported prog influences, a better middle eight than There Must Be Some Other Way and a smoother melody. A precious ballad called Run Out Of Time was also a B-side. Another song called Nowhere Else To Turn became well-known among fans, but it would have been better at home on a Mechanics album. Plus, most of the songs had rather peculiar fade-outs, as if someone lostinterest in keeping up the work on the album
In the end Calling All Stations is an album full of contradictions, missed opportunities but also promising ideas. What potential the band had we will never know because Tony and Mike decided not to go on with the project.

Back in 1997 fans felt a mixture of resignation and go-get'em. Many fans who particularly appreciated the Collins-era Genesis were doubtful and did not know what to do with them anymore. Fans of the earlier years hoped for a step back to the roots, and yet others hoped for a musical revolution and a firm look ahead.

One is always wise after the event, but it might have been a better idea to do a sort of unplugged or club tour with Ray Wilson where he sings old material and three or four new songs before they went on the road with a new album and a big live show. Of course nobody knows whether that would have worked ...

Then the reunion tour with Phil Collins happened, and the attitude towards Calling All Stations among the fans changed almost completely to the negative – despite the 5.1 version that revealed a hidden side ofthe album that is very worthwhile listening to. It is debatable whether the U.S. fiasco alone is responsible for the decision to call it a day. By 1997/98 Genesis were the odd ones out, as it were, in music business. Their success was not automatic, but they could hardly complain in Europe.
It has been fifteen years now that Calling All Stations, against the laws of the industry, against many fans and despite contrary prophecies made #2 in the British and German album charts. Perhaps this is as good a reason as any to take another look at this chapter in the history of Genesis.
---
Author: Christian Gerhardts - 1st September 2012
Press-Photo: Peter Robathan
Live-Photo: Helmut Janisch
Discuss Calling All Stations - 15 Years Ahead
in our Forum