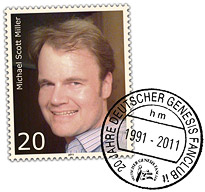 From Milwaukee, Wisconsin ...

by Michael Scott Miller
Like most things on the internet I cannot say how I found the site of the German Genesis Fanclub it. That is one of the peculiarities about this quasi-global consciousness we have created with the World Wide Web. And it is definitely "world-wide". I had the pleasure and privilege to see The Musical Box at the Nursery Cryme Event 2007 and even demonstrate my (lack of) skills as a dart player. I hope I will soon have the opportunity to attend another event like that again. The interesting thing is – though one may think now that Genesis are no more, you could have thought that ten years ago, too. Perhaps the cycle repeats itself. And therefore this website plays an important role in keeping the idea of Genesis & Co. Alive.


---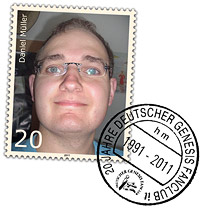 it-Salute!
by Daniel Müller aka drumdani


Twenty years ago I was four years old, We Can't Dance became the first Genesis album of the 90s and the German Genesis Fanclub it was founded. Though I did listen to Phil Collins at that time (a year ago I had drummed along to the 1990 Serious Tour concert in Berlin on my Disney drum kit), I was obviously too young to know about things like the fanclub.
I started to be active in a forum in 2002; it was the forum at the official website which was not yet defunct. It must have been just before Phil Collins' Farewell tour that I discovered the fanclub; I was 17 then. I cannot remember how I found it, but after seven years I am still here.
There were times, of course, where I was less active than in other times; I guess I was most active in 2007 during the Genesis tour, but I was always glad to have you guys because right here is where you are always up to date about Genesis and the solo careers.
In 2007 in particular I got to know some fans better, when I met them at Musical Box and Genesis shows, and many of them were from the German Genesis fanclub. Incidentally, I owe my outfit for all Genesis and solo concerts to the fanclub – it could not be any better. Yes, 2007 was certainly my "Genesis year" where I attended six Genesis and five Musical Box shows, and you had your share in that.
Besides all things Genesis the "other artists" subforum has always been very important to me because I would frequently find news about my favourite bands here before I would find them anywhere else. I also enjoy posting concert reports there, and I would like to thank some other users for their reports and recommendations – it has really broadened my musical horizon.
A big thank you to you for getting the musicians to give you an interview, for providing us fans with great information, for interviews out of the ordinary that show that the musicians are comfortable with you.
I could go on for hours, but I think I better leave it at that and thank you all for the passion you put into the club. I have been there for seven of the 20 years (that is sort of kind of almost half the time). I thank not only the fanclub guys but all users who keep the forum and the website alive with their contributions and make sure that this is not another website that shrivels up and is not up-to-date anymore after a whlie.
Some of you I have met, and I hope I get to meet more of you. Thank you for all the great moments that have been and hopefully will keep coming. Thank you for 20 years of great work – I am sure the fanclub will be around for a long time to come. All the best to you!
Yours - drumdani


---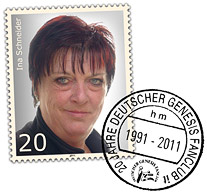 ... a member from the pre-internet era

by Ina Schneider
20 years?!? Twen-ty years! Imagine that – incredible how fast time goes by... Congratulations to the 20th anniversary of it! Just recently somebody told me I was one of the eldest... which means that I have been in the fanclub for roundabout 19 years. Yes, indeed, I know it when it was still copied on paper! ;)
It all started at a used record exchange in Hannover (or was it Braunschweig? I don't remember), where I got kind of stuff at the booth of Peter Schütz because he had lots of Genesis and Mike & The Mechanics on vinyl. At that time I still suffered from collector's mania and spent a big wad of money with him. When he realized where my focus lay he told me about this new club those three super-motivated Genesis fans had founded. I took up that idea, joined the club that very day and also ordered the first magazines.
As soon as I had returned home I sat down and devoured my new acquisitions. From that time on I became a regular at record fairs.
Much time has passed since then and our darlings have released many new offerings... Thanks to it we have always been and still are able to get accurate and up-to-date information, first on paper, now online. Well, actually that is not quite true; since they are online the news come in much quicker than in print!
There is another thing I need to mention: The annual club events are probably a whole lot of hard work and struggles in the preparation – many thanks for that! I do hope that the events you set up will always be appreciated as much as they deserve! It is also nice to meet someone or other from the fanclub at some concert or at a Genesis regulars' table.
Now it only remains for me to say: Stay who you are, and keep up the good work! it, I am gonna get old with you – because you guys did and are still doing a great job!
---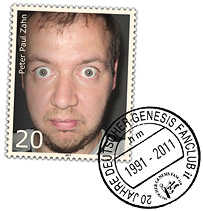 It started with the forum ...

Peter Paul Zahn aka Herma about forum-life

While my job does not leave me the time my taking part in fanclub events I would like to say a few words about the forum.

I joined the forum some time in 2001, I do not remember exactly when, it has been ten years after all. It all was different then. You did not have to register, and so everybody could write anything they wanted under any name they chose to use. Before I begin to reminisce I would rather share with you what this forum has brought me. And it has brought me a lot.

Most of all it has brought me lots and lots of Genesis-related knowledge. Oh dear, when I joined the club I did not know anything by Genesis apart from their official releases. I had no idea what a bootleg might be and, assuming it was an original, I had a recording of a 1978 show in Chicago sitting on my shelf. I might even have missed the 2007 "selection of shows", and whether that would have been a curse or a blessing is up to others to decide.

Another incisive moment that has nothing to do with the fanclub or the forum at first view was the launch of Youtube. Up until then one could talk about the music and get immersed in the descriptions of audio impressions other club members had. With a little bit of luck and less effort you can hear the songs – even rarities became available for everyone. While this is perfectly fine in principle it take away some of the spice of talking about Genesis, Gabriel, Hackett and, alright, Collins when the description of "how I heard it" is replaced by a Youtube link.

Back to the forum. I have had a lot of fun here in the last ten years. Not only from actively writing here, but also from reading things by people who have forgotten more about Genesis than I will ever know. I can only say Thank-you from the bottom of my heart for these opportunities, and may I add that sometimes I would enjoy a more relaxed atmosphere.

Herma .