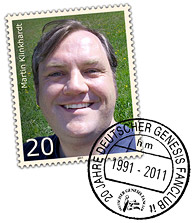 A Translator's Ode
by Martin Klinkhardt
The German Genesis Fanclub it first entered my life roundabout 2004; at that time I used to participate in a very lively and entertaining international mailing list called Paperlate where I posted this and that and also the re-translations of two very fine interviews a German broadsheet had done with Peter Gabriel and with Phil Collins. These, however, were not the reason why I received an e-mail from one Christian "with the German Genesis Fanclub" asking whether I, who lived in Munich at the time, were planning to see The Musical Box. The Canadians would play The Lamb four nights in a row in a suburb of Munich. I wanted to go, I had no money, for I had a university degree, but I had no job. The offer was quite too tempting, I accepted and handed out sampler CDs by the InsideOut label at the venue before the three of the four shows to all and sundry (amongst them, as rumour has it, the TMB keyboarder).
Soon after that I had a memorable phone conversation with Christian and began to translate the odd review and concert report for the fanclub, for example the report of the Early Years Event 2005 that I could not attend. It was October 2005 when I registered in the German forum and found a community that enjoys handing out criticism, where everybody knows what they like or don't like and where everybody is driven by a general enthusiasm for the music. More than that: Because so many people come together here, and because all of them are interested in a slightly different facet of the gem that is Genesis, an immense amount of very detailed knowledge comes together here. I began to take the questions I used to send to the mailinglist to the forum.
My first attempts at a concert report have never been published – wisely, I must say, for they quite embarrass me today. In October 2006 I took the step out of the virtual community into reality. At the Evolution Of A Rock Band Event I finally met the other cool cats who run this fanclub, Peter, Helmut and Bernd, who, though they may have a lower profile in the forum, are by no means less important for the fanclub. I also had the pleasure of meeting other fans, Armando Gallo and a gentleman who has passed away too soon, John Mayhew. You may laugh about it that a hundred loonies take over a tiny village in the sticks to spend a weekend talking about a single band – but it is fun, it is funny and it is great to know what the others look like and how they act and react "in real life". After the event I received the audio tracks of the 'cross examinations' Armando and John had undergone ever so bravely, together with a task: Transcribe and translate, please! That was a good rehearsal because starting with the famous press conference Genesis gave in November 2006 a wave of interviews, travel and concert reports began to rise, culminated in the it.blog 2007 and had, in June and July of that year, the effect of me coming home from work to sit down at the desk and spend at least two to three hours a day translating new blog entries from English to German and vice versa – 150 pages of wonderful memories, and reading each one of these was a delight (in the original) and really multiplied and deepened my experience of that summer of concerts.
In the autumn of 2007 I was asked quite hesitantly whether I was prepared to take on another job: "I've made you admin in the forums. Ain't nothing you can do about it". Well. Timeo Dresdenses et dona ferentes. Fortunately it was not all uphill, and there was a bright light of joy to read that two users of this international forum from both sides of the Atlantic were going to get married and that they would never have met without the forum.
As I sit here looking back across the history of the fanclub, or rather only a third of it because I have not been involved since the beginning, there are so many things I would never have known about without the fanclub: the club meetings, the forum, The Musical Box, Ray Wilson, reviews, sleeping at Gilmour concerts, John Mayhew, the interview with Nick d'Virgilio, whisky, the Steve Hackett Event in Remscheid, more reviews, New Blood in Berlin, wild cocktails by tame Lamias, great discussions, hilarious nonsense and the moment when the TMB roadie in Duisburg placed the tubular bells behind the drum kit for the bands' third encore: a potpourri of wonderful moments. Accept my thanks for that. I am going to continue my subscription.