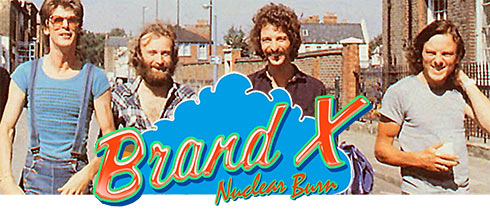 Brand X - Nuclear Burn (4 CD Set)
The Charisma Albums 1976-1980
Band History
Brand X - a band most people probably wouldn't know if Phil Collins hadn't been a member for a few years during the mid-70s. Collins felt a little restricted by the Genesis live shows and wanted to play a little more freely. And so he joined Brand X in the summer of 1975 (after the Lamb-Tour.) Thus, it was in no way "his" band. Brand X played mostly instrumental jazz-rock, also called fusion at the time. That influence very soon also affected Genesis with Los Endos, for example. The time with Brand X also saw the first published song written by Collins alone (Why Should I Lend You Mine), his first use of a drum computer (Wal To Wal), and his first songs based on a home demo (Soho and Wal To Wal)

Releases
Genesis's Label back then, Charisma Records, were also responsible for Brand X and the LP releases. The albums were then also published on CD by Virgin at the end of the 80s. Now, there is a collection with the band's first 6 albums as an inexpensive 4 CD box. Nuclear Burn: The Charisma Albums 1976-1980.
The first thing to catch the eye: Six albums on four CDs? Indeed, the albums were squeezed together on four CDs, one after the other. It's, thus, impossible to listen to three of these six albums without changing CDs - unfortunate, but probably for budget reasons. The recordings are mostly ordered chronologically by release date, only Livestock's and Moroccan Roll's position was switched. Livestock's Isis Mourning was combined to one track as "Part 1 & 2" for the first time. They used to be separate parts on both CD and vinyl.

Remastered?
The box was also advertised as "remastered", suggesting potential improvements in sound compared to the original - so possibly a reason for buying it. (In the best case) a remaster means creating a new transfer from the original master tapes while (in the best case carefully) compressing, equalizing, and reducing noise. However, after listening very closely and digitally comparing the old and new versions it has to be said that the new ones were NOT remastered. Only the absolute dB-level was sometimes raised very slightly, without dynamic range adjustment. The relative volume of the individual songs on an album is still the same though. The booklet doesn't mention any remastering, by the way. But no need to worry: The first CD releases already sounded pretty good and, most importantly, had a high dynamic range, meaning the absolute differences between quiet and loud parts. This goes very well with the "spicy" arrangement.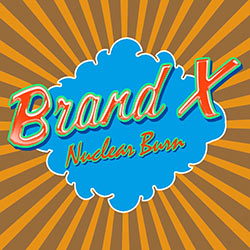 Bonus Tracks
In addition to the six albums, four exciting bonus tracks were spread over the four CDs. These are BBC recordings from 1976 (John-Peel-Sessions).
1st: The Ancient Mysteries / Born Ugly / Kubit Blitz: 26/02/1976 Maida Vale 4 Studio, London (Jones, Lumley, Goodsall, Collins). The date indicated in the booklet, 08/03/1976, is the date it was first broadcast, not the one of the recording. Moreover, according to the BBC, the song was called Kubic Blitz and not Kubit Blitz.
2nd: Malaga Virgen: 15/07/1976, unknown BBS studio, London (same line-up as above, plus Preston Heyman: percussions) Another song was recorded during the 15/07/1976 session (Why should I Lend You Mine, When You've Broken Yours Off Already? (sic!)), which isn't included here though.

Complete Content
CD1:
Nuclear Burn (UB)
Euthanasia Waltz (UB)
Born Ugly (UB)
Smacks Of Euphoric Hysteria (UB)
Unorthodox Behaviour (UB)
Running On Three (UB)
Touch Wood (UB)
The Ancient Mysteries (BBC Session (08/03/1976)
Born Ugly (BBC Session (08/03/1976)
Kugelblitz (BBC Session (08/03/1976)
Nightmare Patrol (Livestock)
CD 2:
-ish (Livestock)
Euthanasia Waltz (Livestock)
Isis Mourning (Part 1 and 2) (Livestock)
Malaga Virgin (Livestock)
Sun in the Night (MR)
Why Should I Lend You Mine (When You've Broken Yours Off Already)... (MR)
...Maybe I'll Lend You Mine after All (MR)
Hate Zone (MR)
Collapsar (MR)
Disco Suicide (MR)
Orbits (MR)
Malaga Virgen (MR)
CD 3:
Macrocosm (MR)
Malaga Virgin (BBC Session (15/07/1976)
The Poke (MQ)
Masques (MQ)
Black Moon (MQ)
Deadly Nightshade (MQ)
Earth Dance (MQ)
Access to Data (MQ)
The Ghost of Mayfield Lodge (MQ)
Don't Make Waves (P)
Dance Of The Illegal Aliens (P)
CD 4:
Soho (P)
Not Good Enough - See Me! (P)
Algon (Where An Ordinary Cup Of Drinking Chocolate Costs £8,000,000,000) (P)
Rhesus Perplexus (P)
Wal To Wal (P)
...And So To F... (P)
April (P)
Noddy Goes to Sweden (DTH)
Voidarama (DTH)
Act of Will (DTH)
Fragile (DTH)
Cambodia (DTH)
Triumphant Limp (DTH)
D.M.Z (DTH)
Unorthodox Behaviour (UB)
Livestock
Morrocan Roll (MR)
Masques (MQ)
Product (P)
Do They Hurt? (DTH)

Artwork and Booklet
The CDs come in a large double jewel case with 4 trays that used to be very common. The booklet contains the albums' artworks, production information, and liner notes with a few small typing errors like "Euthamasia Waltz" (Livestock) and sometimes random capitalisation and non-capitalisation of song titles (Sun in the Night) All CDs use Charisma's "Pink Scroll" label, even though it was already out of use for vinyls with Brand X's first LP. Instead the "Small Hatter" label would have been correct to use.

Conclusion
+ a lot of music for the money
+ 4 bonus tracks from a 1976 BBC session that are available for the first time
+ no production-related flaws in the sound
– split albums make it difficult to listen to one album in one go
– a few factual mistakes in the booklet and some song titles
– BBC sessions are not included in their entirety

Order: amazon-uk

Author: Ivo Lange (22/11/2014)
English by Robin Morgenstern