A perfect symbiosis
Daryl Stuermer & Martin Levac live
A report from the show Daryl Stuermer and Martin Levac played at the Northern Lights Theater in the Potawatomi Bingo Casino in Milwaukee, Wisconsin (USA) on Monday, April 20, 2009
Daryl Stuermer is someone I have seen live some 50 times, though usually either with Genesis or Phil Collins. I have grown fond of his solo work and I wanted to see him play a show. Unfortunately he rarely plays live, and the few gigs he does take place only in North America and mainly in Wisconsin. The first show of this year that was to take place at the Northern Lights Theater in the Potawatomi Bingo Casino was no exception.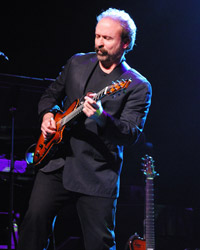 I had seen Martin Levac only at a couple of The Musical Box shows where he would sing More Fool Me on the Selling England By The Pound tour and otherwise 'only' play the drums. Apart from that I had read much about his singing skills and also watched various videos on the internet. Even though there were indications that he would tour through Europe with his Phil Collins cover band Dance Into The Light in 2010, the announcement that Martin would sing at the above-mentioned Daryl Stuermer solo show was all the more attractive. What else could I do except fly the nine hours to Lake Michigan?
As a kind of thank-you for the long journey and the photos I have contributed to Daryl Stuermer's website I got an invitation for the soundcheck and permission to take pictures with my 'real' camera (digital SLR instead of a compact camera).
When I arrived at the Northern Lights Theater I could already hear the instrumental section of Misunderstanding. Soon after I was allowed into the concert hall which has about 500 seats. Keyboarder Kostia Efimov, bassist Eric Hervey and this night's guest drummer were already warming up. The soundcheck consisted of the 'usual bunch' of Genesis songs and, much to my surprise, an acoustic version of Your Own Special Way. I also noticed another astonishing song title. More about that later.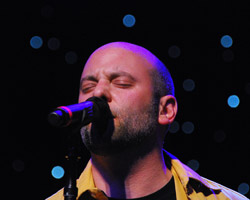 Daryl's solo band had rehearsed only four times for this show, and two of these rehearsals had been the day before with Martin Levac. I was therefore all the more surprised how well the whole ensemble worked together even during the soundcheck. No question at all – the band was ready for the show even in this all new configuration.
When admission time came the gallery way still cordoned off because attendance had been very manageable on previous Mondays' shows in the Spring Through The Decades series. Most downstairs seats were soon occupied and so the gallery was opened, too. I do not know whether the venue was actually full, but it was clear to see most of the attendants were not the usual casino clientele but fans. Though the show was free such a good turn-out was apparently out of the ordinary.
The band took the stage at 7pm – without Martin Levac – and opened with two songs from Daryl's current album Go, Breaking Point and Striker. Between the songs Daryl greeted the audience. He would tell anecdotes between the songs. Even though he works in the background with Genesis and Phil Collins he did live up to his role as a band leader this night.
After a third solo piece (Wherever You Are from Waiting In The Wings) an instrumental version of Land Of Confusion led into the Genesis part, and Daryl welcomed Martin Levac on the stage. They played the acoustic version of Your Own Special Way I mentioned before with Kostia; Daryl described this as one of his favourite Genesis songs. This breathtaking performance caused the first members of the audience to offer standing ovations. Though Martin does not resemble Phil Collins too closely the similarities of his and Phil's voice are astonishing. Throwing It All Away and No Son Of Mine were followed by the evening's next highlight, a medley of Misunderstanding and Follow You Follow Me.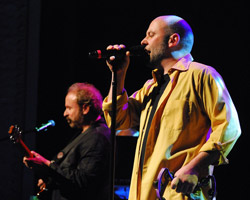 Speaking of highlights, I had already mentioned that a surprising song was mentioned (but not played) during the soundcheck. This song was Squonk! Daryl introduced it as the very first song he had ever heard of Genesis. Someone played the song to him while he was still in Jean-Luc Ponti's band, and he was surprised to hear a jazz-style song by a band he knew only as a progressive rock outfit. Squonk, a song I have never heard live by Genesis (like Your Own Special Way), exceeded my expectations. The band played in a way that gave me an appetite for more!
Martin Levac also found introductory words to some of the songs, e.g. In Too Deep. The main set was rounded off with Invisible Touch and I Can't Dance. The band left the stage to loud applause and standing ovations. An encore had, of course, been planned, but had it not they would have to quickly come up with one after so much enthusiasm of the audience. As Daryl did with Genesis on countless shows and numerous tours the show ended after some 100 minutes with Turn It On Again.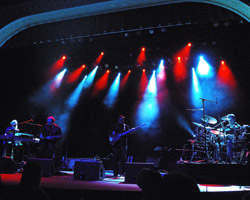 After the show everybody agreed that this line-up simply has to play more concerts. The future will show whether this works out. The DVD that was recorded that night will be used not only as a means of advertisement for potential show promoters but hopefully as an appetizer for the fans. Even if you do not live in Wisconsin there is hope that you may be able to see a Daryl Stuermer solo show, even if it is only on DVD.
The long trip to Milwaukee was more than worth it. And Daryl, we want more!
Setlist

Daryl Stuermer's solo set
Breaking Point
Striker
Wherever You Are
Land Of Confusion

with Martin Levac (vocals)
Your Own Special Way (acoustic version)
Throwing It All Away
No Son Of Mine
Misunderstanding / Follow You Follow Me
Squonk
In Too Deep
Invisible Touch
I Can't Dance
Turn It On Again
by Ulrich Klemt
translated by Martin Klinkhardt
photos by Ulrich Klemt