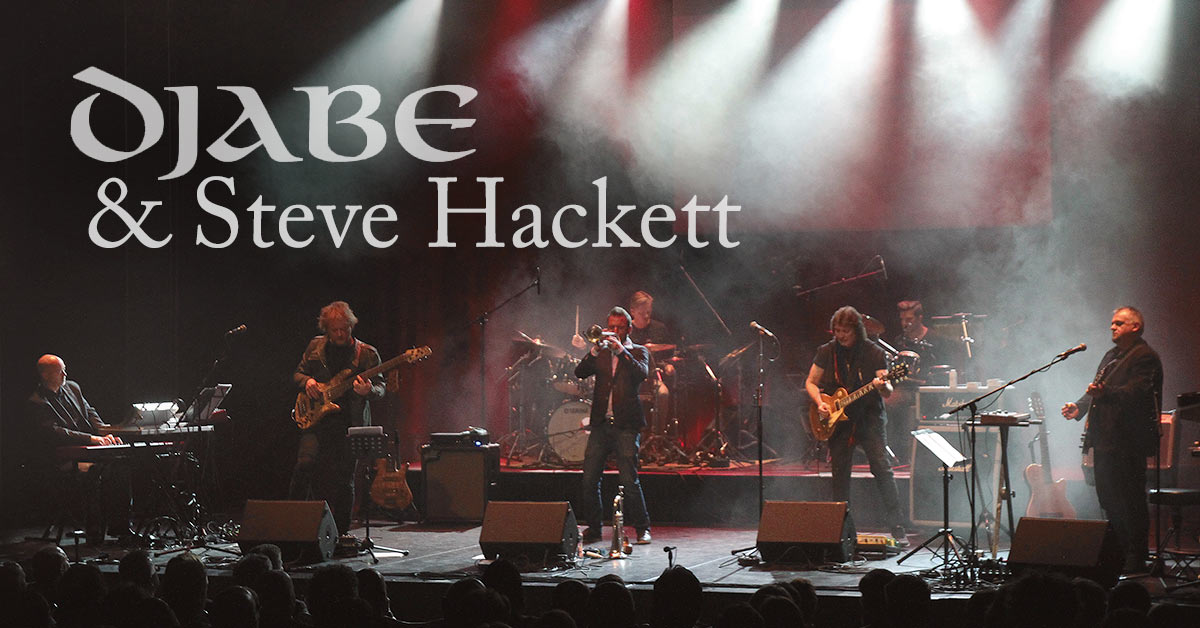 Djabe and Steve Hackett live: Upcomig tour dates

Info about Steve Hackett and Djabe concerts 2019 and beyond

Djabe are a Hungarian Jazz/Prog-Band. The band was formed in 1996 and the name means something like "freedom". They have released over 20 albums to date, among them a lot of live albums. Djabe are:
Tamas Barabás - bass guitar
Attila Egerhazi - guitar, percussion
Áron Koós-Hutás - trumpet, flugelhorn
Péter Kaszás - drums, vocal
János Nagy - keyboards

For Genesis fans, the band is of course of interest due to their continuing collaboration with Steve Hackett. There are many releases of that collaboration.

The first release to feature Steve Hackett was Sipi Benefit Concert in 2009. The band then released the first live album with special guest Steve Hackett, called In The Footsteps Of Attila and Genghis, in 2010. Steve was also guesting on their 15th Anniversary Concert, which was also captured on DVD in the same year.

Summer Storms And Rocking Rivers was the next Djabe & Steve Hackett release and became available in 2013 through Esoteric / Cherry Red. It was a live recording, and many more followed - sometimes even strictly limited, like the CD/DVD It Is Never The Same Twice. Gulli Briem did also appear on that one. Most of the releases are available on vinyl as well, and sometimes even as Reel to Reel tapes.
More info can be found on the website of Djabe.
Djabe & Steve Hackett releases so far:
2009:
Sipi Benefit Concert
2010:
In The Footsteps Of Attila And Genghis
2018:
Life Is A Journey: The Budapest Live Tapes
For a couple of years, Djabe and Steve Hackett play some shows together every summer, mainly in Hungary. All 2020 shows were moved to 2021 due to the Corona pandemic.
Information about Steve Hackett's solo tour can be found on his tour dates page
here
.
Last update: 02/05/2020
2021























03/08/21


Szeged

- IH Rendezvényközpont



04/08/21


Debrecen

- Liszt Terem





05/08/21


Budapest

- Jazz Club



06/08/21


Olomouc

- Korunni Pevnustka



07/08/21


Vienna

- Porgy & Bess



2020




all dates have been moved to 2021





















02/08/20


Debrecen

- Liszt Terem




2021

03/08/20


Szeged

- IH Rendezvényközpont



2021

04/08/20


Budapest

- Jazz Club



2021
05/08/20


Budapest

- Jazz Club



2021
06/08/20


Olomouc

- Korunni Pevnustka



2021
07/08/20


Vienna

- Porgy & Bess



2021
2019




The Journey Continues





















30/07/19


Budapest

- Jazz Club 7pm



30/07/19


Budapest

- Jazz Club 8.45pm





31/07/19


Olomouc

- Korunni Pevnustka





01/08/19


Miskolc

-Ady Endre Küvelödési Ház





02/08/19


Balatonlelle

- Lellei Borhét (Open Air)



free
03/08/19


Nyiregyháza

- Kulturális Központ