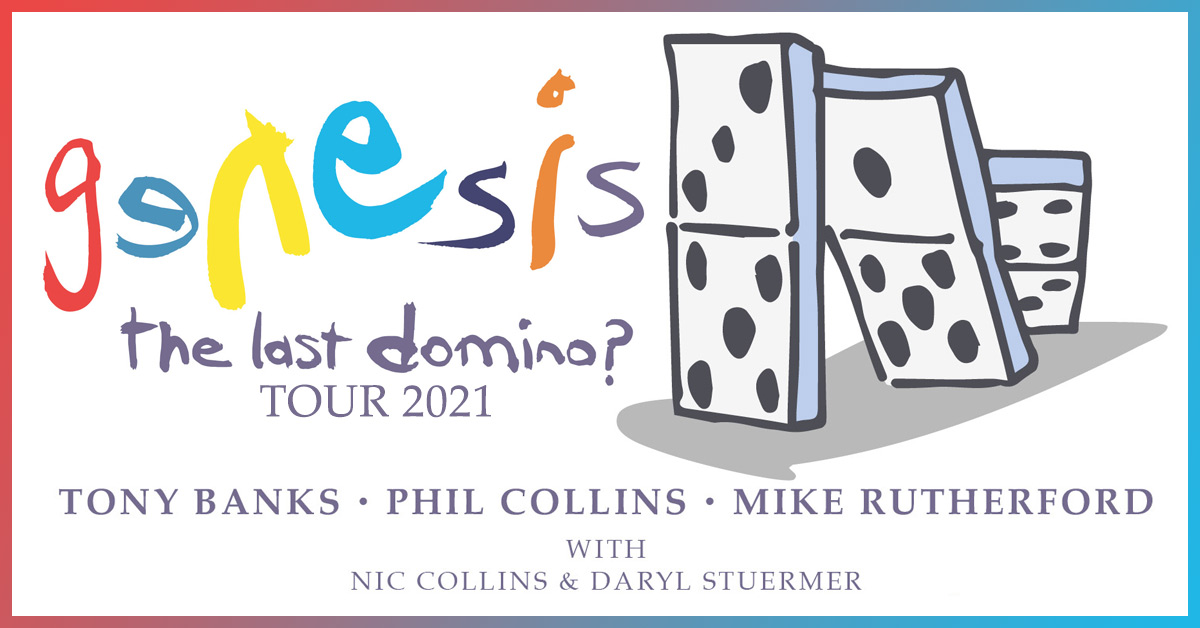 Genesis live 2021 - tour dates

It has been a rather unlikely rumour for several weeks and months and then things got more and more likely - and then it was official. Genesis (Tony Banks, Phil Collins, Mike Rutherford) will reunite. The shows scheduled for 2020 have been moved to April 2021 due to the Corona pandemic. Two additional shows have been added, one each for Birmingham and London. In January 2021, the shows were postponed to September and October in the light of the ongoing pandemic.

Daryl Stuermer (guitars) and Nicholas Collins (drums) will join the trio on stage for the shows in the UK and Ireland in 2021. Although it is likely that more shows will follow after 2021, nothing is confirmed right now.
UPDATE 29th April 2021: North American dates have just been announced, see below!

Genesis have published a rehearsal teaser video (full production rehearsals), which reveals interesting details. The two background singers you can see are Daniel Pearce and Patrick Smyth. You can find further details in this thread in our forum.

A new compilation, The Last Domino?, has been announced for release in Europe (17th September) and North America (17th November) on 2CD and 4LP. These compilations have slightly different tracklists. More info is available here.

We have conducted an interview with Michel Colin, sound engineer for the upcoming Genesis tour. Find the interview here.
Want to interact with other fans? Join our website forum here.
Which shows are you going to see? Participate in our polls (UK-leg | North America leg).
Setlists and show reports will be provided in individual threads in our forum. Simply click on the venue below after the show.

Last update: 15th September 2021

Date



City / Venue





Tickets














15/09/21




Dublin

- 3Arena




postponed


16/09/21




Dublin

- 3Arena




postponed
18/09/21


Belfast

- The SSE Arena




postponed
20/09/21


Birmingham

- Arena Birmingham




21/09/21


Birmingham

- Arena Birmingham




22/09/21


Birmingham

- Arena Birmingham




24/09/21


Manchester

- Manchester Arena




25/09/21


Manchester

- Manchester Arena





27/09/21


Leeds

- First Direct Arena




28/09/21


Leeds

- First Direct Arena




30/09/21


Newcastle

- Utilita Arena




01/10/21


Newcastle

- Utilita Arena




03/10/21


Liverpool

- M&S Bank Arena




04/10/21


Liverpool

- M&S Bank Arena





07/10/21


Glasgow

- The SSE Hydro




08/10/21


Glasgow

- The SSE Hydro




11/10/21


London

- The O2


12/10/21


London

- The O2


13/10/21


London

- The O2
















15/11/21


Chicago, IL

- United Center





16/11/21


Chicago, IL

- United Center

*NEW*







18/11/21

Washington, DC

- Capital One Arena





19/11/21

Raleigh, NC

- PNC Arena

*NEW*





20/11/21

Charlotte, NC

- Spectrum Center





22/11/21

Montreal, QC

- Centre Bell





23/11/21

Montreal, QC

- Centre Bell

*NEW*





25/11/21

Toronto, ON

- Scotia Bank Arena





26/11/21

Toronto, ON

- Scotia Bank Arena

*NEW*





27/11/21

Buffalo, NY

- Keybank Center





29/11/21

Detroit, MI

- Little Caesars Arena





30/11/21

Cleveland, OH

- Rocket Mortgage FieldHouse





02/12/21


Philadelphia, PA

- Wells Fargo Center





03/12/21


Philadelphia, PA

- Wells Fargo Center

*NEW*





05/12/21

New York City, NY

- Madison Square Garden





06/12/21

New York City, NY

- Madison Square Garden

*NEW*





08/12/21

Columbus, OH

- Nationwide Arena





10/12/21

Elmont, NY

- Belmont Park UBS Arena




13/12/21

Pittsburgh, PA

- PPG Paints Arena





15/12/21

Boston, MA

- TD Garden





16/12/21

Boston, MA

- TD Garden

*NEW*





















































---
Dae



City / Venue





new date













01/04/21


Glasgow

- The SSE Hydro




7/10/21

02/04/21


Glasgow

- The SSE Hydro




8/10/21

05/04/21


Birmingham

- Arena Birmingham




20/09/21

06/04/21


Birmingham

- Arena Birmingham




21/09/21

07/04/21


Birmingham

- Arena Birmingham




22/09/21

09/04/21


Newcastle

- Utilita Arena




30/09/21

10/04/21


Newcastle

- Utilita Arena




01/10/21

12/04/21


Manchester

- Manchester Arena




24/09/21

13/04/21


Manchester

- Manchester Arena




25/09/21

15/04/21


Dublin

- 3Arena




15/09/21

16/04/21


Dublin

- 3Arena




16/09/21

18/04/21


Belfast

- The SSE Arena




18/09/21

21/04/21


Leeds

- First Direct Arena




27/09/21

22/04/21


Leeds

- First Direct Arena




28/09/21

24/04/21


Liverpool

- M&S Bank Arena




03/10/21

25/04/21


Liverpool

- M&S Bank Arena





04/10/21

27/04/21


London

- The O2


11/10/21

29/04/21


London

- The O2


12/10/21

30/04/21


London

- The O2




13/10/21

---
Date



City / Venue





new date













16.11.20


Dublin

- 3Arena





15/04/21
17.11.20


Dublin

- 3Arena





16/04/21
19.11.20


Belfast

- The SSE Arena





18/04/21
23.11.20


Liverpool

- M&S Bank Arena




24/04/21
24.11.20


Liverpool

- M&S Bank Arena





25/04/21
26.11.20


Newcastle

- Utilita Arena




09/04/21
27.11.20


Newcastle

- Utilita Arena




10/04/21
29.11.20


London

- The O2


27/04/21
30.11.20


London

- The O2



29/04/21
02.12.20


Leeds

- First Direct Arena




21/04/21
03.12.20


Leeds

- First Direct Arena




22/04/21
05.12.20


Birmingham

- Arena Birmingham





05/04/21
06.12.20


Birmingham

- Arena Birmingham




06/04/21
08.12.20


Manchester

- Manchester Arena




12/04/21
09.12.20


Manchester

- Manchester Arena




13/04/21
11.12.20


Glasgow

- The SSE Hydro




01/04/21
12.12.20


Glasgow

- The SSE Hydro




03/04/21
---