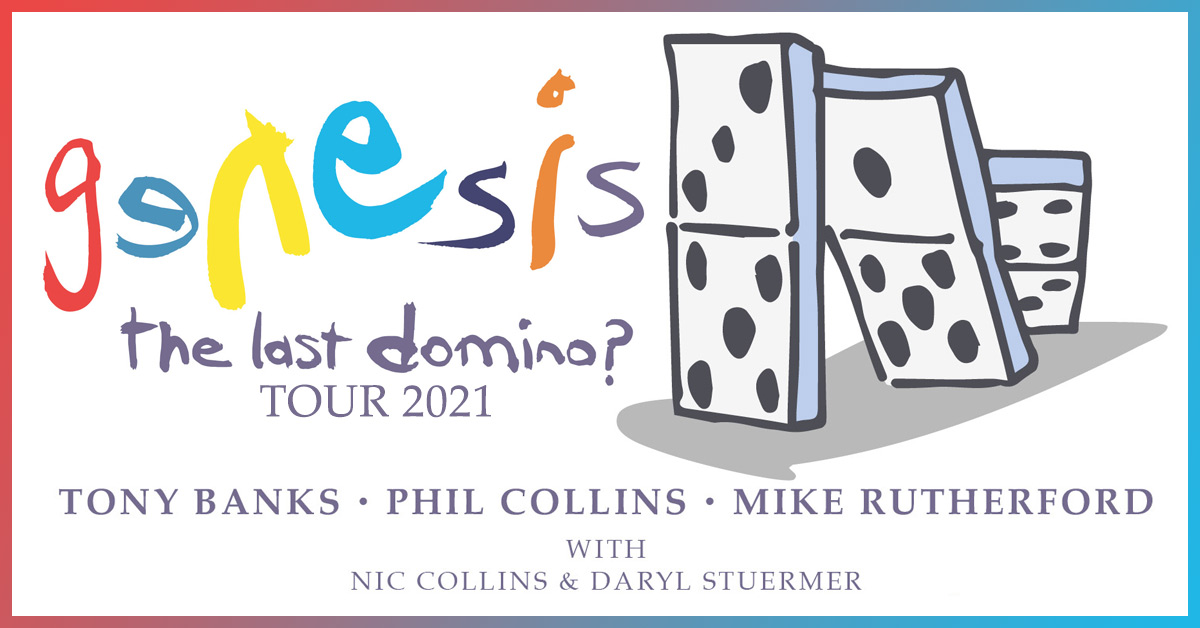 Genesis live 2021 - tour dates

It has been a rather unlikely rumour for several weeks and months and then things got more and more likely - and then it was official. Genesis (Tony Banks, Phil Collins, Mike Rutherford) will reunite. The shows scheduled for 2020 have been moved to 2021 due to the Corona pandemic. Two additional shows have been added for Birmingham and London.

Daryl Stuermer (guitars) and Nicholas Collins (drums) will join the trio on stage for the shows in the UK and Ireland in April 2021. Although it is likely that more shows will follow in 2021, nothing is confirmed right now.
Please also read the transcript of the interview on BBC Radio 2 (4th March).

Last update: 24th July 2020
Datum



Stadt / Location





Tickets













01/04/21


Glasgow

- The SSE Hydro




02/04/21


Glasgow

-

The SSE Hydro





05/04/21


Birmingham

- Arena Birmingham




06/04/21


Birmingham

- Arena Birmingham





07/04/21


Birmingham

- Arena Birmingham




09/04/21


Newcastle

- Utilita Arena




10/04/21


Newcastle

- Utilita Arena




12/04/21


Manchester

- Manchester Arena




13/04/21


Manchester

- Manchester Arena





15/04/21


Dublin

- 3Arena




16/04/21


Dublin

- 3Arena




18/04/21


Belfast

- The SSE Arena




21/04/21


Leeds

- First Direct Arena




22/04/21


Leeds

- First Direct Arena




24/04/21


Liverpool

- M&S Bank Arena




25/04/21


Liverpool

- M&S Bank Arena




27/04/21


London

- The O2


29/04/21


London

- The O2


30/04/21


London

- The O2





---
Date



City / Venue





new date













16.11.20


Dublin

- 3Arena





15/04/21
17.11.20


Dublin

- 3Arena





16/04/21
19.11.20


Belfast

- The SSE Arena





18/04/21
23.11.20


Liverpool

- M&S Bank Arena




24/04/21
24.11.20


Liverpool

- M&S Bank Arena





25/04/21
26.11.20


Newcastle

- Utilita Arena




09/04/21
27.11.20


Newcastle

- Utilita Arena




10/04/21
29.11.20


London

- The O2


27/04/21
30.11.20


London

- The O2



29/04/21
02.12.20


Leeds

- First Direct Arena




21/04/21
03.12.20


Leeds

- First Direct Arena




22/04/21
05.12.20


Birmingham

- Arena Birmingham





05/04/21
06.12.20


Birmingham

- Arena Birmingham




06/04/21
08.12.20


Manchester

- Manchester Arena




12/04/21
09.12.20


Manchester

- Manchester Arena




13/04/21
11.12.20


Glasgow

- The SSE Hydro




01/04/21
12.12.20


Glasgow

- The SSE Hydro




03/04/21
---