Martin Levac transforms Genesis songs

A Visible Jazz Touch Of ... Genesis

His time with The Musical Box has made Martin Levac a household name for Genesis fans. The versatile drummer is frequently described as a Phil Collins clone, and it does not come as a surprise that he went on to do a Collins solo show. He also gave us an interview about that show.

Several years ago Levac released his first solo album called Influences in an attempt to present his striking voice. Unfortunately, the album suffered from the production.
Now he brings out his second solo album, on which he focuses on Genesis, although he takes quite a different approach to what one might suspect. When you listen to Genesis or see their show the music always seems heavy, grand, focused and played to the point. Levac does a different thing. He cuts away the grand and particularly the heavy elements of Genesis' music – his album is called A Visible Jazz Touch of ... Genesis, and it is what it says on the label: Genesis songs performed in jazzy swing versions with Levac in remarkable shape.
The CD comes in a foldout cover, just like the old gatefold sleeves for LPs. There is no tray, the CD lies in one side, as in the mini-LP-sleeve remakes of many Genesis and solo albums. He had distributed the eleven songs onto two album sides on the back cover, but it is only one CD, of course.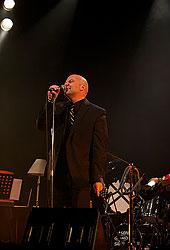 The album was recorded with few musicians. Levac obviously sings and plays the drums. Frédérick Doiron, who has quite a reputation as a songwriter, does the guitar work, Mathieu Gagné plays the bass (and is not related to Denis Gagné). Julie Lamontagne is one of Canada's leading jazz pianists, and sometimes we also hear David Myers, who has recorded piano versions of Genesis songs himself.
The band was augmented by drummer Emmanuelle Caplette for their performances at the Québec City Jazz Festival; she will also be hitting the skins at the next shows (Montreal, in early March 2012). The liveset consists of all eleven songs that were recorded for the release and of eight additional pieces, some of which are instrumentals.
The album is the result of Levac's playing around: When he was touring, Levac grew bored of always playing the songs just like the original, so he would play a swing version of The Lamb Lies Down On Broadway or a bossa nova Watcher Of The Skies. The jazz version turned out to be the most exciting.
The choice of songs reflects Levac's taste. As a huge Collins fan he decided to disregard Gabriel era songs. "For this first recording it was important to me that For Absent Friends and More Fool Me were included. These are the first two songs sung by PC on a Genesis album." Apart from that he has attempted to have a broad choice of old and (relatively) new songs:

Turn It On Again
An up-tempo piece that was played on every Genesis show since the early 80s receives a huge breeze of fresh jazzy air. It feels as if the rhythms are toddling happily through the room, and Levac has a great time.

Land Of Confusion
Land Of Confusion is structured in a way similar to Turn It On Again. The serious topic of this big protest song is conveyed in a very different way. While we have heard loads and loads of heavy metal covers of this song, the jazz version comes with the opposite flavour.

Many Too Many
This song is the first surprise. The ballad works well in the original though its attractivity fades fast. The jazz touch transports the song to a more playful level; the finale even has something of a jam.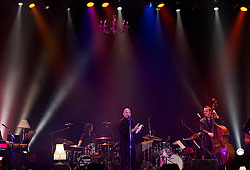 For Absent Friends
An unexpected choice. Levac gives the song a bit more motion. It seems to be played a bit faster and a bit straighter (the original had an uneven beat). There are, remarkably, no drums on this song; piano and bass are at the fore here.

That's All
If you expected a quick breakaway from jazzy playfulness, you will be presented with a slow start. Then the uptempo song gets going with bass and brushes and some subtle piano cues. That's All is quick indeed, but also simplified and airy. Perhaps it is because the song uses only gentle sounds.

A Trick Of The Tail
You could have guessed that A Trick Of The Tail is the songs that benefits Levac's concept the least, probably because the original is already closer to jazz and, in a way, a-typical for Genesis.

Mama
This song has an interesting arrangement. All things dirty, dark and aggressive have gone. The first verse is accompanied by piano only, the second has subtle drums and a strong bass. Yes, the laugh is still there... but it is all so subtle and playful and very befitting the arrangement of the song. The bridge builds a bit of tension, but the second laugh is left out while the third verse is sung and played in an unobtrusive way. Then there is a surprise: Levac does not cut out the third verse, but really gets going in it. The ending is almost too rock-pop, but it is still a very interesting version.

Misunderstanding
This song begs to be done as a jazz version, and Levac does exactly the right thing with it: He lets it be what it could have been had not Genesis recorded it. If you have not before, you will realize here how relaxing the absence of keyboards can be.

Invisible Touch
Unlike the other up-tempo songs Invisible Touch has less instruments and is slower than the original. The song benefits from it because, while the original is frequently irritating, this arrangement demands a da capo – and brings back memories of Phil's big band version of the song.

More Fool Me
More Fool Me undergoes a different transformation. The vocals are accompanied by a piano for one thing, and Levac begins with deep vocals. Remember, this was the song that awed The Musical Box's audiences. The present version does not resemble that live performance, though. Still, More Fool Me is a logical choice for an album and one of the better jazz versions – perhaps also because it could also be on an album with a jazz label on front.

Mad Man Moon
While More Fool Me was sung low, Levac sings Mad Man Moon in a higher voice. The piano is the central instrument once more, and it almost sounds like a ballad, but then perhaps it is one? The jazz element comes in during the bridge ("hey man"). It is the first time Levac and band sound a bit artificial and not so relaxed.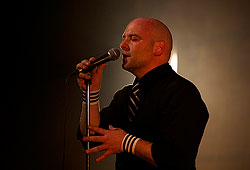 Eleven songs, few instruments and a Martin Levac in high spirits. That is all it needs to produce a great album. While the Genesis Suite by Tolga Kashif sounds infinitely complicated and outlandish, and while the members of Genesis want their interpretations to sound a big and expansive as possible (Genesis Classic/Ray Wilson, Genesis Revisited/Steve Hackett, New Blood/Peter Gabriel), Levac releases the songs from their prison and the necessity to be something really big. Genesis and swing, Genesis and jazz, these couplings work better than one would thing. Weak points are the diffuse and rather random selection of songs and the fact that some songs have not been cleaned up, as it were, as much as they could have been. The production is brilliant and flawless, though. A Visible Jazz Touch Of ... Genesis is more than a special recommendation – everybody who is into the music of Genesis ought to have this album on their CD shelves or playlists as an antidote. This is an excellent album, and it is quite simply fun.
If you cannot get enough of it you will be pleased to hear that Martin Levac would like to record a second jazz recording of Genesis songs, which will not come out before 2013, though. Before that there are numerous Dance Into The Light shows in Montreal – and a collaboration album with Dave Kerzner of Sonic Reality in which both want to cover solo songs by Mike Rutherford, Tony Banks and Steve Hackett. The future sounds interesting.

by Christian Gerhardts and Martin Klinkhardt (also English)