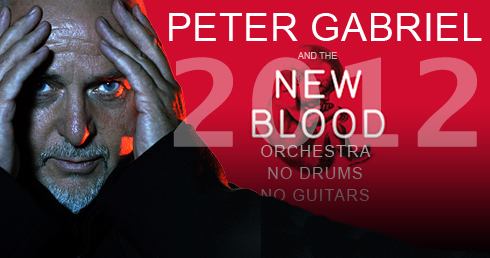 Peter Gabriel - The New Blood Tour: Live 2010/11/12
Gabriel presents his new album live with complete orchestra!

You may call it a sensation: Peter Gabriel decides to play the whole new album live around the world - with a 54-piece orchestra!

Scratch My Back was released in 2010 and consists of twelve cover versions of Peter Gabriel without a regular rock band, but with a complete orchestra. Amongst others, Gabriel covers David Bowie, Paul Simon, Elbow, Radiohead and The Talking Heads. For more details, read our album review and the project information page.
The live set consisted of songs from the new album as well as songs from Gabriel's own repertoire. The concerts took place with a full orchestra, which is why there were only a few shows planned in the first place.




2010





20.03.10
Paris - Studio 4 (Radio France)

France

report

22.03.10
Paris - Palais Omnisport Bercy

France


24.03.10
Berlin - O2-World

Germany

report

25.03.10
Berlin - O2-World

Germany

report
27.03.10
London - O2-Arena

UK
report

28.03.10
London - O2-Arena

UK


28.04.10
Montreal - Bell Centre

Canada


29.04.10
Montreal - Bell Centre

Canada


02.05.10
New York City - Radio City Hall

USA


03.05.10
New York City - Radio City Hall

USA


07.05.10
Los Angeles - Hollywood Bowl

USA


12/09/10
Avenaches - Amphitheater

Switzerland


14/09/10
Leipzig - Arena

Germany


16/09/10
Brussels - Vorst Nationaal

Belgium


17/09/10
Arnhem - GelreDome XS

Netherlands


19/09/10
Amneville - Galaxie

France


22/09/10
Madrid - Palais de Deportes Cumunidad

Spain


23/09/10
Barcelona - San Jordi

Spain


26/09/10
Verona - Arena di Verona

Italy
report

29/09/10
Zürich - Hallenstadtion

Switzerland


30/09/10
Mannheim - SAP Arena

Germany


02/10/10
Cologne - Lanxess Arena

Germany
report

03/10/10
Hamburg - O2-World

Germany










01/11/10

Melbourne - Etihad Stadium

Australia

cancelled




2011





23/03/11

London - Hammersmith Apollo
UK



24/03/11

London - Hammersmith Apollo
UK



10/06/11

Berkeley - UC Campus
USA



11/06/11

Santa Barbara - Santa Barbara Bowl
USA



13/06/11

Morrison - Red Rocks Amphitheatre
USA

report

15/06/11

Verizon - Theatre
USA



16/06/11

The Woodlands - Cynthia Woods Pavilion
USA



18/06/11

Kansas City - Starlight Theatre
USA



20/06/11

Chicago - United Center

USA



22/06/11

Toronto - Molson Amphitheatre
Canada



24/06/11

Mansfield - Comcast Center

USA



25/06/11

Camden - Susquehanna Bank Center
USA



27/06/11

Saratoga Springs - PAC
USA



29/06/11

Milwaukee - Amphitheatre

USA











13/11/11

Sao Paulo - Starts With You Festival

Brazil



16/11/11

Santioago de Chile - Moviestar Arena

Chile



18/11/11

Buenos Aires - Estadio Geba
Argentina




21/11/11




Monterrey - Banamex Theatre




Mexico



cancelled

23/11/11

Mexico City - National Auditorium

Mexico



24/11/11

Mexico City - National Auditorium
Mexico



26/11/11

Guadalajara - Auditorio Telmex

Mexico






2012





02/05/12
München - Olympiahalle

Germany


03/05/12
Oberhausen - König-Pilsner-Arena
Germany


06/05/12
Wolfsburg - Movimentos/KraftWerk

Germany


07/05/12
Wolfsburg - Movimentos/KraftWerk
Germany


09/05/12
Berlin - O2-World
Germany


11/05/12
Stuttgart - Schleyerhalle
Germany


13/05/12

O?wi?cim

-

Fundacja Peace Festival

Poland


29/06/12

Kent

- Hop Farm Music Festival

UK


07/07/12

Lisbon

- Parque das Nações

Portugal


Links:
Scratch My Back - album review
Peter Gabriel: discussions about the new album in the forum