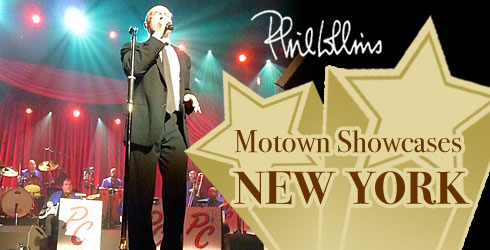 Phil Collins - Back In NYC: Motown Showcases 2010
Phil returns to stage with a series of Showcases in support of his forthcoming album, Going Back. For three nights, he played in the rather tiny Roseland Ballroom in New York City.
It is not an academic review, nor a musician's review (although I am a drummer), but it is a personal review based on my own impressions and emotions.

The journey started for me on the 23rd of June, when I departed from London to fly to NYC. I arrived at JFK airport on the evening of the 23rd, too late to attend the first gig at the Roseland. I had to wait at the airport for a good friend of mine to arrive from Florida the following morning. I therefore found a place where to lay down on the ground and sleep (kind of!).

In the morning, my friend duly arrived and we took a cab straight to the hotel which was a block away from the Roseland! We checked in and then had some lunch at a lovely Thai restaurant, before going to the Roseland and start the traditional QUEUING! Only one person was there, another member of the Front Row Club, so we joined her. After about 6 hours of wait in the heat and sun, finaly, the doors opened and the rush for THAT perfect spot on front row started. I ended up straight under Mr Phil's microphone on front row....the ROYAL spot! 
After another hour or so of wait, the lights dimmed and the first musician was wheeled onto the stage. Mr Bob Babitt, "who has played on every Motown Record you guys ever bought" said Mr Phil when He introduced him.
Next the rest of the band came on, with of course many of our old friends such as Chester (playing on a minuscule drum kit!), Daryl, Brad Cole who acted as a director too, Amy, Lynne, Bill and of course Munch, staring as the water provider for a good friend of mine also on Front Row! 
The brass band was a mainly British band that was hired for their expertise in the Motown/soul way of playing.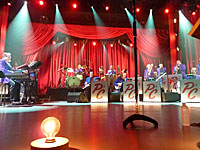 They played an upbeat intro and then The Master made his entry onto the stage, to the great regal and applause of the crowd! He launched straight away into Signed, Sealed, Delivered / Ain't Too Proud To Beg / Dancing In The Street. At this point I cannot quite remember when he started talking to us, but he then said: "You probably wonder what we are doing here tonight!", and went on explaining about his new album project, rendering homage to the soundtrack of his youth, Motown and Soul.
Mr Phil and band then carried on with (Love Is Like) A Heatwave, before getting into the next song introduced by Mr Phil: The MAGNIFICENT Papa Was A Rolling Stone! This was the absolute highlight of the show, both in musical performance (with a wonderful trumpet solo) and in Mr Phil's interpretation of the track, starting it in a kind of In The Air Tonight solemn still standing pose for the quite long instrumental intro, then launching into the song with great passion. This song, for me, was by far the best, not only as in performance, but in style, as it was far more "rockier" than the rest. I am at heart a "Prog" and "Rock" person, though of course, I love all of Mr Phil's repertoire !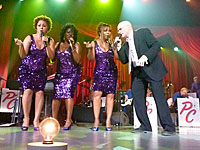 I'll be honest here and say that I am not really into Soul or Motown, in fact I don't own any of these kind of recordings. I simply don't relate to these sweeter than sugar songs with fairly (in my opinion) "light" lyrics. However, I relate to Mr Phil Collins and I find that every type of project he embarks on, I love it. He simply makes all these styles his own and truly gives them life. In fact I'd go as far as saying that "Soul and Motown are all well and good, however, they only become truly SOUL when Mr Phil Collins sings them!"
After the rising anthem that Papa was the mood went back into the soul mode with You Really Got A Hold On Me, Loving You Is Sweeter Than Ever, a wonderful heart felt Never Dreamed You'd Leave This summer, Going To A Go-Go, Jimmy Mack, and a lively Uptight (Everything's Alright). Then came the title track of the forthcoming album: Going Back, where Mr Phil explains what this song means to Him. He sings it beautifully and feels so emotional that he sheds a tear and is obviously very nostalgic about his young years. Then its back into a less retrospective mood with Nowhere To Run, Do I Love You, and finally launching into the old time favourite You Can't Hurry Love where everybody in the audience finally gets it (yes, sadly there were many in the audience, at each gig I went to – New York City and Montreux- who had NOT BOTHERED to read what the concert would be about and expected to hear Mr Phil's own material and therefore went on grumbling and complaining...what kind of IDIOTS do not check what is the gig they're buying tickets for? Mr Phil warned people enough times that this was NOT his usual repertoire and to not expect In The Air Tonight and the rest...) Anyway, that got everyone going and then the concert closed with My Girl. 

The following day, on the 25th, same queuing, same front row spot and another good gig, with the same songs, and a slighly more finely tuned performance from all (it was filmed for DVD!). 

Now a quick word about the Montreux gig.

Sadly, for this one, there were seats for 3/4 of the hall and very expensive at that, so most the seated people were VIPs and other lifeless dummies that were there to show their faces rather than for Phil Collins, and the real fans were relegated to standing at the back, far from the stage. We were "front row" again, but ... BEHIND loads of seats! Grrrr. At least we were the ones giving life to the party! This gig was I think the best in terms of general performance and in Mr Phil's confidence and relaxed state, where he even undid his tie and did more ad lib chats, even proposing to Chester lol! But it was not the best in terms of audience atmosphere. Fans should have been standing at the front. I don't understand why in 2004, in Montreux, the set up was all standing on the floor, and yet, this year, for supposedly "dance hall music" it was mainly seated...it does not make any sense and I feel that the gig suffered from this stupid arrangement. Anyway, I am very happy and grateful that I was indeed able to attend 3 of the 7 performance of the "Up Close and Personal" Going Back selection of shows!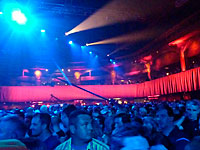 I apologise in advance if there are any errors in song titles or running order but as I said I am not familiar with this kind of music and some songs I actually had no idea what there were called. Please feel free to amend any innacuracies regarding set list. Thanks for your time and I hope you'll enjoy reading my humble report.


Yours, Phildas Bhakta aka The Orange Turbaned Drummer ;)
Photos: Matthias Fengler
The standard-setlist of the shows:
Signed, Sealed, Delivered (Intro)
Ain't Too Proud To Beg
Girl (Why You Wanna Make Me Blue)
Dancing In The Street
(Love Is Like A) Heatwave
-- Speech and introduction "The Funk Brothers"
Papa Was A Rolling Stone
Never Dreamed You'd Leave In Summer
Jimmy Mack
You've Been Cheatin'
-- Introduction "Background Vocals"
Do I Love You
Loving You Is Sweeter Than Ever
Going To A Go-Go
-- Speech
Blame It On The Sun
Ain't That Peculiar
Too Many Fish In The Sea
-- Introduction "Horn Section"
You Really Got A Hold On Me
Something About You
-- Introduction "Brad/Daryl/Chester"
Tears Of A Clown
Nowhere To Run
In My Lonely Room
Take Me In Your Arms (Rock Me A Little While)
Uptight (Everything's Alright)
------------
Going Back
Talking About My Babe
You Can't Hurry Love
My Girl
Links:
Going Back
:
Information about the album
(Background, tracklist, formats)
Tour dates 2010
Gig Reviews 2010
Forum Discussion