Phil Collins - "Face Value"
Debut albums are always special. Genesis' was a kind of joke, while Peter Gabriel's and Steve Hackett's first solo records were praised by fans and critics alike. Pink Floyd released an extraordinary debut, and so did R.E.M in the 80s. When Phil Collins thought about recording a solo album he had no idea. And it came out as if he had not known what could happen. A couple of decades later
Face Value

has become a legend, a masterpiece, a milestone in the history of music. Twelve songs and no real concept were enough to become the big thing that would change everything.


Two things were crucial for Face Value. For one thing, Phil tried to save his marriage – even if that meant bad news for Genesis. The other thing was that Tony and Mike were busy recording solo albums themselves when Phil returned from his failed marriage. Even before they began with Duke Collins got to work, though it was only after the Duke tour that he did the bulk of Face Value. Phil Collins had never actually written a song himself. There were moments on which he had collaborated, e.g. Lilywhite Lilith, Blood On The Rooftops, Los Endos and later Ballad Of Big, Down And Out or And So To F… for Brand X. It was therefore quite a new thing when he brought his own songs Misunderstanding and Please Don't Ask to the Genesis production.

Based on the experience of his failed marriage a series of songs developed that could not be more personal. Phil recorded most of it at home, hence his soft spot for "home demos". He had no intention of recording a whole album but just wanted to cope with his private life. It was Ahmet Ertegun (amongst others), the president of Atlantic Records who encouraged Phil Collins produce an album from these songs. Phil refined his demos into songs, and Face Value ended up with a remarkable list of musicians. Daryl Stuermer was a logical choice, Eric Clapton an interesting choice. Then there were the Phoenix Horns from Earth, Wind And Fire, jazz musician Alphonso Johnson, violinist Shankar and finally Arif Mardin.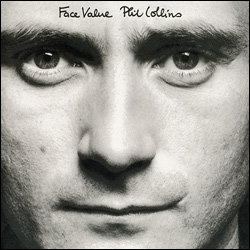 Hugh Padgham was aked to produce the album. Phil had already worked with him when Padgham produced Peter Gabriel's third solo album III (Melt).

Phil decided to use two more songs for the album. One was his own version of the Genesis song Behind The Lines, the other a cover version of the Beatles' Tomorrow Never Knows. Other songs were not included on the album. Misunderstanding and Please Don't Ask ended up on Duke. Another demo with the working title How Can You Sit There was released only three years later – and became a huge hit as Against All Odds (Take A Look At Me Now).

In The Air Tonight
There are many superlatives, but none fit this song. In The Air Tonight is a terrific piece of music, perhaps the most outstanding song Collins – or, for that matter, anybody in Genesis – has ever written. It is most ingenious to see how Collins lets the music exude a soothing depression before he lets it burst with the most famous drum roll in the history of music. Unlike Phil Collins' solo career In The Air Tonight grew ever better - it was the absolute highpoint on the First Final Farewell tour.

This Must Be Love
While In The Air Tonight spreads gloom and doom, as it were, This Must Be Love aims at the opposite emotion. During the Duke tour Phil got to know his later wife Jill Tavelmann, an event that inspired him to write This Must Be Love. It is a declaration of love that would be called kitsch today. However, in 1980/1 Collins was completely unselfconscious, and there are few Collins ballads that come near the quality of This Must Be Love. Alphonso Johnson's (from Weather Report) bass loop from this song became famous, too.
Behind The Lines
Phil Collins covering a Genesis song is a strange thing. At the time it was not at all certain that Phil's solo experiment would be successful. While they were recording Duke, Genesis played the songs at twice their normal speed, and Collins realized that Behind The Lines had the potential for becoming a completely different song than the camouflaged bombast prog song it became on Duke. Phil's version has a brass ensemble. They lend the song a whole new flavor, a funky groove. Behind The Lines used to be a live favourite; Collins unfortunately stopped playing it in 1995.
The Roof Is Leaking
The Roof Is Leaking proves that Collins is not always about heartaches and being in and falling out of love. It is related to This Must Be Love in a way, but The Roof Is Leaking does not offer a brilliant bass line or a romantic melody; it seems deranged, not least so because of Eric Clapton's guitar playing. Years later Collins would rue his decision to produce a sleek version of the song – and raved on the rough version of the demo.
Droned
Shankar is not just somebody, he is a virtuoso violinist. Collins felt a bit bad about giving him only small parts to play. Shankar himself took it in his stride. At the end of the 90s he remembers the extraordinary Face Value sessions: "We had no idea what he wanted to do – it could have become a fusion record, a rock record, an instrumental record. It was all done spontaneously. He could change it all from one second to the next. Phil reminds me of Frank Zappa." Droned is probably the piece with which Collins came closest to a lateral thinker like Zappa. This gem is unique in Collins oeuvre. How he came up with it remains his secret. The song after that shows that Droned could not stand on its own:
Hand In Hand
It is the same drum computer. The transition is a bit awkward, but it works. Pieces like Hand In Hand show that Phil is musician first of all and only then a singer. Louis Sattlerfield praises Collins' talent: "He always gave us demanding things to play. Hand In Hand was one of the huffy-puffy songs for us." Collins wanted a brass group that set him off from Genesis. Hand In Hand became a classic that was a fantastic opening song on his 1990 and 1997 tours.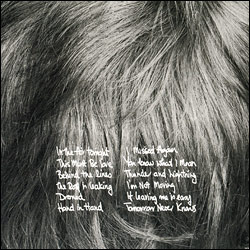 I Missed Again
The second single from the album was quite a contrast to In The Air Tonight. It shows Collins playfully exploring the R&B corner. That was extraordinary in 1981, because it was partly "black" music, and there were lots of radio stations that did not want to play it because it blended "white" and "black music". Collins made this mix of styles acceptable, or at least helped doing so. I Missed Again became a top 20 hit.
You Know What I Mean
The archetype for all of Collins' ballads is not In The Air Tonight, but You Know What I Mean. Collins celebrates his pain relying only on piano and a string arrangement – and this does not take more than two-and-a half minutes and two verses for maximum impact. Rarely did he reach this level of intensity in his career – probably with Long Long Way To Go, perhaps also We Fly So Close, but You Know What I Mean remains untouched, a jewel.
Thunder And Lightning
The album's least conspicuous song is Thunder And Lightning. An upbeat number is carried by the horn section. Not really spectacular, but that does not say much in the context of the whole album. This song would conceivably have been a highlight on many other albums.
I'm Not Moving
This uptempo song remains an exception in Collins' song catalogue. Rarely does he sound so funky, relaxed and at ease. Collins begins this two-and-a half minute song with almost shy lyrics before it turns into a "oh, so what" number. When he played it on the piano at MTV's Most Wanted in 1993 hardly anybody recognized it…

If Leaving Me Is Easy
It is quite difficult to hear Eric Clapton's guitar work on If Leaving Me Is Easy. It is easier to appreciate Arif Mardin's string arrangement. The song is definitely a highlight on the album though it should theoretically bore us all to death. But the way Collins sings – like a broken man -, the terrific saxophone intro and the "wake-up call" at the end make these five minutes of music something very special. Collins has rarely played this song live as he felt disappointed with a certain restlessness in the audience. If Leaving Me Is Easy is no music for the masses, but rather an opportunity for the masses to get themselves another beer. Which is maybe just another way to tell the quality of a song.
Tomorrow Never Knows
Hand In Hand played backwards? Yes, it is, at the end of Tomorrow Never Knows. Masterpieces all have their special moment. The finale of Face Value is Phil's tribute to his biggest influence, The Beatles. He imitates and interprets John Lennon suspiciously well and leaves Collins as far behind himself as Collins can leave Collins behind. At the end there is another homage – Phil sings Over The Rainbow and suddenly Face Value vanishes into nothing after a fleeting "again" is heard.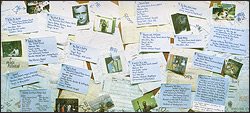 Eight songs, two cover versions, two instrumentals – Collins packed an album in 1980/81 that was close to his heart. He emancipated himself from Genesis and really went out far on a limb without actually realizing it. As a rather unknown drummer Collins assembled a remarkable list of guest musicians: Eric Clapton, Alphonso Johnson, Shankar, the Phoenix Horns and Arif Mardin. Face Value needed some time to fully impact after it was released. Genesis were recording Abacab when Face Value began to conquer the world. The success must have seemed unreal to a man who had come out from behind his drumkit to the stage front just five years before. It may be pure speculation, but Face Value must have been a big burden. The success took away many of the easy elements from his music. The Frank Zappa Shankar discovered in Collins' mode of working on Face Value left and did not come back. Perhaps it is a good thing that Collins has never tried to copy Face Value. Perhaps he tried, but simply could not.

There are a couple of important years and crucial turning points in the history of Genesis. Anthony Phillips' leaving the band, Hackett and Collins joining in 1970/1. Gabriel's departure in 1975 is another one, as is Hackett's departure in 1977. Peter Gabriel's foray into the mainstream and his artsy music videos in 1986 were another important moment. Or 1989, when Mike + The Mechanics had their own #1 hit in the US after Genesis, Gabriel and Collins. Collins leaving the band in 1996 and the announcement of the reunion tour in 2006 certainly belong in this list. The most valuable moment from an artistic point of view took probably was the release of Face Value in 1981. It is still surprising that an album of such a class could have such a big success. It is equally surprising that a band like Genesis brought forth such a large number of talented individual musicians. Face Value could well be –the- album in the Genesis camp. There are a number of classic albums: Selling England By The Pound, The Lamb Lies Down On Broadway, A Trick Of The Tail or solo albums like PG4 (Security), So, The Geese And The Ghost or Voyage Of The Acolyte – or later albums such as Darktown and Up. Face Value, however, is different. Perhaps simply better?

by Christian Gerhardts
translated by Martin Klinkhardt
quotations
"We never knew what he was up to. It could have become a rock record, a jazz album, an instrumental album. Phil has this talent of following his way, but he is flexible enough to go off another way. He reminds me of Frank Zappa" (Shankar)

"You come into the studio, and there is Phil and he looks like an English farmer" (Daryl Stuermer)

"Phil showed me these sheets of paper with dots and dashes and indicated how we should play it. I thought he was completely crazy. But the money was so well paid, so I said this is great, it makes a lot of sense to me" (TomTom Washington)

"They told us we should play for one Phil Collins. That name did mean nothing to us. Then they said he was the singer with Genesis. That did not mean anything to us either" (TomTom Washington)

"People would come in and bring me - as they do all the time – demo records of a group and play me what they thought was a hit. I'd say: Listen, that sounds very good. You won't get as good as this, but you gotta get close to it if you want to have a hit record."(Ahmet Ertegun about In The Air Tonight)
Links
Commentary: The Magic Of Face Value
The Making Of Face Value – DVD review