Phil Collins
Going Back: Live At Roseland Ballroom, NYC
Showcase in New York City - soon on DVD and Blu-ray!

Last summer, Phil Collins played a number of showcase gigs to promote his new album Going Back, which was released in mid-september. Besides members of his own live-band, the remaining members of the legendary Funk Brothers were part of these shows. A DVD and Blu-ray from the last of three New York City shows will soon be available!
NEW: A new competition has now started! Take your chance to win one of 5 DVDs or one of 5 Blu-rays! Click here for further instructions!


Tracklisting:
01. Intro: Signed, Sealed, Delivered
02. Ain't Too Proud To Beg
03. Girl (Why You Wanna Make Me Blue)
04. Dancing In The Street
05. (Love Is Like A) Heatwave
06. Papa Was A Rollin' Stone
07. Never Dreamed You'd Leave In Summer
08. Jimmy Mack
09. You've Been Cheating
10. Do I Love You
11. Loving You Is Sweeter Than Ever
12. Going To A Go-Go
13. Blame It On The Sun
14. Ain't That Peculiar
15. Too Many Fish In The Sea
16. You've Really Got A Hold On Me
17. Something About You
18. The Tears Of A Clown
19. Nowhere To Run
20. In My Lonely Room
21. Take Me In Your Arms, Rock Me A Little While
22. Uptight (Everything's Alright)
23. Going Back
24. Talking About My Baby
25. You Can't Hurry Love
26. My Girl
Bonus material:
Interview with Phil Collins
Rehearsal Footage with commentary by Phil
The concert is complete and will be released on 1st November 2010 in two formats:
Please note: the data refers to the European release!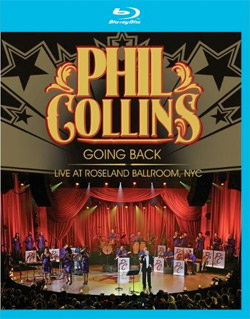 a) Blu-ray
Label: Edel / EagleVision
Sound: DTS / Dolby Digital 5.1
Picture: 16:9
b) DVD
Label: Edel / EagleVision
Sound: DTS / Dolby Digital 5.1
Bild: 16:9
FSK: 0
More info to follow soon! Also, watch out for competition to be launched by the end of September!

Links:
Going Back
-
all about the album
Live At Roseland Ballroom NYC -
gig review
Forum-discussion