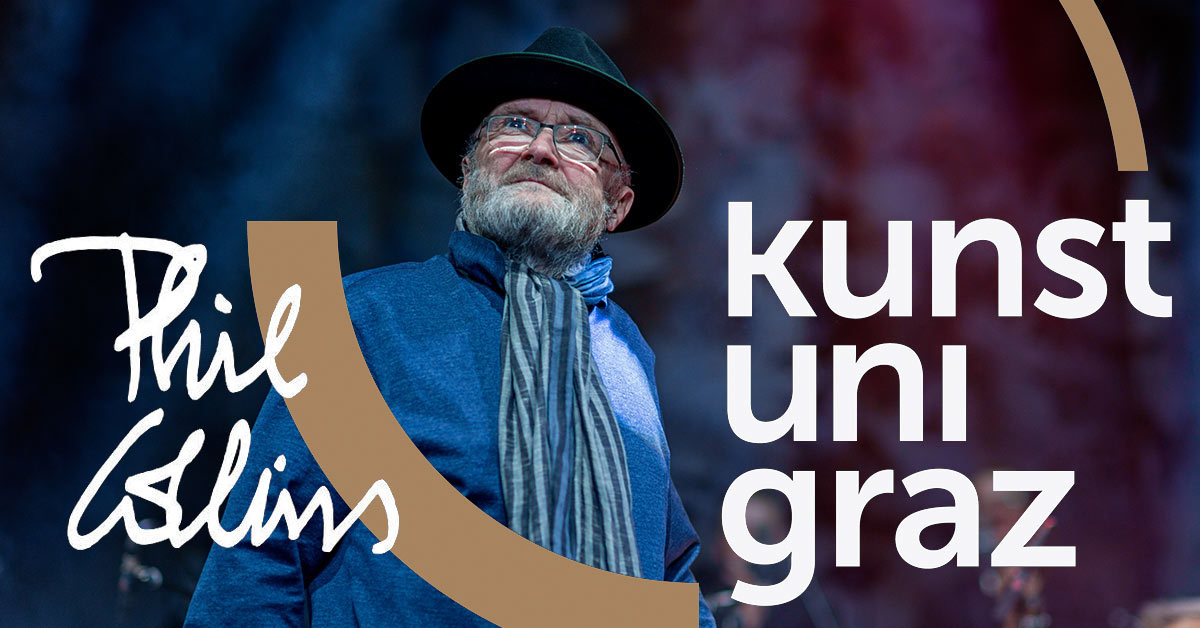 Dr. h.c. Collins: Honorary Doctorate by KUG Graz

Detailed report about the ceremony in May 2018

Phil Collins is one of the most successful international musicians of our time in the field of popular music and jazz. Collins won seven Grammy awards and besides that, he is one out of a maximum of ten musicians, who have been highly successful in the music business over several decades.

The impressively versatile vocalist, drummer, composer and songwriter is highly skilled in jazz, pop and relevant crossover areas. Besides Genesis and his very successful solo carreer, he was also involved in demanding projects (or initiated them himself), such as his fusion band Brand X at the beginning of his career. Later, Phil Collins formed his own big band and is also responsible for two Disney-soundtracks. Phil Collins has also left his mark with his very own sound - a soundscaping, continuously developed and stretching over all genres. Therefore, he is among those key figures of an international scene, for which the University of Music and Performing Arts Graz in general and the Institute 8 - Jazz in particular educate their students.
The University of Music and Performing Arts Graz hosts the only European Jazz Institute, educating students on academic level. When founded in 1965, it was a pioneering work and based on a visionary willingness for dissoluting artistic limits: The view beyond the horizon. On the basis of this tradition, the Jazz Institute became one of the worldwide most important academic training centers, illustrated by several international high-ranking awards.

Diversity, openness and the courage to transcend limitations mark the approach to artistic work, teaching and research shared by the artist Phil Collins and the KUG Graz. A personal relation was formed via the Jazz Institute, and the collaboration of the Institute and Phil Collins will be cultivated in the future.

On wednesday, 22nd May 2019, Phil Collins received the honorary doctorate in the frame of a ceremony which included a concert by his horn section The Vine Street Horns together with Brad Cole and students of the KUG Graz (Jazz Orchestra). "It's a special moment in the history of our university", acting vice-rector Eike Straub pointed out.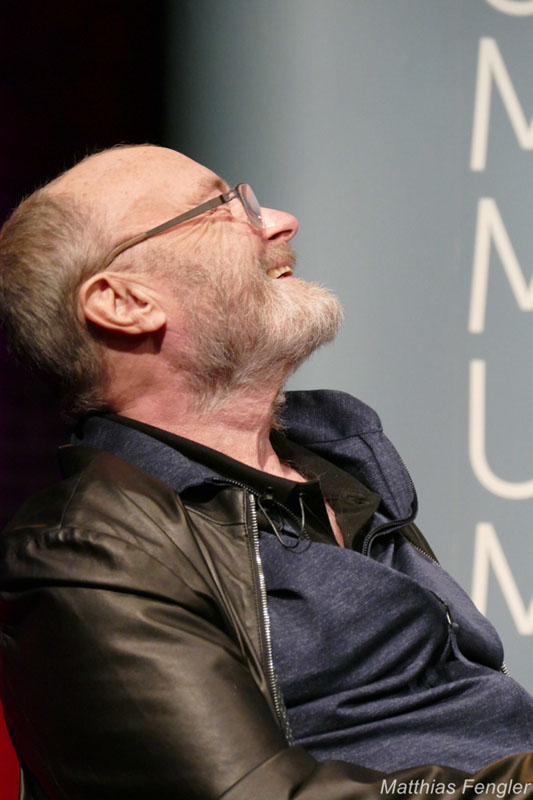 Following the initiative of the Institute 8: Jazz, the rectoral board and the senate of the university have both agreed (for the first time in its history), to award a honorary doctorate. This happened on 22nd May 2019. Phil Collins received the honorary doctorate for his contribution in popular and jazz music - which are most relevant for the KUG Graz. It is the first honorary doctorate for Collins, awarded by an European Institution. In a worldwide dimension, KUG Graz only shares this with another university: the remarkable Berklee College of Music in Boston. Their honorary doctorate was awarded to Collins in 1991 already.

The ceremony took place in the frame of a concert by the KUG JazzOrchestra together with the Vine Street Horns and keyboarder Brad Cole. One member of Phil Collins' exclusive horn section is also Grammy-award winner Luis Bonilla, who is a full professor for jazz trombone at the KUG Graz. Together with students from KUG Graz and Phil Collins' musical director Brad Cole they performed "The Music of Phil Collins". Prior to that, a panel discussion with a question/answer session for students of the University took place.

Round Table Session, 4-6pm
This event was only accessible to university staff and students. A hundred students of the KUG Graz participated.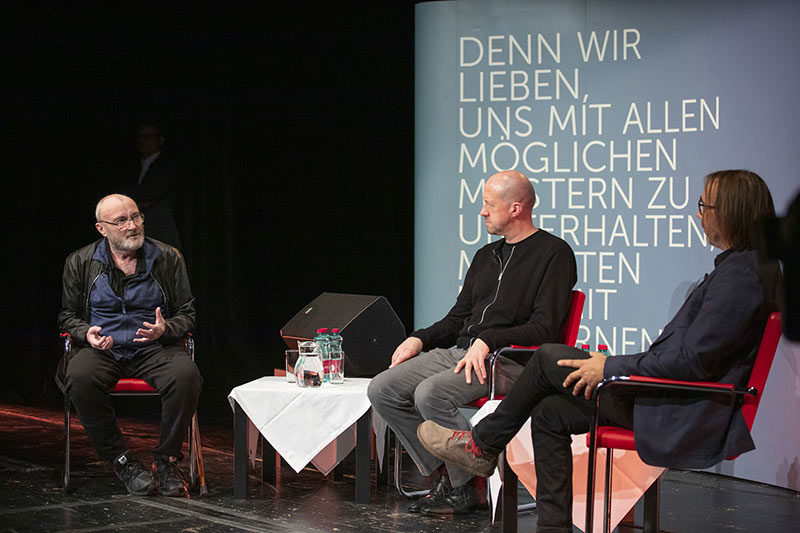 The afternoon started with a one-hour panel discussion, that reflected various aspects of Phil Collins' work. Besides the appreciation of his work in the field of jazz in general, they took the chance to ask several music-specific questions, but also general topics were discussed. One of the questions was whether he prefers to work with self-educated musicians or professional musicians and which carreer advices he has to offer. Collins stated that today's busines sis far different from the days he started off. Probably any advice he would give will no longer be valid. Mandatory for Collins is a solid musical education as a basis for every musician, because epecially for his Big Band work he needed to learn to read sheet music - up to that point he only played by ear.

He also revealed that he doesn't really listen to music anymore - besides radio. Also, new music from Phil is pretty unrealstic in the near future - being asked whether he was working on something at the moment he said "absolutely nothing".

There were also a couple of anecdotes: As we all know, he took the concorde to New York to perform at Live Aid in Philadelphia after his performance in London. There was a helicopter transfer organized, but no taxi to the hotel - so he ordered one himself. He also refered, not only here, to his book.

In the second part, students from KUG Graz got the chance to ask questions. It was a wide range of questions, some of them really personal, others requesting advice for a successful drummer career.

He was also asked how he deals with criticism and why negative reviews hit him harder than he enjoyed positive reviews. Phil said, it's simply his nature and that he also looks into the audience at his shows and finds people who would leave to get a beer during Separate Lives and wonders why they don't like the performance.

Concert and awarding the honorary doctorate (8-10pm)

In the evening, the ceremony took place at Györgi-Ligeti-hall of the MUMUTH, Phil received his honorary doctorate at the end of this ceremony. Guests from the University and Politics were invited to participate.

To honor Phil Collins' music and his career, the KUG Jazzorchester together with the Vine Street Horns and Brad Cole performed a set. The following tracks were performed:
Two Hearts
That's All
Invisible Touch
Hand In Hand
I Don't Care Anymore
In The Air Tonight
From This Moment On
Do Nothing Till You Hear From Me
I Wanna Be Happy
Los Endos Suite
Sussudio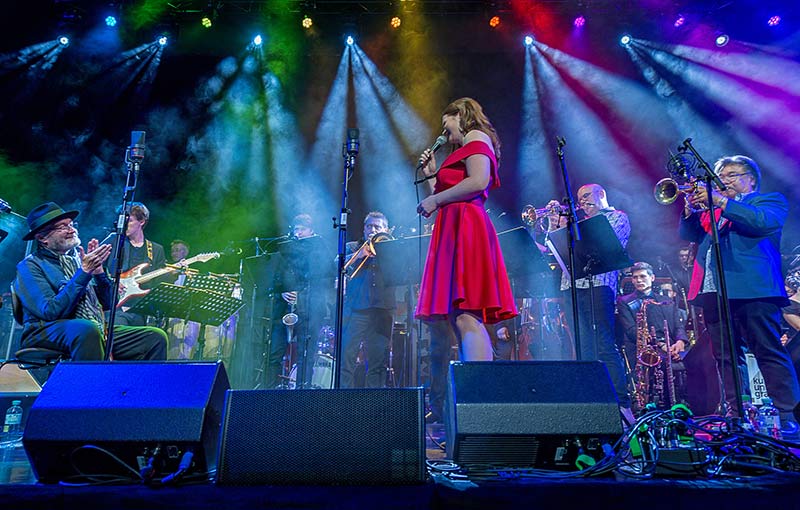 Whoever expected a boring, small jazz concert would have been disappointed, the concert was more like a energy driven fireworks of top jazz music, accompanied by a colourful and excellently designed lightshow. It was pure joy to see, hear and feel this mixture of professionality, energy and enjoyment of performing. The show's presenters were both, Luis Bonilla and Harry Kim, and they drove the Orchestra and their band colleagues to their highest performance. Brad Cole helped out as well and conducted and Orchestra with great excitement and enjoyment. All in all the whole ensemble played with a stunning lightness on stage that is rare among jazz concerts. Phil also seemed to be very impressed by the quality and the talent of the involved musicians.

Following that, the honorary doctorate was given to Phil Collins by the University.

Acting vicerector of the University, Eike Straub, said in his welcome speech:
"You did not only put your stamp on a music style of ONE generation in ONE genre, no, your work left its mark and has inspired over decades into the past and without any doubt also into the future. You easily fill the big arenas around the globe, but you also come to our small theater in the palais with just 120 seats in this small and intimate setting, to discuss with people, whose idol you are and who want to learn from you."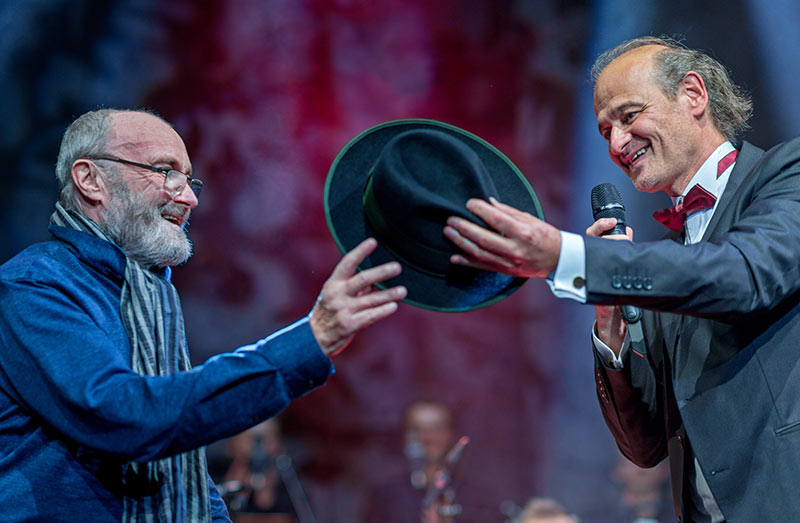 Wolfgang Hattinger, head of the senate of the KUG Graz, followed with his laudatory speech:
"The whole world knows Phil Collins as one of the most famous pop-singers, composers and producers. Less known are his activities in Jazz. And that is a subject of great interest for an institution like our university, which includes one of the oldest Jazz-education-Institutes in the world, as well as a very productive Institute for Jazz- and Popular-Music-Research. … And in fact, there are just few musicians in the world, who have succeeded in both fields – Pop and Jazz – on the highest level. Phil Collins is one of them."
Phil was also honored for his work as a jazz drummer and they mentioned numerous awards and success stories. Hattinger also revealed a personal anecdote: Before he decided to study music, he did a road trip to Greece and slept in a hostel just under the roof. There was a jukebox downstairs which played day and night either Message In A Bottle or In The Air Tonight. That's how he got in touch with Phil's music already then.

Phil then came on stage, received his doctoral certificate and a styrian hat as a counterpart to the traditional doctoral cap, "so that people don't recognize him on the streets", jokes Hattinger during the presentation. As a matter of fact, this hat suits Phil far better than his standard basecap. "Nice to see you've got a real job", jokes Phil and looks at the members of his own band, and with the comment "and nice to hear my music being played properly", he honored the performance of the whole band and the Orchestra.
At the very end they performed a very emotional version of the track Always for Phil (while Phil was sitting on stage) and not only Phil, but every member of the band was really touched - a couple or teardrops were spotted in some eyes. Deeply moved, Phil said thank you to the musicians of his band and the musicians of the KUG JazzOrchestra and left the stage for the rest of the evening.
Dr. h.c. Philip David Charles Collins - congratulations!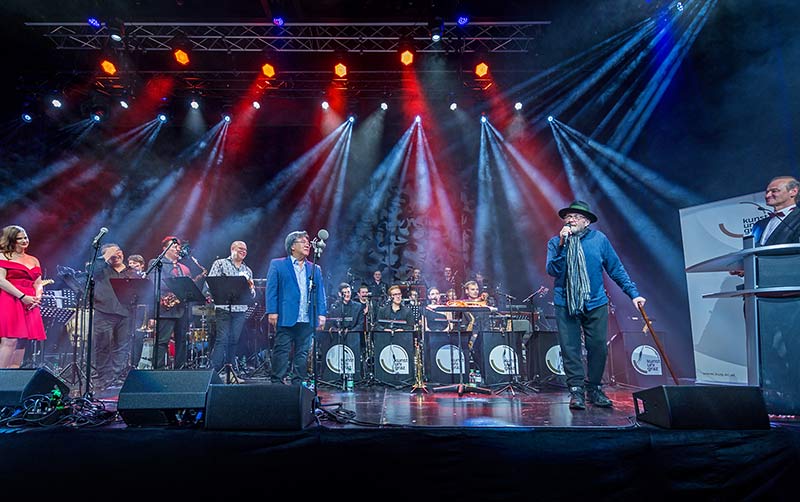 Report was put together by Christian Gerhardts,

based on impressions by people who attended the event and official statements by the KUG Graz. Many thanks to Dr. Lisa Dreier (KUG)!

Phtos: Matthias Fengler, Johannes Gellner, Dagmar Leis
More Links:
Musicians during the concert:
Brad Cole - piano and synthesizers
Harry Kim - trumpet
Dan Fornero - trumpet
George Shelby - saxophone
Luis Bonilla - trombone
Miriam Kulmer - vocals
Alana Mcpherson - reeds
Jonathan Herrgesell - reeds
Luka Zabric - reeds
Csobán Szendrödny - reeds
Armin Jambor - reeds
Dominic Pessl - trumpet
Markus Krofitsch - trumpet
Johannes Plechinger - trumpet
Nikola Vukovic - trumpet
Valdemar Kusan - trumpet
Matyas Papp - trombone
Emiliano Sampaio - trombone
Johannes Oppel - trombone
Humberto Amesquita - trombone
David Sladek - guitar
Eloá Goncalves - piano
Hrvoje Kralj - bass
Jonathan Sarikovski - drums
Jan Krizanic-Nessmann - percussion

Photo gallery: