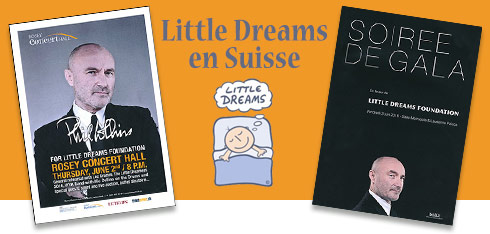 Phil Collins live in Rolle & Lausanne, June 02 and 03, 2016
Phil Collins & his Little Dreams in Switzerland
Around the time that Phil Collins has finally played his twice-postponed concert at the Little Dreams Foundation gala in Miami, Florida, in March, the European counterpiece was scheduled for June 03 at the Salle Metropole. Though the tickets for the event cost no less than 250 CHF (260 US$, 230 EUR) I simply had to go because there is always the question of whether he is going to play or even tour again. An additional date was announced a week before the show; this was dubbed public rehearsals and would take place the day before the other show in Rolle on Lake Geneva. A handful of tickets for seats in one row in the additional show were made available to the public at a steep 350 Swiss Franks (US$ 360, EUR 230). After some consideration I decided to extend my journey.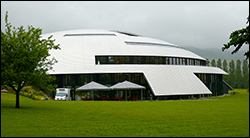 The Rolle concert took place in the auditorium of an international private school called Rosey. Actually, calling the venue an auditorium is something of an understatement. It is a hypermodern stylish U.F.O. that has landed on the shores of Lake Geneva. The auditorium itself is not very large, but there is a lot of space around it in the building and even a library. The school buildings are next to the venue so that the students, who, along with their parents, made up the majority of the audience just had to stroll over those couple of yards. It is quite evident that tuition fees here are not cheap. The auditorium is located in a beautiful park which doubled as a carefully organised parking lot; on driving onto the premises you were directed straight to the green area. All around us were luxury cars with the high society in their evening dress getting out. There were no checks at any place, and there was nobody who would have scanned the tickets. You could have simply strolled in, but you would have found it hard to find a seat.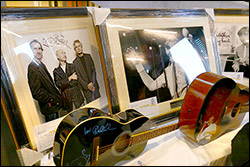 In the foyer there was a large exhibition of the items that would be auctioned off later. These included signed albums from Phil's new released and a couple of framed photos that show Phil during his time in Genesis. Also up for a silent auction were two acoustic guitars with a dedication by Phil. There were also a number of photos of other musicians and actors in all sizes. Guests were also presented with a programme booklet of 12 pages in A5 that introduced the Little Dreams Foundation and provided information on all the evening's performers.
The evening went like the Miami gala. First, Phil and Orianne went on stage to outline the course of the evening. A brief video introduction to the LDF was shown next before some of the LDF-supported singers performed. They were followed by What You Know, the band of Phil's second youngest son Nic Collins, who is a drummer. He also played a drum duet with Jean-Pierre Espiritusanto.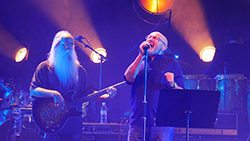 Then Phil played a 45 minute set, supported by a band of old friends. There were a couple of differences in the line-up from Miami. Miami had Gerald Albright on saxophone, Nathan East on bass, Daryl Stuermer on guitars, Brad Cole on keyboards, Luis Conte on percussion and Nic Collins on drums. In Switzerland the saxophone was played by one of the musical directors of the show, Piero della Francesca from Torino. Leland Sklar played bass, Jason Robello keyboards, Richie Garcia on percussion alongside Daryl and Nic. This was simply because Gerald, Nathan, Brad and Luis had made different plans as the show had been scheduled on rather short notice. Lou Gramm, who played in Miami and had been announced for Rolle and Lausanne, did not play at all.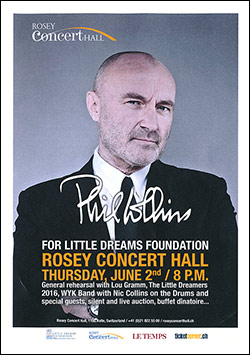 According to the Miami recordings Phil's voice was in good shape, though he might have required a bit more rehearsal and routine in the performance. He appeared to be in good shape in Switzerland, too, but he still uses either a walking-stick or limps a bit without it. When he sang he would keep his hands on the microphone stand.
The set was the same as in Miami: Another Day in Paradise (acoustic), Against All Odds, In The Air Tonight, Easy Lover, Take Me Home, My Girl, Knockin' On Heaven's Door. Nic joined the band from Against All Odds onwards. While In The Air Tonight had some saxophone in Miami, there was no sax in Rolle and Lausanne. In Miami, Phil's partner for Easy Lover was Nathan East. In Switzerland it was Luisa Maggioni, an LDF graduate, who sang with him and sang very well. The band had to start over Against All Odds because Phil mixed up the lyrics: "How can I just walk away from you, when all I can do is… Hang on!" He stops the song to say: "This is the kind of mistake that I warned you about: How can I just walk away from me, when all I can do is watch me leave." He actually parodies his own mistake. Apart from that, the 'general rehearsal' was pretty much a full performance.
After Phil's set there was an auction from the stage where you could purchase tickets to events you do not get every day, e.g. backstage tickets for the next Oscars, admission to Elton John's annual private concert or three poker days with Warren Buffet. These items commanded 10,000 to 30,000 CHF, except for Mr Buffet. After that a kind of cocktail dinner was offered in the foyer of Rosey auditorium where you could enjoy a large variety of hors d'oeuvres and various drinks, which was quite welcome as a late supper. Orianna, Nic and Matthew were seen mingling with their friends, but Phil did not appear anymore.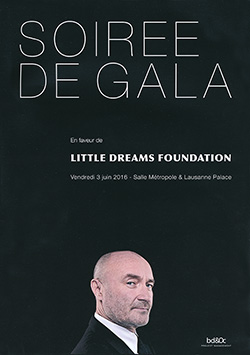 In Lausanne the next day there were three ticket categories: arena, gallery seats and VIP tickets. A couple of weeks before the show arena seats showed up on the market at a much reduced price (CHF 150 instead of CHF 250), while I had bought a gallery sear for 375CHF. There were also still some VIP tickets for more than 600 CHF. Buyers of the latter would also take part in a gala dinner at the nearby Lausanne Palace Hotel, a martial arts demonstration, and auction and an acoustic set of Nic Collins' band What You Know plus After Party and Jam Session. Unfortunately I do not know anybody who attended that. My gallery seat turned out rather uncomfortable, it was near the very back – and though everybody was sitting down you could only see the stage if you peered round people's heads. Holders of the 250CHF tickets could sit in the front row if they were early, because the arena was sitting down, too. It may be assumed that ticket sales were not as good as expected. The impressive A4 programme had comprehensive texts about the evening's participants and about the LDF.
The evening followed the course of the previous night. There was just a minor, but very sensible change in the set in that My Girl and Take Me Home changed places. This way Take Me Home marked the end of the regular set before everybody briefly left the stage so that Knockin' seemed like an encore of a regular concert. From my elevated seating position I could observe Nic on drums. He certainly is talented and his drum work appeared most professional and tour-worthy to me.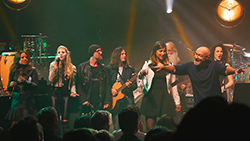 After the show a couple of fans "guarded" the stage entrance with me. Lots of musicians came out and there were opportunities for photos with Daryl and Leland. After a while security started cordoning off a corridor from the exit straight to the black van for Phil. Everybody was ready with cameras, programmes and pens – and then out he came, hurried straight into the van and he was gone.
When he outlined the course of the evening in Lausanne Phil said: "If we like it we may do some more." I'd call that an excellent idea.
text and photos by Volker Warncke
English by Martin Klinkhardt