Ray Wilson & Orchestra live (14 piece Band)
3/5/2014 at SWR-Radiostudio in Kaiserslautern
After Ray's attempt performing with an orchestra - on October, 25th, 2012 - had to be cancelled on short term due to the unsuitable location, two concerts with an orchestra of 25 musicians, along with Ray's 9-piece band took place in 2013, the first one was on June 14th in Rankweil (Austria), an Open-Air during a festival on the local marquet square. The second gig was on september 9th at the old Opera-House in Poznan (Poland), a charity event, sponsored by "Volkswagen Poland". No later than last year, Ray was willing to do more of these "classical" concerts, but it proved to be more difficult to find, especially in Germany, a date, place but most of all, a local promoter who would be ok with the concept and without Ray having to put too much of his own money in the project.
That is why last year, plans were made to put a reduced version of the concept on stage, especially because some parts of the orchestra were necessary for sound purposes, but others only for optical reasons. At that point, the horn section stood really out and was kept onboard, unlike the wood section, which was reduced to a third violin and a cello. Also, two trombones and a trumpet were added. The musicians were all local from the Poznan Musical Academy. On stage, multi-instrumentalist Marcin's place is, along with the trombones and trumpet, on the on the upper right side, Alicja and Basja with their fellow violin and cello players on the upper left. Darek's piano is on the left, Ali and Lawrie are on the right on lead guitar and bass, Tobias Haas, rays drummer, takes center stage, along with Steve and Ray.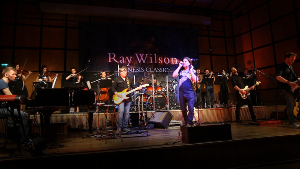 The stage of the "Emmerich-Smola" studio of the german "SWR" in Kaiserslautern was, of course, big enough for this constellation, but just merely. This seated location, in the usual radio-like rectangular form, fitted with wood panels for better acoustics, was almost sold out. The performance was recorded, just like the recent concert of the "SWR-Radio" ensemble, in this very studio, for future airing and / or audio outputs, but, as Ray has released two recordings recently, there are no plans for this concert. Also, there was no tv-broadcasting possible, as the studio is audio-only.
Setlist :
Turn It On Again
That's All
Another Day In Paradise
Wait For Better Days
Another Cup Of Coffee
Carpet Crawlers
First Day Of Change
No Son Of Mine
Invisible Touch
Congo
Inside
More Than Just A Memory
Piano / Sax impro
Not About Us
Follow You Follow Me
Change
Solsbury Hill
Ripples
Constantly Reminded
After The Ordeal / Blood On The Rooftops
Land Of Confusion
Mama
Calling All Stations
American Beauty
I can't Dance
There is no big difference between these classical shows and the other full-band shows of Ray since last year. In most songs, horns were majorly involved, but there is already so much sound from the other instruments that it is not easy to leave enough place for trombones and trumpets in the final mix. They gave the overall-sound in Kaiserslautern a slight plus, did the violin's parts before playing together with the strings, or taking over the main theme.
All things considered, the sound, which was already vibrant, became rich and varied, but the show didn't change that much from the usual set.
The audience was a bit shy in the beginning, but, after a few songs, they cheered up. There was no break during the 2,5 hours show, even though it was programmed. Ray noticed the good mood of the crowd and didn't want to lose that in doing an intermission. By the end, the spectators were enthousiastic and so was the band, you could see that they were sharing their joy of music with those present.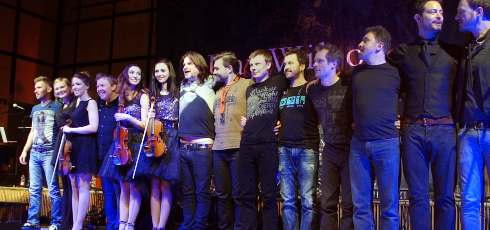 The next concert with this cast will be on June 27th, 2014 in Gummersbach (Germany), more dates in Poland are possible, but nothing concrete until now. However, the financial situation for these shows is always difficult for Ray, as logistics and costs are higher than usual, but the tickets can only be a bit more expensive. Realistically seen, this concept is only possible having more big sponsors.
by Volker Warncke
English by Jos Conter