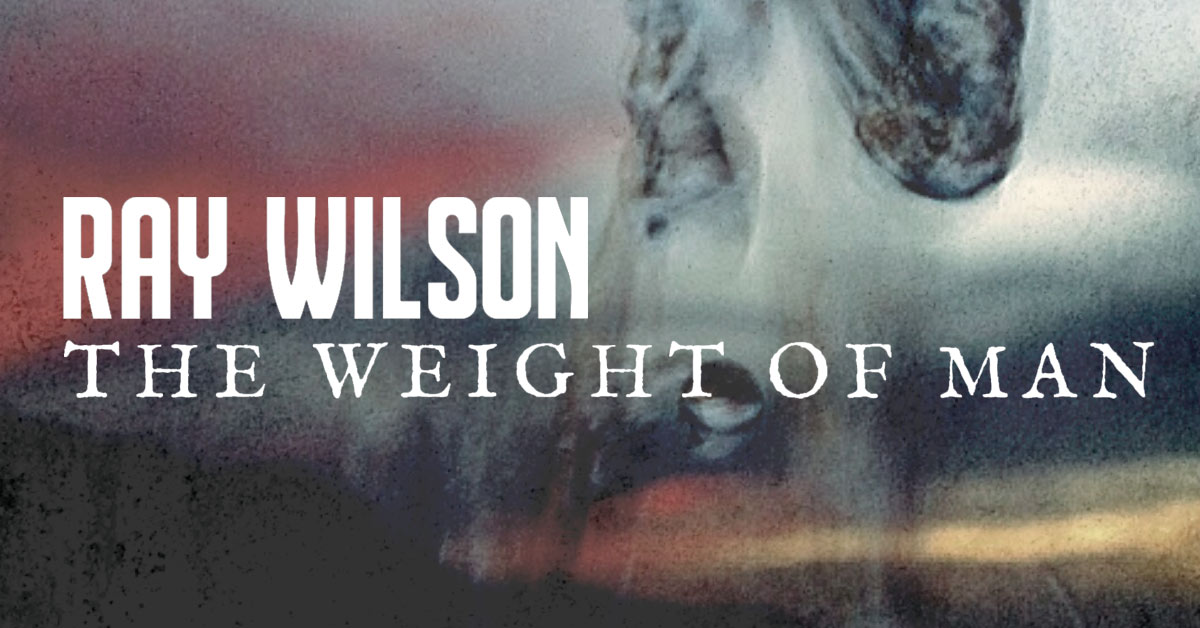 Ray Wilson - The Weight Of Man

Ray Wilson has been around as a solo artist for more than 20 years now and has made a number of very different albums in that time. He was always particularly good when he consistently occupied a corner of the genre. Thus SHE was an excellent harder rock album, in particular it was nobly produced and also showed - especially in comparison with, for example, Millionairhead by Cut_, how a good production can present an album in a completely different way. An example from the other corner of the spectrum was Song For A Friend, a kind of unplugged album that at times picked up the flair of his debut Change. Again, the production is remarkable and with the title track he managed to create one of the most emotional songs of his career. On the other hand, there are many solid albums in Ray's vita, on which sometimes the decisive difference and edge was missing, or on which next to excellent songs there was also filler material. Nevertheless, Ray always had great songs and moments on his solo albums and many fans wish more and more that he also shows this more prominently during his live shows.

After his (overdue) work show Upon My Life, strange times dawned. First the Brexit, which of course affected Ray personally due to his biography. Then came the COVID crisis and Ray had to reorganize himself, like many other musicians. He chose a surprising path: first he gave a few digital concerts and also presented a few new songs, but then he announced the start of a crowdfunding campaign for a new studio album. Ray decided on the title early on: The Weight Of Man. It sounds like a burden, a certain heaviness, but of course it fits perfectly with the time we've been in since the spring of 2020. From time to time Ray provided us with updates on the creation of the album, after all, there were also three songs in advance in the form of video singles (with download option as an audio file). These three tracks also form the start of the new album, which is now gradually arriving at the crowdfunders' homes since July and will be available in stores at the end of August.
The Weight Of Man is once again a nobly packaged album. It comes in a digibook. The artwork and design is by Luca Biondi and everyone is welcome to tell us what the motif on the cover is supposed to represent. What it actually is, Ray revealed this to us in the interview. But what he sees in it was something else again ...

You can preorder the album on Ray's website.
Musicians involved

There are some old friends on the album, but also new names. Ray wrote again with Scott Spence and Uwe Metzler, but the name Jethro Bodean is listed as co-writer on as many as six of the eleven tracks. Jethro is part of Peter Hoff's team, with whom Ray has worked since SHE. He wrote the basis for six songs, which Ray then filled with life with his band. Three names in particular should be highlighted here: Nir Z. plays drums again - so unlike many others, Ray still values real drums. Lawrie MacMillan, who has been working with Ray for about 20 years now, plays bass. And then of course Ali Ferguson, who plays guitar and on this album, so much can already be said, probably delivered his best work for Ray. Jethro Bodean plays keyboards on many tracks on the album. Smaller contributions on the album come from Marcin Kajper (clarinet), Scott Spence (piano, keyboards), Yogi Lang (keyboards), Uwe Metzler (guitar) and Alicia Chrzaszcz (violin), plus Frank Dapper (drums), Rainer Scheithauer (piano), Martin Ziaja (bass) and Henrik Mumm (cello), who recorded the closing song.

The songs

Many tracks on the album move thoughtfully between past, present and future. It's about hopelessness and hope, about truths and the lack of them, it's sometimes sarcastic, sometimes political, but it also always has this "we" feeling. Even if it is not a concept album in the true sense: Ray has succeeded particularly well on this album to produce the album as a unit.
Mother Earth was the first single from the album and many expected this track to set the direction of the album. For a portion of the songs it does, but then Ray surprised with the more laid back You Could Have Been Someone and the reflective, stripped back We Knew The Truth Once. In this respect, fans were eager to find out how the album would sound overall.

You can divide the album into three blocks: The first three tracks were already known, then there is a very strong middle with four tracks and a more relaxed mood at the end of the album. The middle also forms the musical center of the album. I, Like You is sort of the pandemic song. Beyond classic song structures, Ray philosophizes about society, the lack of audience response and the value of truth. In the interview, he revealed to us that he was very interested in making music beyond classic song structures. I, Like You takes this into account and is one of the big cornerstones on the album. Amelia teases out this path even more and is probably the prog statement on The Weight Of Man. On both tracks, the excellent instrumentation and especially Ali's guitar work should be emphasized.
The title track The Weight Of Man is also the longest track on the album. Perhaps this song is again a bit more "typical Ray", but striking is also here the beautiful instrumental implementation. Especially the change from acoustic to electric guitar solos at the end, almost reminiscent of Pink Floyd, is a nice example. The basis of this track, as with many others on the album, is instrumental ambient music, which Ray then developed further with his band. This process can probably be best understood on the title track. A strong one!
The Last Laugh could be classified again a bit more in the area of "classic song structure", but there are surprises here, too. The song is about politics and religion, does not spare with sarcasm and also not with melody. When you thought you had the song figured out, Ray adds another melody line on top. You know this from Paddy MacAloon (Prefab Sprout), who likes to interlace many melodies. Ray follows a similar path here. Beside the verses there is a kind of "pre-chorus" (with 'it should never be untold'), before it goes with 'if we left things up to you...' into the actual chorus. Later there is another facet with 'I don't know where you belong...'. This is a typical example of the album - Ray takes this one step further here, which raises the overall quality to a new level.

After The Last Laugh comes Almost Famous, a comparatively short song that is also a song in the true sense again. This is quite refreshing after the heaviness of the middle part. Almost Famous is known to many fans from the Un-Tour concerts and actually this song was never intended for the album, but then his band could enhance the song decisively and so Almost Famous got the not quite insignificant part as a bridge song between the center and the finale of the album.

This is followed by Symptomatic and Cold Like Stone, two songs that can be roughly categorized as Song For A Friend style. Symptomatic has quickly established itself as a fan favorite among crowdfunders, but the better song of the two is probably Cold Like Stone. The special thing about Cold Like Stone is that here Ray himself wrote the music. Uwe Metzler then took the song to a higher level with his guitar work - as Ray said in the interview: "He then did the things that were necessary to get the song where it needed to be".
A highlight in many respects is the end of the album: Golden Slumbers is a Beatles song that Ray had already sung a few years ago for a tribute project by Uwe Metzler. Now it was used as the closing track for the album - Ray had already done something like that with High Hopes by Pink Floyd a few years ago on Song For A Friend. The thing with Golden Slumbers is: it's only the first part of this song trilogy Ray recorded. Beatles fans will know: Golden Slumbers segues into Carry That Weight - and what better way to close The Weight Of Man album than with a song that stops just short of the message "you've got to carry that weight"? It's the perfect rounding off, a sort of mysterious resolution for this album. And even if this was never intended according to Ray, it is a little extra for the overall view.
All in all

The Weight Of Man is not just another album by Ray Wilson. It is an album in a special time and in many ways his testimony of experience. His band is more important than ever and Ray's plan to do surprising things as well is working out on a high level. The Weight Of Man is his masterpiece. With this he has raised the bar after more than 20 years of solo career, chapeau!
Author: Christian Gerhardts
Check out our interview with Ray Wilson from 20th July 2021 here.

Album-Credits:
You Could Have Been Someone (4:52)

written by Wilson/Jethro Bodean
Ray Wilson: Vocals
Ali Ferguson: Lead Guitar
Lawrie MacMillan: Bass
Jethro Bodean: Keyboards, Programming
Marcin Kajper: Clarinet

Nir Z.: Drums
Mother Earth (4:24)

written by Wilson/Bodean
Ray Wilson: Vocals
Ali Ferguson: Lead Guitar
Lawrie MacMillan: Bass
Jethro Bodean: Keyboards, Programming
Yogi Lang: Additional Keyboards, Backing Vocals

Nir Z.: Drums
We Knew The Truth Once (5:44)

written by Wilson/Metzler
Ray Wilson: Vocals
Uwe Metzler: Lead and acoustic Guitar
Lawrie MacMillan: Bass
Nir Z.: Drums
I, Like You (5:21)

written by Wilson/Bodean
Ray Wilson: Vocals
Ali Ferguson: Lead Guitar
Lawrie MacMillan: Bass
Jethro Bodean: Keyboards, Programming
Yogi Lang: Additional Keyboards

Nir Z.: Drums
Amelia (5:20)

written by Wilson/Bodean
Ray Wilson: Vocals
Ali Ferguson: Lead Guitar
Lawrie MacMillan: Bass
Jethro Bodean: Keyboards, Programming
Nir Z.: Drums
The Weight Of Man (6:44)

written by Wilson/Bodean
Ray Wilson: Vocals
Ali Ferguson: Lead Guitar
Lawrie MacMillan: Bass
Jethro Bodean: Keyboards, Programming
Nir Z.: Drums
The Last Laugh (5:11)

written by Wilson/Bodean
Ray Wilson: Vocals
Ali Ferguson: Lead Guitar
Lawrie MacMillan: Bass
Jethro Bodean: Keyboards, Programming
Nir Z.: Drums
Almost Famous (2:40)

written by Wilson/Spence
Ray Wilson: Vocals
Uwe Metzler: Acoustic Guitar, Banjo
Lawrie MacMillan: Bass
Scott Spence: Piano, Keyboards, String Arrangements
Nir Z.: Drums
Alicia Chrzaszcz: Violin

Symptomatic (3:29)

written by Wilson/Spence
Ray Wilson: Vocals
Uwe Metzler: Guitar
Lawrie MacMillan: Bass
Scott Spence: Piano, Keyboards
Nir Z.: Drums

Cold Like Stone (3:50)

written by Wilson/Metzler
Ray Wilson: Vocals
Uwe Metzler: Guitar
Lawrie MacMillan: Bass

Golden Slumbers (3:17)

written by Lennon/McCartney
Ray Wilson: Vocals
Uwe Metzler: Guitar / Arrangement
Frank Dapper: Drums
Rainer Scheithauer: Piano
Martin Ziaja: Bass
Henrik Mumm: Cello