Interview with Andrew Roachford
Genesis News Com talks with the new Mike + The Mechanics front man about his solo career, his involvement with Mike and future plans.
Andrew Roachford - the new voice of Mike Rutherford's long-time-side-project is a familar one within the music business. Roachford, who has a long-lasting solo career on his own, replaces Paul Carrack who quit the band a few years ago. But who actually is Andrew Roachford?

Popular "Black Music" does not necessarily have to come from the United States - the world learned that when Jimi Hendrix became popular, if not earlier. A lot of black music stars came from the UK and some were pretty unique compared to their North American colleagues. And especially in the somehow cold 80ies it was a pleasant surprise when young Andrew Roachford appeared with a rather unique mixture, consisting of Black Soul Music and Rock'n'Roll and - like Jimi Hendrix - was successful in the charts. Cuddly Toy and Family Man from his 88's debut album Roachford went into heavy rotation on radio stations, as well as some of the songs from the follow-up albums Get Ready, Permanent Shades Of Blue and Feel, like This Generation or Lay Your Love On Me. His Best Of-Album The Roachford Files in 2000 marked the end of his collaboration with major-label Columbia (SonyMusic / formerly CBS). In 2003, he released Heart Of The Matter as his first "real" soloalbum on the independent label "M3", which was founded by his brother Stephen Roachford. The album continued the process of developing Roachford's music more into R&B music, before German dancefloor-icon Mousse T. signed Roachford for the album Word Of Mouth to his own label "Peppermint Jam". The album eventually became more band-oriented. Since then Roachford has worked with other artists for dancefloor-projects on more than one occasion.

Born in 1965 in London, Andrew Roachford was lucky to grow up in a family obsessed with music - uncle Bill Roachford was a even a respected jazz-saxophonist. Roachford discovered his passion for piano playing quite early.

To cut a long story short: With his sense for high-quality songwriting, his powerful soul-voice and his talent as a songwriter, Roachford will most likely be a more than a perfect addition for Mike + The Mechanics.

So what can we expect from Mike + The Mechanics with Andrew Roachford? Roachford himself tells us more about his involvement with Mike + The Mechanics in a short interview we conducted with him via Email in November 2010.
Genesis News Com: In the 80ies, you were signed to CBS/Columbia. How did you get in contact with CBS and what were your main influences? What music were you listening to these days?
Andrew Roachford: I signed to CBS/COLUMBIA after my management took a demo tape I had recorded in to the A&R department. At that time I was (and still am) heavily inspired by a lot of seventies music, like Jimmy Hendrix , Sly And The Family Stone, Stevie Wonder, The Rolling Stones, Bob Marley etc…

GNC: In the beginning, was Roachford more a band or more a solo-project? Has that changed?
Roachford: Although I was signed as a solo artist and I wrote all the songs, over the period of time working with the same band (Derrick Taylor bass, Hawie Gondwie guitar and Chris Taylor drums,) it quickly became a band project and stayed that way for the first few albums. And since then I have worked with various other musicians on my solo albums.

GNC: Which albums would you recommend to people who are unfamiliar with Roachford?
Roachford: It's hard to say what albums sum up Roachford because they all are quite unique from each other, however the album Permanent Shade Of Blue and the Feel album seem to be the albums that hardcore Roachford fans say they play to their friends who are unfamiliar with my music.
GNC: On your last album, Word Of Mouth, you worked with Mousse T. How did that come about and why did that collaboration last only for that album?
Roachford: That all started because Mousse T was recording his own album and he wanted it to be a song based album as apposed to a house music album, and he was into my music before we met, we ended up writing and recording two songs for his album that were very well received. I was still writing songs for my new album and he said he would love to get involved, so we made the album together. I'm sure we will work together on other projects in the future

GNC: Will there be a new Roachford release? When?
Roachford: I will be releasing a 6 track acoustic EP in April 2011 (working title Uncomplicated) with a full studio album to follow later in 2011.

GNC: How did you get to know Mike Rutherford? Where and when did you meet and how did you decide to work together?
Roachford: I got to know Mike Rutherford through working with songwriter Martin Sutton, who has worked with Mike and Chris Neill on previous projects. Martin told me that Mike was looking for a vocalist/songwriter to get involved with a Mike + The Mechanics album project and would I be interested in coming down to the studio, and soon after that we met and everything happened very naturally and organically after that.

GNC: What happened to the Belle In The Garden project, which involved both you and Mike?
Roachford: When Martin Sutton, approached me about being involved with the Belle In The Garden project I thought it was a very exciting and original approach to making an album and I really loved playing on that album. As far as I know it is still very much an on going project that hopefully will see the light of day soon.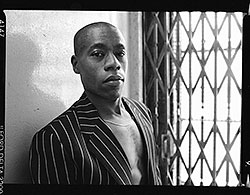 GNC: Are you just the singer of the new Mike + The Mechanics or also involved in songwriting and production?
Roachford: For me the making of this Mechanics album has been a joint project and it has been interesting to see my melodic writing approach would work on a Mechanics album, and I think it has brought something new to the Mechanics sound.

GNC: What attracted you to join the Mechanics? Is there a special motivation?
Roachford: I didn't know a lot about the Mechanics, but I've always thought that The Living Years and Over My Shoulder were great songs and actually once I got in the studio with Mike and he started playing the guitar, I just loved his approach and I knew I could bring something to the table.
GNC: For your own career, you are your own boss. Now there is a strong band leader with a strong history in rock and pop music. Do you find that difficult? Or are you and Mike equal partners?
Roachford: I think with myself and Mike there is a lot of mutual appreciation and respect, so it's easy and natural working with Mike.
GNC: When will the album be released? What is the name of the album?
Roachford: The new Mechanics album will be released early next year.

GNC: Will you also play keyboards?
Roachford: I will be playing keyboards and I'm learning to play the bagpipes (just in case) ...

GNC: Roachford has a somehow harder, rhythm'n'blues- like style. Can we expect something like this from the new Mechanics record?
Roachford: I think that my being involved in the new Mechanics album has brought something different to the feeling of the new album, Mike is very open to fresh perspectives and ideas. However it still sounds like a Mechanics album.

GNC: What do you think about the previous Mechanics albums? Which songs can you imagine to sing during the next tour? Do you like the Paul Young songs more or the Paul Carrack songs?
Roachford: I have always loved the Mechanics singles that I heard on the radio over the years, I didn't know much about the albums until now and I like a lot of the songs. I lean more to the songs that Paul Carrack sang, mainly because he is more of a soul / rhythm'n'blues singer and his vocal range is similar to mine.
GNC: There will be at least two Mechanics live performances soon. Who will be in the live-band and will you present new songs?
Roachford: I believe that info will all be on the Mechanics website soon.

GNC: Any plans for a proper tour?
Roachford: There are plans for a proper tour and the dates will be on the website soon.

GNC: In case the new Mechanics line-up will continue to work together, will you still follow your solo career?
Roachford: I will be releasing an EP follow by a new studio album in 2011

GNC: Are you familiar with the history of Genesis?
Roachford: Earlier this year I saw a documentary about the history of Genesis ... so yep!!
Interview: Christian Gerhardts
Roachford - Discography
1988 - Roachford [amazon | PLAY]
1991 - Get Ready! [amazon | PLAY]
1994 - Permanent Shade Of Blue [amazon | PLAY]
1997 - Feel [amazon | PLAY]
2000 - The Roachford Files [PLAY]
2003 - Heart of the Matter [amazon | PLAY]
2005 - Word of Mouth [amazon | PLAY]
2006 - The Very Best of Roachford [amazon | PLAY]