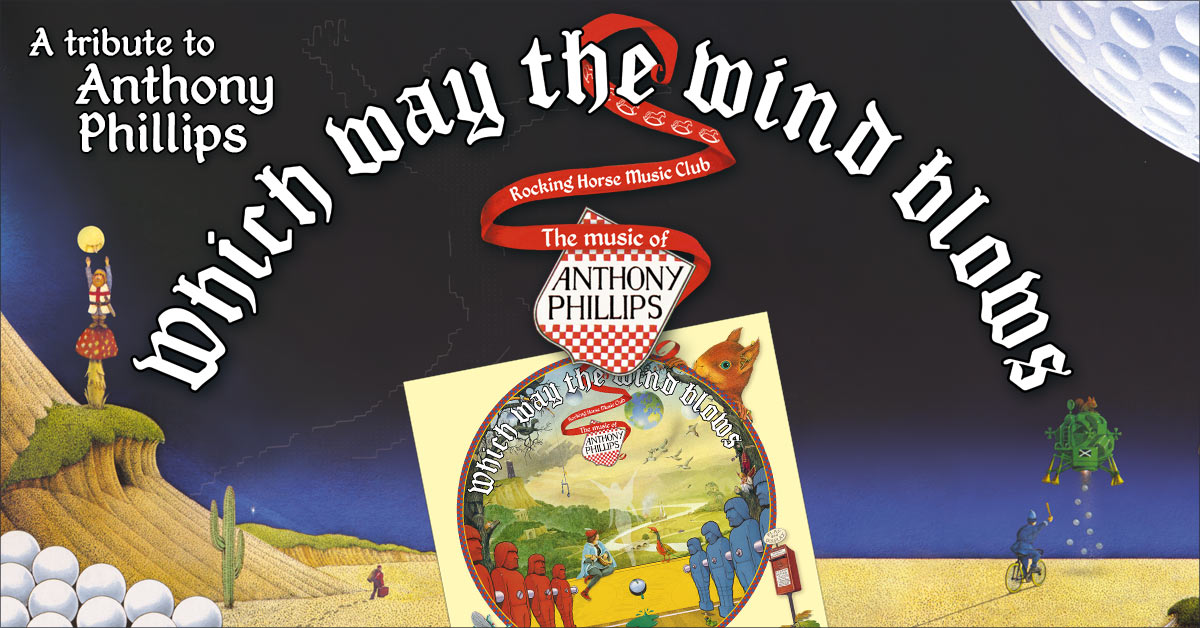 Rocking Horse Music Club
Which Way The Wind Blows
The Music of Anthony Phillips
For the first time ever, there will be a tribute album dedicated to the music of Anthony Phillips.
It was recorded by American band Rocking Horse Music Club. More information about the band can be found at this link. The album is called Which Way The Wind Blows and will be released on 11th October. It features several interesting guest musicians, also from the Genesis family.

Artwork:
The artwork should look familiar to Anthony Phillips fans: It is indeed a collage of the work done by Peter Cross, carefully re-assembled by Helmut Janisch for this project. Peter Cross is responsible for several cover artworks of Anthony Phillips albums.

Guest musicians:
Besides the band we find Steve Hackett, John Hackett, Nick Magnus, Noel McCalla, Evelyn Cormier, Steve Anderson, Kate St. John, Caroline Carter and John Helliwell contributing to this album.

Tracklist (with comments written by Brian Coombes):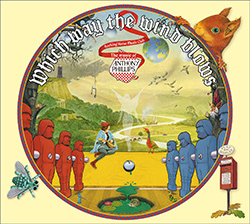 Our take on Ant's new wave/prog pop song from 1979... reminds me of Squeeze meets the Cars, with a touch of Genesis thrown in. Features Patrik Gochez on lead vocals.
Dreamy 12 string guitars and mellotron feature heavily on this one, along with a wonderful vocal from Justin Cohn. It sounds like something Genesis would have done circa 1976..
We took Ant's beautiful acoustic song, gave it a slight R&B feel, and then added an epic prog rock climax. This one features Noel McCalla (the lead singer on Mike Rutherford's Smallcreep's Day) on lead vocals and legendary Genesis guitarist Steve Hackett on the ending guitar solo. Where else can you hear Messrs. McCalla and Hackett performing together on an Anthony Phillips song?
Silver Song was originally intended as a single from 1973, featuring Mike Rutherford and Phil Collins. Our version features the incomparable Nick Magnus on the ending keyboard solo.
We were looking for a song for Evelyn Cormier to sing on the project. Ant and I looked through his catalog of unfinished and/or unreleased songs and presented a few to Evelyn. She loved Something Blue. Her sultry vocal delivery led us down a smooth-jazz path with the arrangement that also features the amazing talents of Wesley Thurber on trumpet and Jeremy Harman on cello.
This is one of my favorite productions on the record. The rhythm section performed brilliantly, Mike McAdam and Myron Kibbee played some great stuff, and Justin delivered a killer vocal. The song also features Steve Anderson from the Room on lead guitar. Mike and I toured with Steve back in the 1990s when he was with Grey Lady Down and we were in Tristan Park, so this collaboration was a cool virtual reunion.
Just like Which Way the Wind Blows, we simply couldn't leave Ant's beautiful song alone. The chord progression led us into Beatles territory, so we embraced that vibe. This one is really singer/pianist Pat Gochez's arrangement and features members of his band on drums and bass. Also worthy of note is Myron Kibbee's slide guitar and the choral background vocals.
Sleepfall: The Geese Fly West
One of Ant's prettiest melodies. We developed the piece into something bigger, adding and changing instrumentation each sequence through the progression until it ends with a dramatic flourish. Features John Hackett (who performed on the original version back in the day) on flute and Kate St John from Dream Academy on oboe.
Ant's prog rock classic instrumental in really a showcase for drummer Eric Wagley and bassist Brenden Harisaides. We added a lo-fi optigan/toy piano groove in the middle, and with Caroline Carter's wailing vocal and John Helliwell's melodic saxophone in the end section, I guess I'm displaying my Pink Floyd influences vividly on my sleeve.
How to buy the album

Which Way The Wind Blows can already be preordered via the Rocking Horse Music Club website. CDBaby will also offer a CD and digital download soon. At the moment (as of 1st Sept 2019) it's not clear whether or not the album can be offered for sale directly in Europe. It will of course be available during the show at Trading Boundaries this November. More info to follow when we have it.

Info compiled by Christian Gerhardts, review to follow in early October