Steve Hackett - Tour 2019
Selling England, Spectral Mornings and At The Edge Of Light highlights.
Steve Hackett will return on stage next year with a new show, performing Selling England By The Pound in its entirety, celebrating the 40th anniversary of Spectral Mornings and introducing the new album, due early 2019.
Before the European tourr, Steve will take part in two Cruise Shows: Cruise To The Edge from 4th to 9th February and On The Blue Cruise from 10th to 15th February.

Discuss this tour in our forum.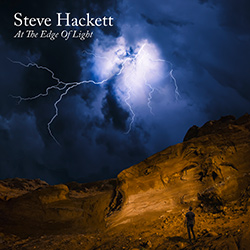 For additional info, check Steve's website. Information about the new boxset Broken Skies, Outspread Wings can be found here.

Steve's new studio album, At The Edge Of Light, will be released on 25th January. Find out all about the new studio album on our information page.

Band Line-Up:
Steve Hackett: Vocals, Guitars
Roger King: Keyboards
Craig Blundell: Drums, Percussion
Rob Townsend: Saxes, flutes
Jonas Reingold: Bass, 12-string guitar
Nad Sylvan: Vocals

last update: 16th January 2019

2019























04/02/19

Cruise To The Edge





10/02/19


Blue Cruise

















22/04/19



Oostende

- Kursaal


23/04/19

Hamburg

- Laeiszhalle




24/04/19


Munich

- TonHalle


26/04/19


Stuttgart

- Hegelsaal



27/04/19


Vienna

- Museumsquartie


29/04/19


Roma

- Teatro Brancaccio


30/04/19


Bologna

- EuropAuditorium


02/05/19


Torino

- Teatro Colosseo


03/05/19


Bergamo

- Teatro Creberg


05/05/19


Leipzig

- Haus Auensee



06/05/19


Poznan

- Earth Hall



07/05/19


Krakow

- Klub Studio


09/05/19


Vilnius

- Compensa Hall


10/05/19


Tallinn

- Nordea Hall


11/05/19


Helsinki

- Circus



13/05/19


Stockholm

- Nalen



14/05/19


Oslo

- Rockefeller


15/05/19


Gothenburg

- Pustervik


16/05/19


Copenhagen

- Amager Bio





18/05/19


Odense

- Posten


19/05/19


Aarhus

- Train


21/05/19


Essen

- Lichtburg


22/05/19


Zoetermeer

- Cultuurpodium Boerderij


23/05/19


Zoetermeer

- Cultuurpodium Boerderij


24/05/19


Zoetermeer

- Cultuurpodium Boerderij



26/05/19


Esch-sur-Alzette

- Rockhal Club


27/05/19


Paris

- Trianon




28/05/19


Zürich

- Volkshaus



29/05/19


Mainz

- Zitadelle



31/05/19


Sofia

- National Palace of Kultur







05/06/19


Valletta

- Conference Center MCC





15/09/19


Quebec

- Grand Theatre


17/09/19


Oakville

- Centre for Performing Arts




18/09/19


Oakville

- Centre for Performing Arts




21/09/19


Montreal

- Threatre Maisonneuve




22/09/19


Montreal

- Threatre Maisonneuve




11/10/19


Vancouver

- Vogue Theatre




02/11/19


Aylesbury

- Waterside





03/11/19


Folkestone

- Leas Cliff Hall





05/11/19


Sheffield

- City Hall



06/11/19


Cambridge

- Corn Exchange





08/11/19


Leicester

- De Montfort Hall





09/11/19


Cardiff

- St. Davids Hall





11/11/19


Liverpool

- Philharminic



12/11/19

Brighton

- Dome





13/11/19

Portsmouth

- Guildhall





15/11/19

Salisbury

- City Hall





16/11/19

Reading

- Hexagon





18/11/19


Birmingham

- Symphony Hall





19/11/19

York

- Barbican





20/11/19

Bath

- Forum





22/11/19

Halifax

- Victoria Theatre





23/11/19

Gateshead

- The Sage



25/11/19

Edinburgh

- Usher Hall



26/11/19

Manchester

- Bridgewater Hall





27/11/19

Southend

- Cliffs Pavilion



29/11/19

London

- Eventim Apollo