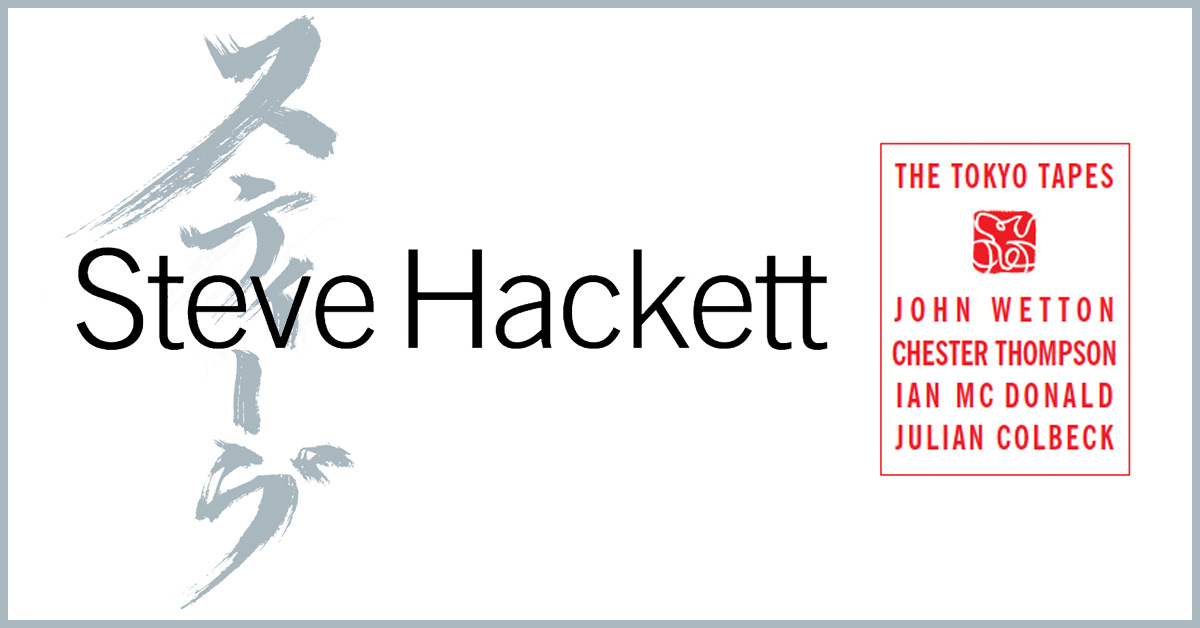 The Tokyo Tapes - Live In Japan
A hint of Genesis...
Steve Hackett's new 2CD set is the most recent live release from the Genesis camp. It cannot be denied that Genesis and its (former) members really put out a lot of live material. All too often, though, you get the impression that they put quantity before quality (e.g. Serious Hits Live / The Way We Walk 1), and the reviewer has therefore approached these CDs with mixed feelings.

The first plus point is that The Tokyo Tapes are also released on video; a second plus because it is a complete show – or so it would have you think. It is actually a mixture of two concerts that were played in Tokyo during the brief Japanese Genesis Revisited tour on December 16 and 17, 1996. The booklet has some photos from the shows, otherwise it is kept simple. The tracklist of the CD is identical with the video. The CD has two bonus tracks, the Japanese edition also the studio version of Los Endos that was not included in the Japanese version of Genesis Revisited. The 2CD set comes in a nice cardboard sleeve; it shares the artwork with the video. In the video you can see many details that remain invisible to the listener. There is not much fancy camera work, but there is not much of a light show either, just a couple of Varilites. It turns out soon that this concert does not need any technical gadgets anyway. Moods are created by the simplest means like fog or monochrome light; apart from that, it is the music that speaks to you. Steve did not shy away from listing his famous fellow musicians on the cover of Genesis Revisited; he did the same here. Though the star ensemble has shrunk a bit for The Tokyo Tapes, but for a gig like that it is still a major sensation. There is Chester Thompson, without whom many find it hard to imagine Genesis live. He has played the drums on Genesis concerts for ages and also when Phil went on tour until he decided to quit from Collins' band. When Collins left Genesis that was it, too, for Chester. And now this world class drummer who would perform in front of up to 140,000 people plays small venues in Japan. Proof, if proof were needed that he is all about the music and nothing else. He made a name for himself by playing for Frank Zappa and in Joe Zawinul's jazz band Weather Report.
Also in the band is John Wetton. He played in many successful bands, e.g. Uriah Heep, Roxy Music and Asia who had a world-wide hit with Heat Of The Moment in the 80s. Wetton also had solo success, though in the meantime he has suffered Paul Carrack's fate: Everybody knows his voice, but nobody wants to buy his music. Then there is Ian McDonald who wrote the early chapters in the book of art rock with King Crimson in the late 60s: Who of us grandfathers and grandmothers-to-be does not remember that catchy In The Court Of The Crimson King? Even the younger generation knows the song. Ian went on to play in various bands (e.g. Foreigner) but has not played live for many years. Steve and Ian have known each other for 30 years, and it probably was not too difficult for Steve to persuade Ian to play a short tour.

The fourth guest musician is Julian Colbeck. He has played many of Steve's shows. He was also part of Hackett's recent acoustic tour – and he participated in Yes' almost-reunion tour that was called Anderson, Bruford, Wakeman, Howe because of legal issues. Julian toured with them in 1990. If you consider all these big names you could get the impression that Steve was John Wetton's lead guitarist. This is a kind of all-star band, Ringo Starr-style, though there are, of course, worlds between him and this band. What can this world class ensemble offer?

CD and video both begin with Watcher Of The Skies. Any other opening song would have been an open attack on the Genesis cult. The live version differs from Steve's studio version only in a couple of details – a real treat. There are drums again at the end instead of the Morse beeps from the studio CD. Then there is a strong version of Riding The Colossus. Though the song appeared only on the Japanese version of Genesis Revisited fans already know it from the previous live album Time Lapse where the song was called Depth Charge. This piece of music would have been great as the instrumental of a 70s Genesis epic. Riding The Colossus benefits from being played live. The middle of Firth Of Fifth has been radically changed and completely re-arranged from the original. The live version also differs slightly from the Revisited version. The piano intro has unfortunately been left out again. Steve's acoustic guitar part is played on an electric guitar, and his most famous guitar solo has regained its full length. A hectic improvisation replaces the acoustic part between the second verse and The Solo; it adds some oomph to a very balanced and very melodic song. Some may consider this a desecration, others perhaps a welcome change.

It takes some time to get used to the different voice in the Genesis songs and it may not please everybody but John Wetton does a decent job. Battlelines is a catchy song from his last but one solo album. It has a pleasant melody and loosens up the set after a first part of the concert that focuses heavily on art rock. After that there is a song from one of Hackett's most successful albums, Highly Strung. Camino Royale has changed a lot from the studio version as far as the guitar parts and Ian MacDonald's sax playing are concerned. Ian and Steve play it as a kind of duet at times, which is particularly noticeable on the video.

Steve introduces the next song that "I think, Ian wrote 27 years ago". A big applause rises for one of his biggest hits, In The Court Of The Crimson King. This version is much better than the 1969 original, not least because of the technical possibilities of the 90s. The live version sticks to the original except for the guitar part that has been switched from acoustic to electric guitar. The song is one of the big highlights though it is neither by Genesis nor by Steve.

An acoustic section begins in which Steve plays Horizons (from '72) on his own and Walking Away From Rainbows from his previous classic rock album Guitar Noir with Julian Colbeck. A big surprise is the acoustic version Asia's biggest hit, Heat Of The Moment. This "un-pop-ped" version proves once again that less can be more, or, in this case, another highlight on CD and video. Then it is time for another Genesis song: Steve's introduction to …In That Quiet Earth can be seen and heard on the video though it has been left off the CD (where it is the first song on the second disc). Steve has played the first half of the piece before on previous tours. Unfortunately it has not been recorded in a new version for the Revisited album. Note Ian's sax solo!

Vampyre With A Healthy Appetite sticks to the original, but sounds much more lively when played live. Pity that Steve did not use the bullhorn Hisao Chida mentioned in it #22. The next song was a rather less spectacular King Crimson song: I Talk To The Wind was perhaps more for the serious King Crimson fans. As a Genesis fan you start looking for more Genesis material. The performance, particularly the duet between Ian and John, is good. Then the first notes from the closing section of Shadow Of The Hierophant (from Steve's first album Voyage Of The Acolyte) rang out. The song went straight into a stellar drum solo by Chester – one had only heard him drum with Phil Collins live, and it seemed as if Chester put all his joy in drumming into this solo. He recently explained in an interview that he likes Steve's music a lot, because it is less straightforward than much of Genesis' and most of Phil's material. The video is much more conclusive.

The transition into Los Endos is fluent. This is the definite highpoint of the show. Los Endos is pure listening pleasure with all its big and small surprises. Some details are different from the Revisited version, the piece feels like a journey through 70s Genesis music – Steve even snuck in parts of Dancing With The Moonlit Knight. Los Endos was the end of the regular set. The first encore was Black Light, from Steve's first acoustic album Bay Of Kings. If you listen closely you will recognize the beginning of Cuckoo Cocoon (0:31 – 0:45). Black Light is one of his best acoustic pieces and a real treat, particularly on the video.

The Steppes is another piece from Steve's most successful period as a solo artist. The live version is not too different from the original. I Know What I Like with its new, jazzy-funky intro marked the end of the show and the live recording. Big applause sees the musicians off the stage.

The CD has two more songs: Firewall as well as The Dealer are instrumentals. Both songs are performed by Steve (guitar & percussion) and Aron Friedman (keyboards & programming). Friedman has previously worked with Steve. These two songs were written by Steve, and they are regrettably less stellar than previous pieces (compare, for example, Spectral Mornings or Sierra Quemada), but they fit well onto this live album with their metallic sound.

Do The Tokyo Tapes live up to the expectations of Genesis and Hackett fans? Opinions will differ. Many will consider it one of the best live albums from the Genesis camp ever, but most may take issue with the set: Not enough Genesis and Steve and too much by the others. But let us remember that all musicians involved are mentioned on the cover in big letters, so it should be obvious that this is not a conventional solo concert of Steve's. The choice of non-Hackett songs is a question of taste, but there are a number of big hits like In The Court Of The Crimson King and Heat Of The Moment. Songs like The Fountain Of Salmacis or the recently unearthed Déjà Vu would have been great, though. Then again: When has Steve ever played so much Genesis on one of his solo shows? Some may complain about the length of the show. Genesis or Phil Collins have accustomed us to much longer performances. But we should not forget that Steve does not have big videoscreens like Genesis or a big sack of worldwide smash hits he can simply pour out to make the audience roar. Steve's show consists of a hundred minutes of top-notch musicianship. The star line-up shows it is not a pure Steve Hackett concert. The double CD and the video prove just how great musicians Steve and his band are. This is our first opportunity to see Steve in a live video since the Time Lapse video has gone hopelessly out of print. These 100 minutes are anything but boring even in the absence of high-tech. Many of us have never seen Steve play live yet, and so the video is an opportunity to admire his dexterity. The Tokyo Tapes is a sophisticated live album with a big scope. Let us hope that this was not a one-off, for … he knows what we like!

by Christian Gerhardts
translated by Martin Klinkhardt
first published in it magazine #25 (autumn 1998)