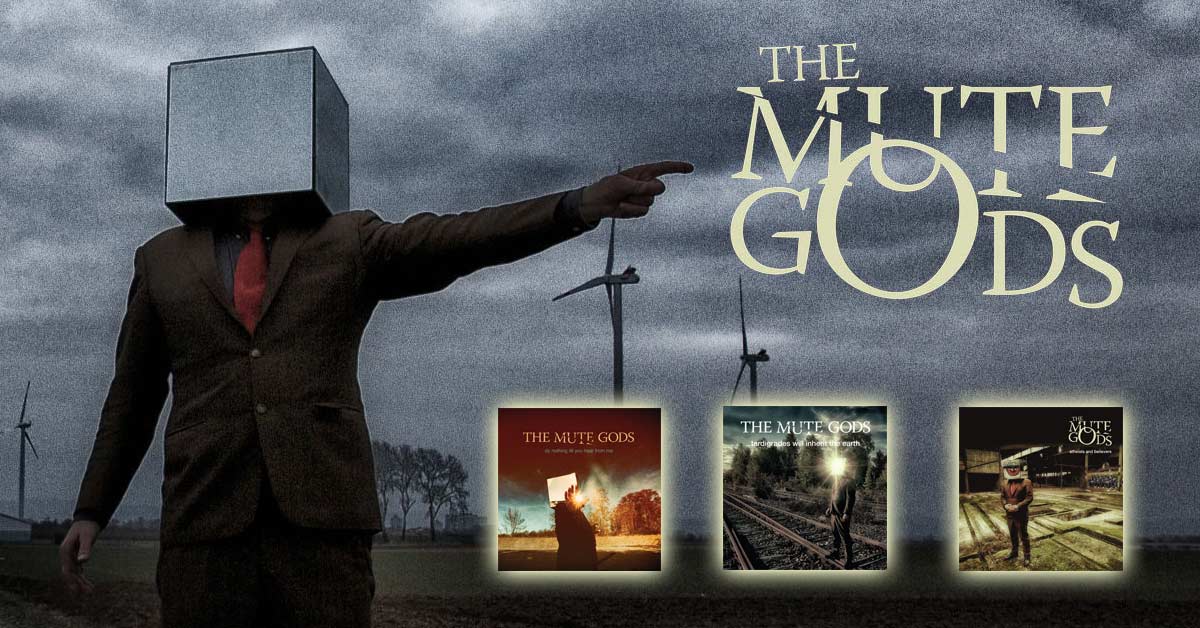 The Mute Gods
A trilogy with aliens, tardigrades and believers
The Mute Gods are Nick Beggs, Roger King and Marco Minnemann, but they are not a band that jam in their rehearsal rooms and record every song together. They are, in fact, rather a solo project of Nick Beggs's. He writes almost all the songs, arranges them and records finished demos, and his compadres, with whom he has played in the bands of Steve Hackett and Steven Wilson, add their ideas to it [1]. Minnemann has been busy playing the drums for Joe Satriani, Steve Wilson and Steve Hackett (on his cruise ship concerts) as well as releasing an immense output of solo records and work with his own band, the avantgarde rock trio The Aristocrats, so he adds drums and guitar tracks. Roger King, whom we need not introduce here as Steve Hackett's musical partner for many years, plays the keyboards and produces the Mute Gods. Beggs appreciates King because their strengths complement each other [2].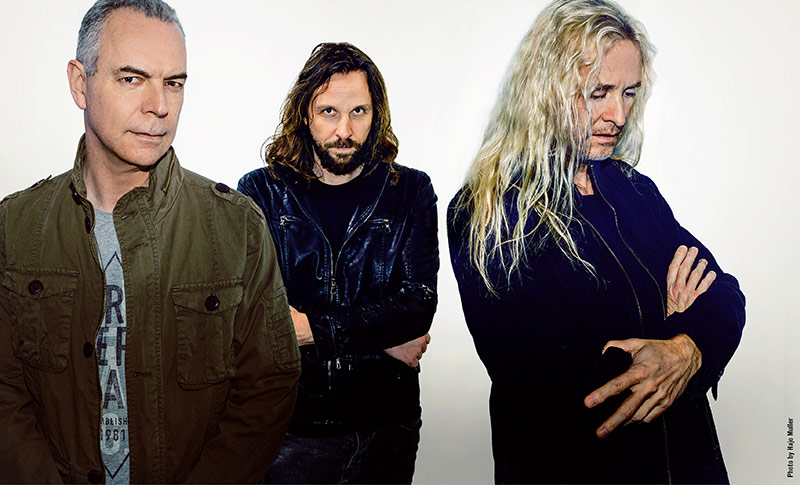 Nick Beggs is the boss of the Mute Gods project. He sings, plays the stick, bass and the guitar. Genesis fans probably first noticed him in 2009 as the flamboyantly dressed bass-player in Steve Hackett's live band who preferred to combine his blonde pigtails with a top hat. He also played the twelve-string guitar on Hackett's Genesis Revisited tour in 2014. He was no stranger to the repertoire – Seconds Out, A Trick Of The Tail and Genesis Live were albums he frequently turned to while he learned to play his instrument and nourished his wish to become a professional musician. Nick became known outside the world of Genesis in the 1980s with synth pop band Kajagoogoo, who had a worldwide hit in 1983 with Too Shy. Kajagoogoo's singer Limahl is also known for his title song for the movie The Never-Ending Story. When Limahl was kicked out of Kajagoogoo, Beggs took over as the singer, but the band dissolved in 1985.
Since then Beggs has been working with a number of renowned musicians: John Paul Jones, Howard Jones, Gary Numan, Cliff Richard, Steve Howe, Rick Wakeman, Midge Ure, Seal, Kim Wilde, and Tina Turner. He was also involved in the bands Iona, Lifesigns and Fish On Friday and released two stick albums, Stick Insect and The Maverick Helmsman.
He acquired a different perspective on the music business from an eight-month stint as the A&R manager of Phonogram records in the early 1990. Beggs could draw from that experience when Steve Hackett asked his advice on how he could boost his career. Beggs suggested he record an album with all the great Genesis songs from his time in the band and include a number of high-profile guest singers – i.e. Genesis Revisited 2. As we know, this was a career boost indeed for Hackett. While he toured irregularly and in small, often less than full venues, he know sells out numerous large theatres on his yearly tours.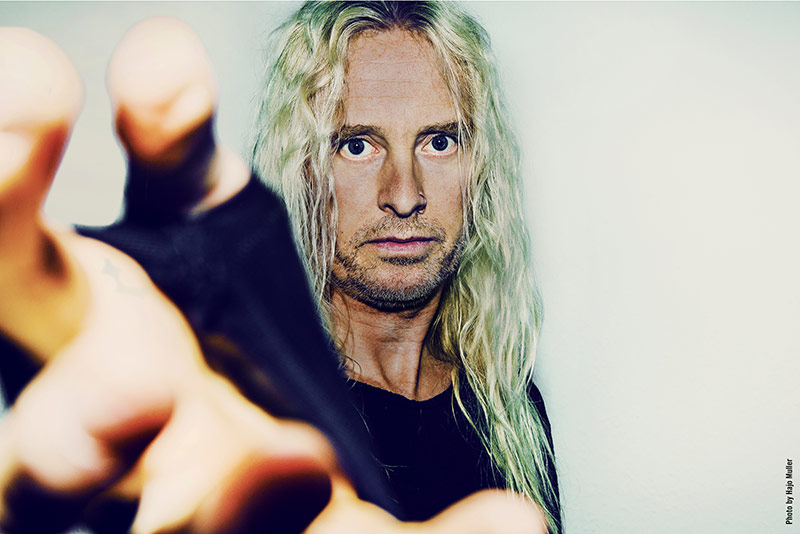 So, how did the Mute Gods happen? Thomas Waber from Inside Out encouraged Beggs to start a project based on his own songwriting. Its name, The Mute Gods, is a reaction to the global medial climate in which hate preachers get much attention while voices of reason go unheard in the mass media. [4]
The band consists of people who play in Steve Hackett's and Steven Wilson's bands, and it is not surprising that the musical outcome sounds like a mix of both artists combined with the good feeling for fine pop tunes that Beggs has had since Kajagoogoo. In short: Strong pop rock with a few odd turns, perfectly produced with powerful, differentiated sound. Their three albums are quite clearly a trilogy. This is evident in the artwork with its mirror foil and the "mirror man" and continues through the music and the topics, mainly contemporary observations on the current era of post-factual populism. Since we get enough of that every day everywhere the album becomes more enjoyable if we focus on the music. It stands both the tests of casual listening and repeated close inspection.

Do Nothing Till You Hear From Me (2016)
Most of the material that appeared on the band's 2016 debut Do Nothing Till You Hear From Me was written in 2014. Nick d'Virgilio (ex-Spock's Beard, drums on Calling All Stations) and Gary O'Toole (Steve Hackett's band) play the drums; Adam Holzman (Miles Davis, Steven Wilson), Rob Reed (Magenta) and Frank Van Bogaert play the keyboards, and multiinstrumentalist Ricky Wilde (brother and producer of 1980's pop icon Kim Wilde) supplements the core band.
The title tracks refers to one of Beggs' favourite subject matters that pervades all albums: Aliens, religion, media disinformation, the influence of the industrial-military complex on political decisions. "The album has a variety of moods", Beggs told music journalist Anil Prasad in a good interview, "but it is mainly a pissed off account of the dystopy we have created for us and our children." [5]
The programmatic Praying To A Mute God is a highlight on the album. An instrumental interlude briefly moves into the a-tonal before it returns all the more melodiously to the finale. This pattern can actually be found on several tracks.
Nightschool For Idiots is a ballad-like song with good sounds somewhere between retro-prog and new artrock. Begg's voice hovers over a dense, but light and melodious blanket of sound.
Nick Beggs has dedicated Feed The Troll to the people who have too much time on their hands [6] (and spend it trolling the internet). The song is closer to the style of more recent prog bands. It was not really inspired by Steven Wilson, but the song clearly is related to Wilson's track Index. Feed The Troll moves freely between industrial music, electronic sound bubbles, cascades of noise and melodious tunes – you could say whole spectrum of the band is showcased in this one song. Your Dark Ideas continues to aggressive side of the album that is countered by the quiet pop ballad Last Man On Earth. That song has a remarkable, ethereal guitar solo. Momentum is added with In The Crosshairs, an instrumental that resembles Steve Hackett's recent output. Steve Wilson fans will experience a déjà-vu during the keyboard-dominated Strange Relationship.
The best song of the album is Swimming Horses, a joint composition by Nick Beggs, Nick d'Virgilio and Rob Reed. The introduction already gives you a glimpse at the epic that is to follow. When Beggs' bass starts to gallop, the guitars sing and dreamy piano parts come in, prog fans will be in raptures until the finale with an epic orchestration. Mavro Capelo moves into a harder direction again before the album ends with Father Daughter, an aptly titled duet of Nick Beggs with his daughter Lula with piano sound and reduced percussion.
This first album has an excellent structure and complex sounds. Beggs keeps up the tension across the album with a clever arrangement of moods and songs.

Tardigrades Will Inherit The Earth (2017)
Tardigrades are tiny animals (less than one millimetre in size) that can survive almost everywhere under almost any environmental conditions. The title of this album indicates a post-apocalyptic world. The topics addressed are equally eschatological, starting with the realisation that We Can't Carry On. We must not go on like this with our society and our planet. Says Beggs: "If you look at the lyrics, I think the lyrics are very dark. There's some dark melodic ideas and it's quite gnarly. It's not as ranty as a Rage Against The Machine album or something of that genre. It's melodic, but it's the angriest album I've ever made." [7] Splits in the society and the waste of ressources made Beggs very pessimistic in a 2017 interview: "I don't have great hopes for humanity, I think we're living on very thin times and don't think we've got long to go. I think in the next hundred years we're going to see life become very very difficult for the human race." [8]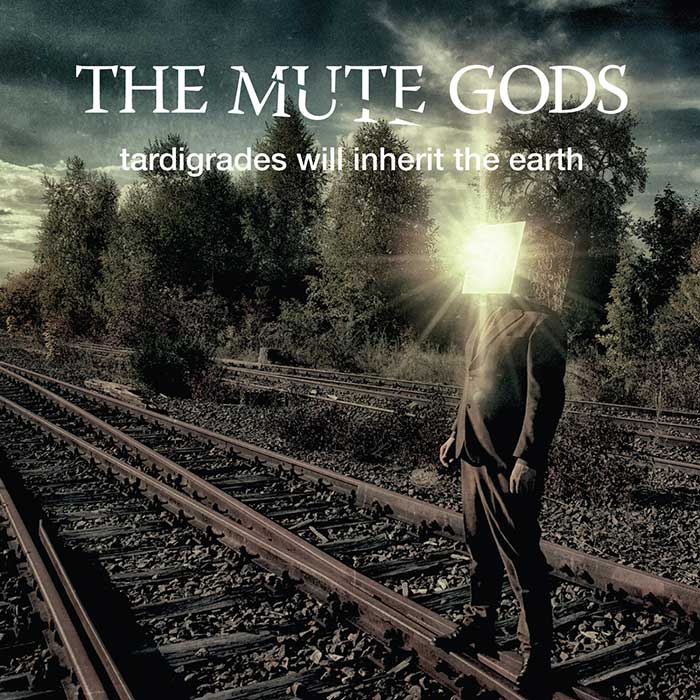 The album is much harder and less multi-faceted than its predecessor. Saltatio Mortis is an untypical album opener. It could have been on Steve Hackett's Wolflight and it is, in fact, the only song on the album written by Roger King.
And here comes the anger mentioned before: Animal Army rumbled angrily out of the speakers. As we mentioned, We Can't Carry On expresses exactly this realization. The song moves in the same electronic areas that Feed The Troll entered on the debut album. The Dumbing Of The Stupid addresses the subject of stultification with strong effects on Beggs' voice before Early Warning offers some relief with acoustic guitars and crystalline vocals.
The title track describes how transient human life is as the title is repeated like a mantra, oscillating between peculiarly merry and threatening vocals. Window Onto The Sun shows off the progressive side of the band. After an atmospheric intro the Mute Gods weave a pleasant rhythmic net with slightly strange guitar solos and Beggs' variable voice on top of it. Lament is a very short instrumental, but it is delicately beautiful; Beggs plays the stick, and King adds orchestral sounds.
The eight-minute track The Singing Fish Of Batticaloa brings back memories of Genesis. The synth sounds in the beginning seem to come straight from Wind & Wuthering. After an interlude of acoustic guitars the synth returns and the track gains momentum before it ends with piano and animal noises.
Hallelujah belongs to the group of aggressively galloping songs on the album. It does not really bring anything new before an instrumental called The Andromeda Strain demonstrates the power of this trio. The album ends on a conciliatory note with the piano ballad Stranger Than Fiction. Or so it seems, for after a couple of minutes of silence there is a "hidden track" called Jesus Thinks You're A Fuckwit, a leftover from the sessions for the debut album.
Beggs leaves us a bit confused at the end of this second album; the balance the debut had is kind of lost in anger on this album. But he will find joy again in.

Atheists And Believers (2019)
Nick Beggs welcomes us with a laughter in the beginning of the title song. It is a pleasant straight rock song with crisp bass. The structure can now be called typical for The Mute Gods as the instrumental break has the familiar outlandish solos. Atheists And Believers looks at the search for intelligent life in the universe before a backdrop of rather less than intelligent media on earth.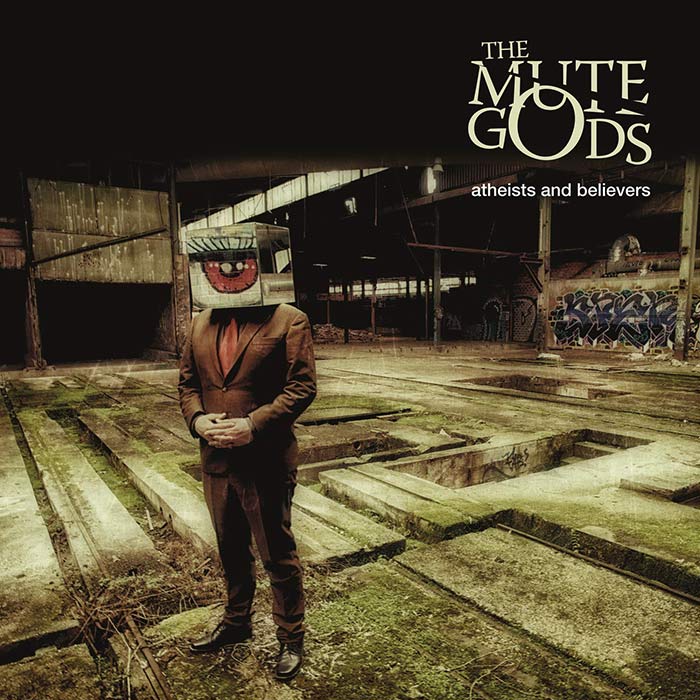 "Life is but a chemical reaction" is a line in One Day, a song ennobled by a guest performance by Alex Lifeson of Rush. Lifeson does not play the guitar solo, as one would expect him to, but the acoustic intro and outro. The Rush guitarist originally recorded it as the closing section only, but Beggs liked it so much that he created an intro from it and prolonged the track, as it were, at its beginning. [9]
Knucklehed [sic!] sounds electronic, with Beggs' outstanding slap-bass. We are in familiar territories lyrically; it is a rant on the "knuckleheads" and the way they vote: "Sie starren den ganzen Tag in eine Maschine (…) Sie wählen Leute, die uns unsere Rechte wegnehmen wollen".
Musical aggression and lyrical desperation continue in Envy The Dead; someone who looks at the world through the haze of pills that make everyday life bearable envies the dead.
Sonic Boom is a strong rock song with a playful bridge that goes some way to lift us out of the melancholy; Craig Blundell (Steven Wilson's band, and also drummer for Steve Hackett since April 2019) plays the drums on this track.
In the second part of the album the Mute Gods remember that they can do it without brute force, too. Old Men begins with a dreamlike sound on acoustic guitar and flute, recalling the pastoral sounds of early Genesis or Ant Phillips' solo albums. The House Where Love Once Lived has a very gently acoustic arrangement, and Beggs sings very well on it.
Iridium Heart brings us back to colder climates, lyrically as well as musically. Nick Beggs' distorted vocals come in after a longer instrumental intro. The track takes a number of musical turns in its six minutes. It is interesting to note how catchy the chorus is.
It is obvious at this point that a song called Twisted World Godless Universe will not spread a merry and optimistic message. The longest of all Mute Gods songs has Beggs switching between straight and distorted vocals. It had everything musically from electronica to driving rock and moves towards an ever more compact finale. The final instrumental I Think Of You is the secret highlight of the album; dreamy acoustic sounds lead us out of Beggs' rant on the status quo.
Atheists And Believers lives up to the class of the debut album; those two albums are recommended for those who want to explore The Mute Gods. The difficult second album, Tardigrades, has its moments, too, but it is a bit weaker.

The Mute Gods project seems to have ended after the third album. Nick Beggs has limited the project to three albums intentionally to keep up a poignant style. However, he also likes to say that sentence us Genesis fans know only too well: "Never say never." If the opportunity arises to go on tour with the Mute Gods, they may continue, at least in a live setting. [10]
Author: Siegfried Göllner
English by Martin Klinkhardt
There is a discussion about
The Mute Gods
in our online forum
at this link
!
Sources:
Anil Prasad: Nick Beggs. Anything can happen, https://www.innerviews.org/inner/beggs.html
https://progressivemusicreview.wordpress.com/2017/03/09/new-nick-beggs-interview-march-2017/
https://www.sonicperspectives.com/interviews/interview-with-nick-beggs