The Watch plays GENESIS - Current tour dates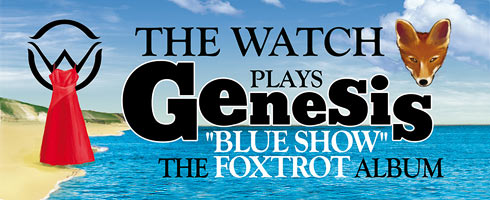 The Italian prog band The Watch has released albums with their own material, but Genesis fans know them mainly because they frequently have several Genesis songs in their live shows. In March 2009 they were one of the live acts at the Steve Hackett Event and played an awesome Early Years show.
In 2010 they are going on a European tour with a similar show based on the Foxtrot album.
All tour dates on this page. Ticket information is added when we have it.
Shows with Nick Magnus and John Hackett!

latest update: 27/11/2008
| | | | |
| --- | --- | --- | --- |
| 15.01.10 | Berlin - Knaack Club | Germany | |
| 22.01.10 | Paris - Le Triton | France | |
| 23.01.10 | Fruitgen - Rustico | Switzerland | |
| 29.01.10 | Frankfurt - Die Halle | Germany | |
| 30.01.10 | Uden - De Pul | Netherlands | |
| 31.01.10 | Verviers - Spirit of 66 | Belgium | |
| 04.02.10 | Mailand - Zoe Club | Italy | |
| 05.02.10 | Vicenza - Teatro St. Marco | Italy | |
| 06.02.10 | Rom - Crossroads | Italy | |
| 12.02.10 | Glasgow - The Ferry | UK | |
| 13.02.10 | Rotherham - Wesley Centre Maltby | UK | |
| 18.02.10 | Piekary Slaski - Andaluzja | Poland | |
| 19.02.10 | Warschau - Klub Progresja | Poland | |
| 20.02.10 | Konin - Oskard | Poland | |
| 21.02.10 | Poznan - Blue Note | Poland | |
| 26.02.10 | Duisburg - Café Steinbruch | Germany | |
| 27.02.10 | Reichenbach - Bergkeller | Germany | |
| 05.03.10 | Aschaffenburg - Colos-Saal | Germany | |
| 12.03.10 | Alkmaar - Victorie | Germany | |
| 13.03.10 | Mons - Auditorium Abel Dubois | Belgium | |
| 13.03.10 | Stuttgart - Zwölf-Zehn Club | Germany | |
| 19.03.10 | Bremen - Schlachthof | Germany | |
| 20.03.10 | Helsinki - Tavastia Klub | Finland | |
| 26.03.10 | Tonale - Open Air | Italy | |
| 27.03.10 | Vittorio Veneto - Spazio Mavv (40th Ann. Trespass Show) | Italy | |
| 16.04.10 | Monaco - Mood Club | Monaco | |
| 17.04.10 | Monaco - Mood Club | Monaco | |
| 08.05.10 | Oslo - John Dee | Norway | |
| 21.05.10 | Garching b. München - Gasthaus zum Brau | Germany | |
| 29.05.10 | Hannover - Musikzentrum | Germany | |
| 13.06.10 | Wolverhampton - June Robin | UK | |