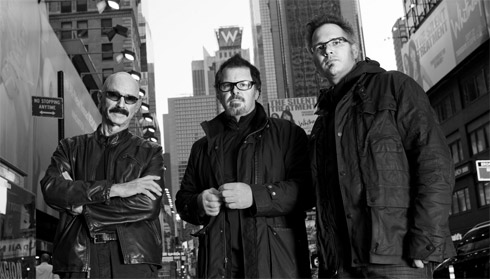 Tony Levin: Stick Men - Tour dates 2012

Besides his involvement with Peter Gabriel (Tony Levin is currently touring with Peter's band in the frame of the Back To Front Tour in North America), Tony keeps himself busy with his critically acclaimed Stick Men project.

Stick Men is a one-off rock trio. The musicians play extraordinary instruments, which are rarely heared and seen on any stage, and to play these instruments is rather challenging. Stick Men are possibly exactly that, what you consider to be "progressive" in the best possible way.
Band member sinclude Tony Levin, Pat Mastelotto (who are the legendary King Crimson rhythm section since 1993) and Markus Reuter, who is a solo artist, but also one of the men behind the German Avantgarde-group centrozoon. Since 2005, Reuter also plays together with Mastelotto as a duo named TUNER.

Stick Men were formed in 2008 and since 2011, Markus Reuter iis the third man. So far, Stick men have released three albums: Soup, Stick Men and Absalom. A new album called Deep will be released shortly. The band decided to elease the album involving an alternative promotion concept, more info at this link.

Find all tour dates here. Last update: 3rd October 2012

| | | |
| --- | --- | --- |
| 19.10.12 | Hamburg (GER) - Logo | |
| 20.10.12 | Berlin (GER) - Crystal | |
| 21.10.12 | Opole (PL) - Drum Fest | |
| 22.10.12 | Prag (CZ) - Lucerna Music Bar | |
| 23.10.12 | Ostrava (CZ)- Club Fabric | |
| 25.10.12 | Munich (GER) - Orangehouse | |
| 26.10.12 | Erfurt (GER) - HsD | |
| 27.10.12 | Frankfurt (GER) - Jazz Festival | |
| 29.10.12 | Kiew (UA) - Bochka Club | |
| 31.10.12 | Münster (GER) - Hot Jazz Club | |
| 02.11.12 | Dresden (GER) - Tante Ju | |
| 04.11.12 | Bratislava (SLO) - Muzeum Obchodu | |
| 06.11.12 | Zürich (CH) - Moods im Schiffbau | |
| 07.11.12 | Basel (CH) - Gran Casino | |
| 08.11.12 | Villerest (F) - Café Rosanne | |
| 09.11.12 | Paris (F) - Atelier du Moulin (Santeny) | |
| 10.11.12 | Paris (F) - Atelier du Moulin (Santeny) | |
| 11.11.12 | Zoetermeer (NL) - Borderij | |
| 12.11.12 | Lille (F) - Le Spendid | |
| 13.11.12 | Verviers (BE) - Spirit of 66 | |
| 15.11.12 | Lugagnano (I) - Il Giardino | |
| 16.11.12 | Milanio (I) - Blue Note | |
| 17.11.12 | Lugano (CH) - Studio Foce | |
| 20.11.12 | Cagliari (I) - Teatro Club FBI | |
| 21.11.12 | Alghero (I) - Teatro Civico | |
| 23.11.12 | Roma (I) - Stazione Birra | |
| 24.11.12 | Chietei (I) - Auditorium Supercinema | |
| 25.11.12 | Napoli (I) - Teatro Trianon | |