Gazzara plays Genesis: Play Me My Song
Genesis classics with Piano and Chamber Orchestra
Francesco Gazzara is an Italian composer and musician. The pianist has put together a full double album with his own interpretations of various Genesis classics (from the early days up until 1980). Gazzara is a well known musician in Italy (expecially through Hammond Express and The Piano Room). He has recorded the Piano parts inside Assunta hall, which is located inside Vatican city. The original plan was to produce an album with piano only, but he eventually quickly realized he needs to add some further arrangements for chamber orchestra and also Hammond Organ and the famous Mellotron. As a result, Play Me My Song is a highly interesting piece of work and can be purhcased on Digipak 2CD and 2LP directly at Francesco's Website (see this link). It can also be ordered at amazon-uk (2CD and MP3-Download) and amazon.com (2CD and MP3-Download).

The following tracks are on the album: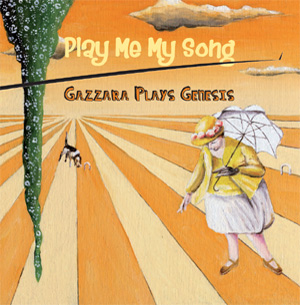 CD1
Horizons
Watcher Of The Skies
Dancing With The Moonlit Knight
Firth Of Fifth
After The Ordeal
The Cinema Show
The Chamber Of 32 Doors
The Lamia
For Absent Friends
The Knife
CD2
A Trick Of The Tail
Mad Man Moon
One For The Vine
Blood On The Rooftops
Duke's Travels
Duke's End
Time Table
Seven Stones
The Musical Box (closing section)

Links:
Gazzara plays Genesis: Play Me My Song -
Info and purchase options
---
published on 16.11.14 16:32 by
Christian
@
Coverbands
---
Gazzara plays Genesis: Play Me My Song Comments:
Kein Kommentar möglich

If you want to submit a comment, you will have to log in!
---