Phil Collins: Complete Studio Collection Boxset
Take A Look At Me Now - all albums without bonus disc
In 2015 and 2016, Phil Collins and Warner launched a promotion campaign to support the rerelease of his eight solo albums: Take A Look At Me Now. His eight solo albums (the soundtracks were not inclouded) were remastered and bonus-discs with additional tracks (demos, live tracks and b-sides) were added. The reception was mixed, with respect to the selection of bonus tracks and the quality of the chosen live material. We have compiled all information about the reissues campaign on a special site here.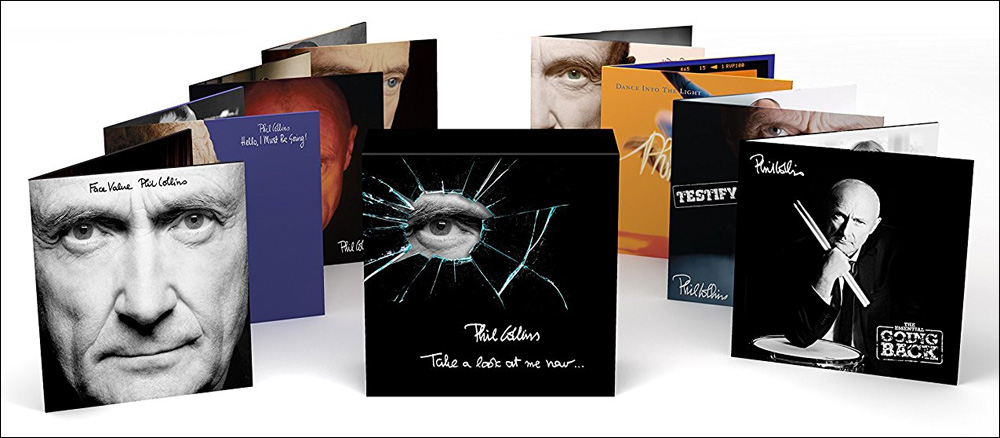 On 24th November, Warner releases a boxset with all eight albums. The set is called Take A Look At Me Now: The Complete Studio Collection and contains the eight albums without bonus discs. Nevertheless, the CDs have the new cover designs and come in a Mini-LP-Sleeve (Gatefold-style). It's unclear whether or not the booklets will be included. Since the set will be offered at a special price, we can assume they are not.
The box looks pretty much the same like the one that was used to store the double CD reissues (see image).
The set is quite cheap and can be preordered at amazon-uk, amazon-fr and soon at amazon.com.
Phil will be on tour in the UK this November and December. Check out the tour dates page for more info.

---
published on 22.10.17 09:08 by
Christian
@
Phil Collins
---
Phil Collins: Complete Studio Collection Boxset Comments:
Kein Kommentar möglich

If you want to submit a comment, you will have to log in!
---