Phil Collins: Not Dead Yet Live tour begins on Friday
Some thoughts about the comeback tour
This Friday, June 2, 2017, is the day when Phil Collins begins a comeback tour that not just the fans look forward to. We would like to use the calm before the first show to assess the situation, look ahead and ponder what people expect and what people may conceivably expect. We will not reveal any details about the set or the stage production. You can read this essay without having your pleasant anticipation spoiled.

It has been almost ten years since Phil Collins has played his latest tour concert proper. That was at the Hollywood Bowl, Los Angeles, on October 13, 2007, with his friends Mike Rutherford and Tony Banks under the Turn It On Again monicker. The latest proper solo tour concert took place two years before that. A bad cold forced Phil Collins and his management to postpone two shows scheduled for Prague in late October 2005 by a month, which made those the last gigs on the tour. His "final farewell" was, therefore, not on his own turf (albeit in Glasgow, some distance from his home town of London), but in the then brand new Czech Sazka Arena (now O2 Arena) on November 24, 2005.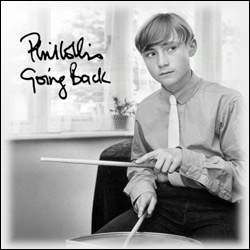 Things went quiet after these two farewell tours. Phil would be involved in the Tarzan musical, kept collecting memorabilia from the Alamo and realized his childhood dream by recording the Motown cover album Going Back. Apart from a few exceptions he vanished from public view, just like he had been announcing over and over again between 2004 and 2007. He could not really leave the stage completely, though, and played somewhat more than a handful of shows in the U.S., London and Montreux to promote Going Back. That was not a proper tour, however, and it did not feature any of his own songs. From 2010 on there was silence, apart from very few charity concerts. You can read up on the reasons for this silence in Phil's autobiography, ambiguously titled Not Dead Yet. In his book, Phil also mentions the band rehearsals in Miami in the autumn of 2014, where he wanted to find out how fit he was for a tour. There have been no further details about the rehearsals apart from a leaked set list, but apparently the outcome was too bad or at least not good enough to go on tour. At that point many people thought that that was that.

His autobiography and the re-release of his solo albums (labelled "Take A Look At Me Now") in 2015 were quite a big surprise. When everybody thought that we got more than we could expect after his retirement a tour way announced on October 17, 2016. The tour motto simply adds a "live" to the title of his autobiography. It is as tongue in cheek as the First Final Farewell Tour 2004/05, when people would not really believe that Phil might go through with his retirement.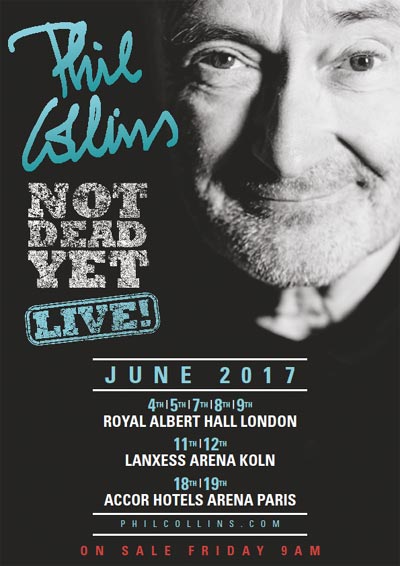 What was intriguing was that there would be a maximum of five shows in only three cities. London, Cologne, Paris are places where Genesis and Phil solo have always been popular, and ticket demand raised the number of shows to the maximum of five in all places. This was a concept Genesis had been looking at (but abandoned) for their last tour. When London, Paris and Cologne had sold out, the tight tour structure was softened somewhat by the announcement of a stadium show in Dublin, a festival performance at Hyde Park, London, and an arena show in Liverpool as the very first show.

One thing that diminished the anticipation and really ticked off fans were the outrageous ticket prices. Worse than that, fans found it very hard to get ticket in the pre-sale, particularly for the Royal Albert hall, while large quantities of tickets became available on scalper websites for even more outrageous prices. And then the tickets for Dublin, Hyde Park and even Liverpool were more reasonably priced (except for front of house tickets) that for the original fifteen shows. Almost all shows are sold out, but this tour will see many faithful fans stay at home because they find the tickets too expensive or because the combined travel prices are beyond their budget.

So what has Phil been up to since the tour announcement? First of all he went on the TV talkshow circuit to promote his autobiography, album re-released and the tour. When he was interviewed by German talk show host Markus Lanz he had a black eye, and people were worried. He used a walking stick at the press conference where they announced the tour. The stick has been accompanying him on almost every photo and every appearance. It seems to indicate that we can look forward to seeing Phil Collins running across the stage or kneeling in front of his backing singers. He has been asserting that he was working hard to get fit for the tour, but he has only rarely been seen in public in recent weeks. It seems like he is hiding from the public while he is getting ready for the tour. Does that mean he wants to hide a lack of health in order not to worry fans? Or does it mean he is so fit that he is going to surprise everybody with his health and stamina on stage? We would hope for the latter, but with everything Phil has been going through for years it is the less likely option. Last year Phil appeared at a handful of events for his Little Dreams Foundation and at the US Open, where is performances lasted for 45 minutes, tops – far less than a tour show of some two and a half hours. Many also described his voice as weak. It might be a lack of practice or simply the age. As far as the drumming, a special attraction and a fixture at every solo show, is concerned, Phil has affirmed that he would practice, practice, practice so that he could at least play his obligatory drum fill for In The Air Tonight. So how is Phil's health? Will he be fit for the shows? Will he be able to play the drums? These questions have been asked by fans and the press, with the latter printing in the familiar tasteless manner. The answers will be given on Friday, at the kick-off show.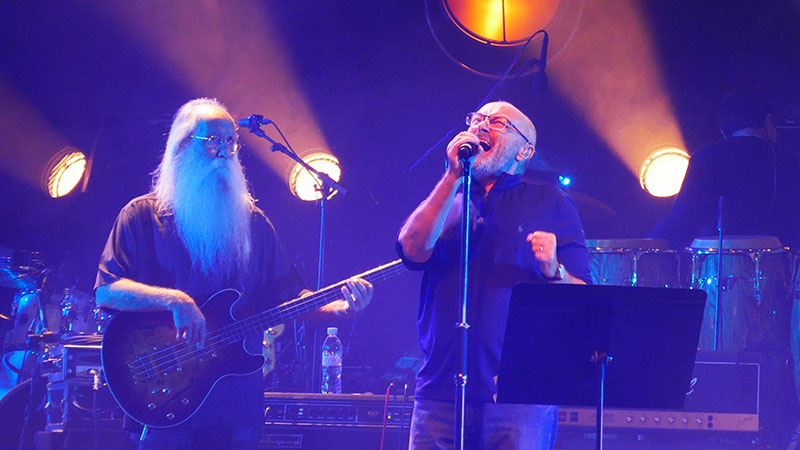 We have been reporting on Phil's live band since February. The core band first met in December so that Nic Collins and the band could find a common footing. Having a sixteen-year-old play the drums at the tour of one of the best drummers in the world is a certain risk, even if the youth in question happens to be that drummer's son. In early May the full band met in Miami for rehearsals before they moved to London. Rehearsals, probably with the full stage, shifted to Liverpool this week so the single show in the Beatles' hometown makes sense. Perhaps they linked the practical with the useful. There have not been many leaks from the rehearsals, despite the social networks. Phil's official Facebook account showed a video of Nic on drums. Some members of the band or the crew provided the odd tidbit. Leland Sklar uploaded a video that shows what is probably a set list, though whether it really is what they are going to play or not will be revealed on Friday. We will also find out whether Nicolas is up to the pressure and the demands on him. He appears relaxed and confident despite, or because of, his youth. Time will tell if that and his obvious talent suffice. We hope that this tour is just the first step in his career and not a straw fire. But in this we may rely on the discretion of everybody involved. After all, Phil himself knows best what is going to come Nicolas' way.
The show will be some two hours long, maybe two and a half. It will be split in two halves by half an hour's break, as on the Both Sides tours in 1994/95. We will soon find out whether this break is due to Phil's fitness or the dramatic arch of the evening.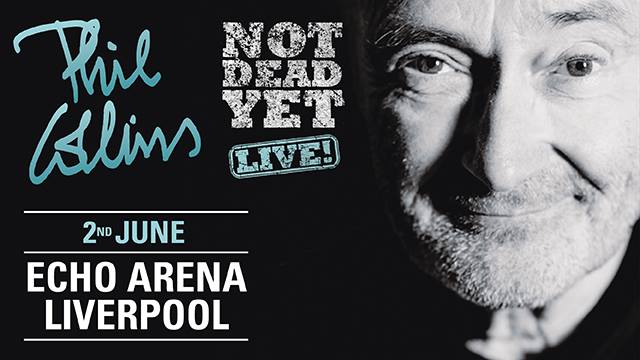 Certainty will begin to replace uncertainty after the tour kick-off on Friday. If you wonder whether Phil will be fit enough to go through with the shows you should consider that Phil's worst loss would be not in money but in reputation. And speaking of money, it is also clear that these shows, however good they are going to be, will not be worth the sums of multiple hundred Euros. Phil will deliver, not much doubt about that. But the question after years of absence from the stage is, how? Via worries about his voice, health and fitness we return to the familiar discussions of stage, songs and production. If you focus on the latter aspects you may look forward to the show with excitement. We cannot expect a physical performance as in 2004 and 2005. Hopefully, Phil is going to surprise us in a different (good) way. Will it be the set list? For now we must wait and wonder. We can hardly expect any major experiments nor a complete rehash of the First Final Farewell tour set list. It would be great if Phil did not play it completely safe and played personal favourites that audiences are perhaps less familiar with. Since 2005 there has been precious little new material, so the set list is going to consist of well-known material. Another interesting question is whether Phil is going to vary the set lists for the five shows in a row in London, Paris and Cologne. Obviously, we will not see five completely different shows in five nights at the Lanxess Arena. It is not quite unlikely that Phil plays the odd Genesis song. In 2004/05, he sang Misunderstanding and Invisible Touch, and he would not rule out in current interviews that he would look at Genesis material. However, with a repertoire as big as his, why would he need to do that? It would also fuel the eternal reunion rumours.
This is going to be an exciting time. We wish Phil and his band and his crew all the best for the tour month. Will there be more? That is actually completely unclear and it depends on how this tour turns out. Perhaps this tour is more than a lifesign, though Phil should be able to prove the tour motto with his performance. We hope so, for his and his fans' sakes – even though he will never be going on world tours for half a year on end. All the more reason to enjoy the upcoming shows.

written by Ulrich Klemt
translated by Martin Klinkhardt
Further information
Not Dead Yet Live - tour dates
---
published on 31.05.17 18:11 by
UK76
@
Phil Collins
---
Phil Collins: Not Dead Yet Live tour begins on Friday Comments:
Kein Kommentar möglich

If you want to submit a comment, you will have to log in!
---