Phil Collins: Rehearsals for possible 2015 tour?
Phil puts together new band - for a tour in 2015?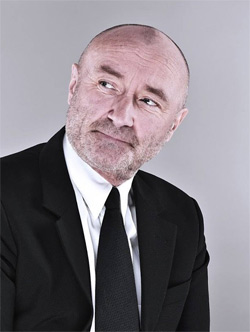 After Phil has revealed his comeback plans last year, fans around the world wonder whether or not he will return on stage - and the big question also is - with or without Genesis? There have been plenty of rumours circulating, but so far only his collaboration with Adele has been confirmed. No news on that so far, but it looks like something else is happening. During the Cruise To The Edge earlier this year, Simon Collins mentioned that his father is is putting together a band again (a full review about the Cruise To The Edge, featuring Steve Hackett and Simon Collins' band Sound Of Contact, will follow shortly). No further information was provided, but more recent information says that this band will rehearse later this summer to test the options for a possible series of shows in 2015. Interesting: It seems that Chester Thompson is not part of that rehearsal-band, instead of him, drummer Jason Bonham will be on board. The other musicians are well known from his last First Final Farewell Tour.

We have to point out that there is no official confirmation at this point and part of this news is based on rumours. We will keep you updated once this news is confirmed. In any case, if such a tour happend, it would mean no Genesis tour will happen in the near future.

---
published on 21.06.14 17:27 by
Christian
@
Phil Collins
---
Phil Collins: Rehearsals for possible 2015 tour? Comments:
Kein Kommentar möglich

If you want to submit a comment, you will have to log in!
---