Phillips / Rutherford Tribute-Shows at Trading Boundaries
Noel McCalla Special Guest during 2-day event
Trading Boundaries is located in Sussex, England and might be familiar to Genesis fans because Steve Hackett plays Acoustic shows there - more or less regularly.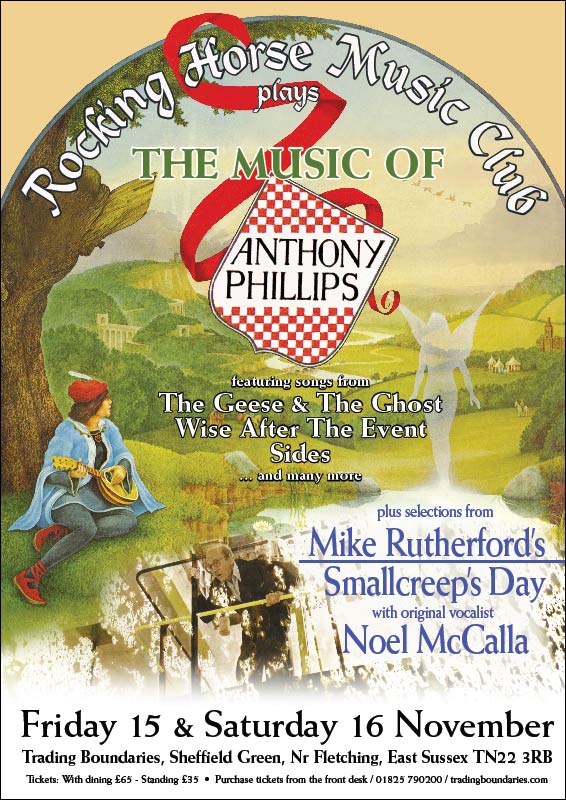 The club is something like a centre for arts and culture. But it's also a venue that hosts tribute shows of all kinds. This November, they will host a special 2-day event that is quite interesting for Genesis fans. American band Rocking Horse Music Club will perform the music of Anthony Phillips (mainly from his first three solo albums) as well as material from Mike Rutherford's debut album, Smallcreep's Day. For this part of the show, Noel McCalla will join the band. Noel sang the original lead vocals on Smallcreep's Day.
This was reason enough for us to seek more information about this project. So Helmut Janisch from genesis-news.com conducted an interview with Brian Coombes, producer and musician with the Rocking Horse Music Club, and Brian told us many interesting details about the history of this project and what we can expect. You can find the full interview at this link.
The small club offers standing tickets and dining tickets. There is only a limited number of tickets available, so you should hurry to secure yours!
---
published on 30.04.19 18:07 by
Christian
@
Coverbands
---
Phillips / Rutherford Tribute-Shows at Trading Boundaries Comments:
Kein Kommentar möglich

If you want to submit a comment, you will have to log in!
---