Steve Hackett: "Fire And Ice" - DVD release on Nov 21
Guest appearances by Steve Wilson and John Wetton
On November 30, 2010 Steve Hackett took his Train On The Road tour with which he promoted the new album Out Of The Tunnel's Mouth to the venerable Shepherds Bush Empire in London, UK. He was joined on stage by two special guests, John Wetton and Steve Wilson. The show was filmed and will be released on November 21, 2011 as the Fire And Ice DVD.
The DVD consists of the following tracks: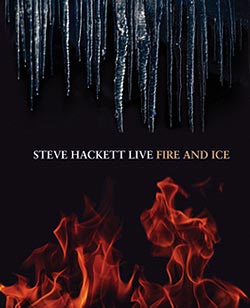 01 Intro
02 Valley Of The Kings
03 Every Day
04 Emerald And Ash
05 Golden Age Of Steam
06 Watcher Of The Skies
07 Carpet Crawlers
08 Fire On The Moon
09 Ace Of Wands
10 Shadow Of The Hierophant *
11 Sierra Quemada
12 The Darkness In Men's Hearts
13 Blood On The Rooftops
14 Tubehead
15 Sleepers
16 All Along The Watchtower **
17 Still Waters
18 Prairie Angel/Los Endos
19 Firth Of Fifth
20 Clocks *
* feat. Steve Wilson
** feat. John Wetton
Technical information:
PAL / Region Code 0
Dolby Digital 5.1
Aspect Ratio: 1,85:1

The DVD can be preordered from the official Steve Hackett webstore. If you order before November 21, you get the mp3 album Fire And Ice - The Soundtrack right away and for free!
It is still unclear whether the DVD will also be available in regular stores. We will keep you posted.
Steve Hackett on tour 2011
Steve Hackett has recently released a new rock album called Beyond The Shrouded Horizon. Find out big review of the album here.
In November he is going to play several gigs of his Breaking The Waves tour in the UK, Germany, Switzerland, Belgium and The Netherlands. More information about it on our tour date page.

---
published on 03.11.11 17:49 by
martinus
@
Steve Hackett
---
Steve Hackett: "Fire And Ice" - DVD release on Nov 21 Comments:
Kein Kommentar möglich

If you want to submit a comment, you will have to log in!
---