Steve Hackett: Tour start in Ostende yesterday
Steve and his band rocked the house!
Yesterday, Steve Hackett and his band kicked off their European leg of the 2019 Genesis Revisited tour in Ostende, Belgium. It was the first gig with new drummer Craig Blundell, who has written the following words prior to their performance yesterday:
"Opening night.....Belgium
It feels like yesterday when I was in America and Steve Hackett asked if I'd like to join him on the Genesis Revisited tour.
I got sent the tracks and slowly started to work my way through them at every opportunity I had. The Selling England by the Pound album was one I used to listen to constantly as a kid which was kind of surreal relearning it but a few years on, appreciating Phil's work massively as I have done since his Brand X days.
I never auditioned for the tour which is extremely flattering but in a strange way it put more pressure on me in rehearsals to make sure I was on top of things, there's shedding in my rehearsal room learning to a track and then there's playing with the band, both are very very different when it comes to hearing and playing your parts, taking risks, phrasing's listening and hearing different things etc.
For this tour I've been asked to 'be myself' but it's absolutely impossible to play some of these tracks without paying my huge respect to some of the incredible drummers and their iconic drum parts that have sat on this throne, Phil, Gary, John etc. They are all amazing and once again on another tour, I'll do my best to be them all in my own way.
And so it's opening night here in Belgium, new people, new music, new tech, new tour, new fans. I've had a blast educating myself, huge nerves aside, it's 2 hours till the concert starts, I'm off to relax before I get stuck into these amazing tunes. I hope you enjoy the shows as much as I've enjoyed preparing for them."
The band performed two sets plus encores. The first set contained material from the latest album, At The Edge Of Light, as well as quite a few tracks from Spectral Mornings, which celebrates its 40th anniversary during this tour. During the second set, the band performed Selling England By The Pound in its entirety, plus the deleted scene, Déjà Vu, a track written by Peter Gabriel and Steve Hackett, which didn't make it on the final album but was eventually recorded by Steve Hackett for his first Genesis Revisited album.
The encores were Dance On A Volcano and Los Endos. The full setlist:
Set 1:
Every Day
Under the Eye of the Sun
Fallen Walls and Pedestals
Beasts in Our Time
The Virgin and the Gypsy
Tigermoth
Spectral Mornings
The Red Flower of Tachai Blooms Everywhere
Clocks - The Angel of Mons
Set 2 (

Selling England by the Pound

):
Dancing With the Moonlit Knight
I Know What I Like (In Your Wardrobe)
Firth of Fifth
More Fool Me
The Battle of Epping Forest
After the Ordeal
The Cinema Show
Aisle of Plenty
Deja Vu
Dance on a Volcano

Encore
Myopia / Slogans / Los Endos
Discuss this with other fans in our forum
here
.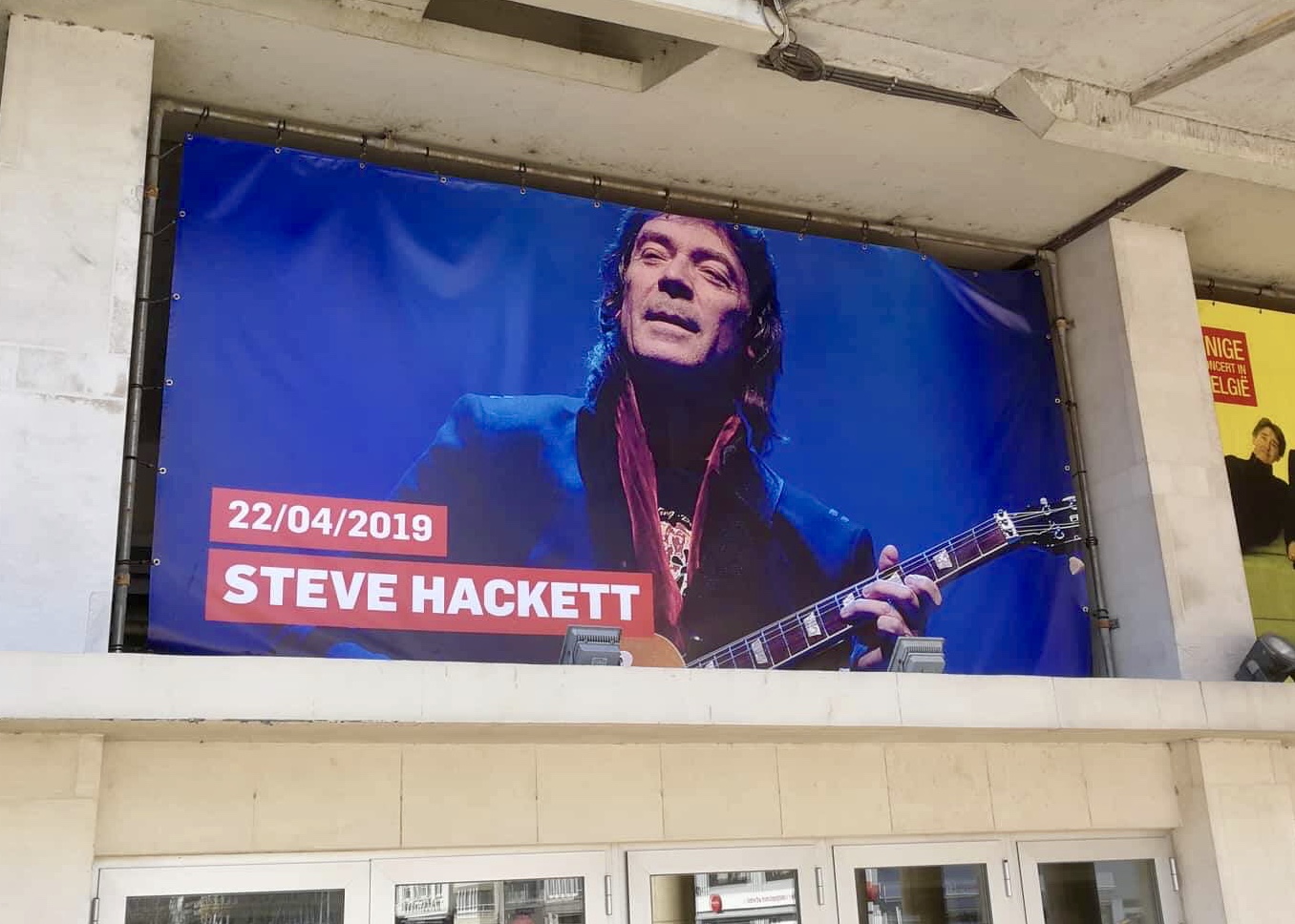 Photo: Volker Warncke

---
published on 23.04.19 11:03 by
Christian
@
Steve Hackett
---
Steve Hackett: Tour start in Ostende yesterday Comments:
Kein Kommentar möglich

If you want to submit a comment, you will have to log in!
---