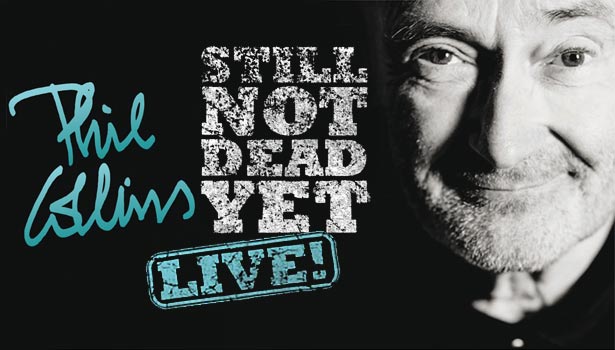 Phil Collins - (Still) Not Dead Yet Live tour 2017-2019
Phil Collins returns on stage in 2019

At a press conference in London on 17th October 2016, Phil Collins announced a short tour in Europe, spanning three cities only, with up to 15 gigs. At this point it seemed unlikely that shows in other countries or cities will be added soon.
In the meantime, additional shows were announced for Liverpool, Dublin and London (Summer 2017) and more shows in the UK for November and December 2017. Two of the London shows from June needed to be rescheduled to November as well.
Latin-/South American shows happend in early 2018, North America in October 2018. Australia and New Zealand are to follow in early 2019. It now qualifies to be called a world tour.
On 26th November 2018, 15 dates for Europe in June 2019 were announced! Find all dates below.
We have added a Facebook icon in our tour dates list. Once available (blue icon), you will find a link to the facebook event.
Tickets for the Stockholm show will be on sale on 6th Dec, 9am CET at this link.

NEW: Discuss PHIL COLLINS' tour in our forum
Phil Collins latest release Plays Well With Others is now available. The 4CD-Set comes in a beautiful Digibook with liner notes. It is available worldwide and can also be purchased digitally on iTunes.
Watch a little interview with Phil just before he kicks off his tour leg down under.
Additional Links:

Phil Collins in Liverpool - first show of the tour, a short summary
Phil Collins in Cologne - show report
Phil Collins - A European Travel Report 2017
Interview with Leland Sklar and Daryl Stuermer in Cologne
Phil Collins in Los Angeles at The Forum - show report



Line-Up
Phil Collins: Vocals
Nicholas Collins: Drums
Leland Sklar: Bass
Daryl Stuermer: Guitars
Ronnie Caryl: Rhythm Guitar
Brad Cole: Keyboards
Arnold McCuller: Backing Vocals (replaced by Bill Cantos in Dublin and Hyde Park)
Amy Keys: Backing Vocals
Bridgette Bryant: Backing Vocals
Lamont van Hook: Backing Vocals
Luis Conte: Percussions (not in Dublin, Hyde Park and North America)
Richard Garcia: Percussions (Dublin, Hyde Park & North America)
Harry Kim: Trumpet
Dan Fornero: Trumpet
George Shelby: Saxophone
Luis Diego Bonilla: Trombone
Last Update: 16th December 2018
Date






City - Venue








Tickets



19/01/19


Brisbane

- Suncorp Stadium



21/01/19


Sydney

- Qudos Bank Arena



22/01/19


Sydney

- Qudos Bank Arena


23/01/19


Sydney

- Qudos Bank Arena


25/01/19


Adelaide

- Adelaide Oval



28/01/19


Perth

- RAC Arena



29/01/19


Perth

- RAC Arena


01/02/19


Melbourne

- AAMI Park



02/02/19


Melbourne

- AAMI Park


04/02/19


Christchurch

- Christchurch Stadium



06/02/19


Napier

- Mission Estate Winery















02/06/19


Vienna

- Ernst-Happel-Stadion



04/06/19


Lyon

- Groupama Stadium



05/06/19


Stuttgart

- Mercedes-Benz-Arena



07/06/19


Berlin

- Olympiastadion



08/06/19


Aarhus

- Ceres Park



10/06/19


Bergen

- Bergenhus-Koengen



12/06/19


Stockholm

- Friends Arena



14/06/19


Hannover

- HDI-Stadium



15/06/19


Hannover

- HDI-Stadium



17/06/19


Milan

- Mediolanum Forum



18/06/19


Zürich

- Letzigrund Stadium



20/06/19


Nijmegen

- Goffertpark



21/06/19


Cologne

- RheinEnergie Stadium



22/06/19


Cologne

- RheinEnergie Stadium



24/06/19


Munich

- Olympic Stadium



25/06/19




Prague

- O2-Arena



26/06/19


Warsaw

- PGE Narodowy



2018















22/02/18


Rio de Janeiro

- Maracana
Brazil


24/02/18


Sao Paulo

- Allianz Parque

Brazil


25/02/18


Sao Paulo

- Allianz Parque

*additional concert*

Brazil


27/02/18


Porto Alegre

- Beira Rio
Brazil


06/03/18


Monterrey

- Auditorio Citibanamex
Mexico


07/03/18


Guadalajara

- Arena VFG

Mexico


09/03/18


Mexico City

- Palacio de los Deportes
Mexico


10/03/18


Mexico City

- Palacio de los Deportes

*additional concert*

Mexico


13/03/18


Lima

- Jockey Club del Peru
Peru


15/03/18


Santiago

- Estadio Nacional
Chile


17/03/18


Montevideo

- Estadio Centenario
Uruguay


19/03/18


Cordoba

- Estadio Instituto

Argentina


20/03/18


Buenos Aires

- Campo Argentino de Polo
Argentina
23/03/18


San Juan

- Coliseo de Puerto Rico
Puerto Rico











05/10/18


Fort Lauderdale, FL

- BB&T Center

USA



07/10/18


Washington DC

- Capitol One Arena

USA
08/10/18


Philadelphia, PA

- Wells Fargo Arena

USA
09/10/18


Boston, MA

- TD Garden

USA


11/10/18


Toronto, ON

- Scotiabank Arena

Canada
13/10/18


Newark, NJ

- Prudential Center

USA


14/10/18


Brooklyn, NY

- Barclays Center

USA
16/10/18


Montreal, QC

- Centre Bell

Canada
18/10/18


Cleveland, OH

- Quicken Loans Arena

USA
19/10/18


Columbus, OH

- Nationwide Arena

USA


21/10/18


Minneapolis, MN

- Target Center

USA


22/10/18


Chicago, IL

- United Center

USA
25/10/18


Oakland, CA

- Oracle Center
USA


27/10/18


Las Vegas, NV

- MGM Grand

USA
28/10/18


Los Angeles, CA

- The Forum

USA








2017















02/06/17


Liverpool

- Echo Arena

UK


04/06/17


London

- Royal Albert Hall

UK
05/06/17


London

- Royal Albert Hall
UK
07/06/17


London

- Royal Albert Hall
UK
08/06/17


London

- Royal Albert Hall
UK
26/11
09/06/17


London

- Royal Albert Hall
UK
27/11
11/06/17


Cologne

- Lanxess Arena

Germany

12/06/17


Cologne

- Lanxess Arena
Germany
14/06/17


Cologne

- Lanxess Arena

*additional concert*

Germany
15/06/17


Cologne

- Lanxess Arena

*additional concert*

Germany
16/06/17


Cologne

- Lanxess Arena

*additional concert*

Germany
18/06/17


Paris

- AccorHotels Arena

France

19/06/17


Paris

- AccorHotels Arena
France
20/06/17


Paris

- AccorHotels Arena

*additional concert*

France
22/06/17


Paris

- AccorHotels Arena

*additional concert*

France


23/06/17


Paris

- AccorHotels Arena

*additional concert*

France


25/06/17


Dublin

- Aviva Stadium [Special Guest: Blondie]
Ireland


30/06/17


London

- Hyde Park "British Summer Time"
[Support Acts: Blondie, Mike + The Mechanics, Starsailor]

UK










22/11/17


Nottingham

- Motorpoint Arena
UK


24/11/17


Sheffield

- Arena
UK


26/11/17


London

- Royal Albert Hall
UK
27/11/17


London

- Royal Albert Hall
UK
29/11/17


Manchester

- Arena
UK


01/12/17


Glasgow

- The SSE Hydro
UK


02/12/17


Newcastle-upon-Tyne

- Metro Radio Arena
UK


03/12/17


Birmingham

- Genting Arena
UK