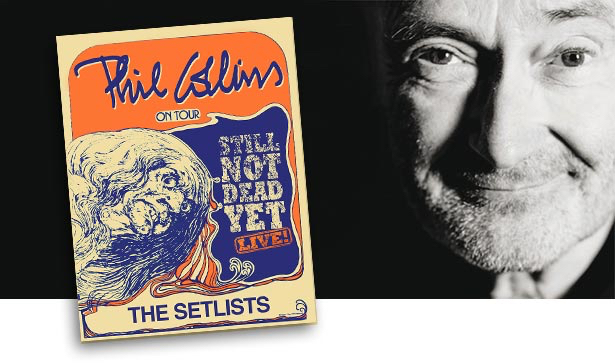 Phil Collins: Setlists 2017-2019
(Still) Not Dead Yet Live - World Tour
Phil Collins has been touring since 2017. The (Still) Not Dead Yet Tour took him from Europe in 2017 to South and North America in 2018, to Australia and New Zealand and back to Europe again in 2019. The tour concludes in Los Angeles on 19th Ocotber 2019. Phil has varied his setlists not only due to different show concepts (stand-alone Collins-shows vs. festival-shows), but he has also thrown in different tracks from time to time.

The complete list of dates and ticket links can also be found on our tour dates page here.

We have compiled the setlists for you.
Several cities have links. These will bring you to concert reports and additional info.
Quick jump: 2017 | 2018 | 2019

2017


Summer (Europe) and fall/winter (UK)















02/06/17 Liverpool
04/06/17 London
05/06/17 London
07/06/17 London
11/06/17 Cologne
12/06/17 Cologne


Against All Odds (Take A Look At Me Now)

Another Day In Paradise
One More Night

Can't Turn Back The Years




Something Happened On The Way To Heaven




If You Love Me (Really Love Me)













14/06/17 Cologne
15/06/17 Cologne
16/06/17 Cologne
18/06/17 Paris
19/06/17 Paris
20/06/17 Paris
22/06/17 Paris
23/06/17 Paris


Against All Odds (Take A Look At Me Now)

Another Day In Paradise
One More Night

Can't Turn Back The Years




Something Happened On The Way To Heaven















25/06/17 Dublin


Another Day in Paradise
Something Happened on the Way to Heaven
Wake Up Call
Follow You Follow Me
I Missed Again
Hang in Long Enough
Separate Lives
You Know What I Mean
In the Air Tonight
You Can't Hurry Love
Dance Into the Light
Invisible Touch
Easy Lover
Sussudio

Take Me Home












30/06/17 London


Another Day in Paradise
Something Happened on the Way to Heaven
Wake Up Call
Follow You Follow Me
I Missed Again
Hang in Long Enough
Separate Lives
In the Air Tonight
You Can't Hurry Love
Dance Into the Light
Invisible Touch
Easy Lover
Sussudio

Take Me Home












22/11/17 Nottingham
27/11/17 London
29/11/17 Manchester
01/12/17 Glasgow
02/12/17 Newcastle
03/12/17 Birmingham



Against All Odds (Take A Look At Me Now)

Another Day In Paradise
One More Night

Can't Turn Back The Years

Who Said I Would





Something Happened On The Way To Heaven















24/11/17 Sheffield
26/11/17 London




Against All Odds (Take A Look At Me Now)

Another Day In Paradise
One More Night

Can't Turn Back The Years

Only You Know And I Know





Something Happened On The Way To Heaven















2018




Latin America / North America















22/02/18 Rio de Janeiro
24/02/18 Sao Paulo


Against All Odds (Take a Look at Me Now)
Another Day in Paradise
I Missed Again
Hang in Long Enough
Wake Up Call
Throwing It All Away
Follow You Follow Me
Only You Know and I Know
Separate Lives
Something Happened on the Way to Heaven
In the Air Tonight
You Can't Hurry Love
Dance Into the Light
Invisible Touch
Easy Lover
Sussudio

Take Me Home












25/02/18 Sao Paulo
27/02/18 Porto Alegre
06/03/18 Monterrey

Against All Odds (Take a Look at Me Now)
Another Day in Paradise
I Missed Again
Hang in Long Enough
Wake Up Call
Throwing It All Away
Follow You Follow Me
Who Said I Would
Separate Lives
Something Happened on the Way to Heaven
In the Air Tonight
You Can't Hurry Love
Dance Into the Light
Invisible Touch
Easy Lover
Sussudio

Take Me Home












07/03/18 Guadalajara
09/03/18 Mexico City
10/03/18 Mexico City
13/03/18 Lima
15/03/18 Santiago
17/03/18 Montevideo
19/03/18 Cordoba
20/03/18 Buenos Aires
23/03/18 San Juan
Against All Odds (Take a Look at Me Now)
Another Day in Paradise
I Missed Again
Hang in Long Enough
Throwing It All Away
Follow You Follow Me
Who Said I Would
Separate Lives
Something Happened on the Way to Heaven
In the Air Tonight
You Can't Hurry Love
Dance Into the Light
Invisible Touch
Easy Lover
Sussudio

Take Me Home












05/10/18 Ft. Lauderdale
07/10/18 Washington DC
08/10/18 Philadelphia
09/10/18 Boston
11/10/18 Toronto
13/10/18 Newark
14/10/18 Brooklyn
16/10/18 Montreal
18/10/18 Cleveland
19/10/18 Columbus
21/10/18 Minneapolis
22/10/18 Chicago
25/10/18 Oakland
27/10/18 Las Vegas
28/10/18 Los Angeles



Against All Odds (Take A Look At Me Now)

Another Day In Paradise


Throwing It All Away


Can't Turn Back The Years

Who Said I Would




Something Happened On The Way To Heaven

You Know What I Mean


In the Air Tonight
You Can't Hurry Love
Dance Into the Light
Invisible Touch
Easy Lover
Sussudio

Take Me Home












2019




Australia / New Zealand / Europe / USA















19/01/19 Brisbane
21/01/19 Sydney
22/01/19 Sydney
23/01/19 Sydney
27/01/19 Adelaide
28/01/19 Perth
29/01/19 Perth
01/02/19 Melbourne
02/02/19 Melbourne
04/02/19 Christchurch


Against All Odds (Take a Look at Me Now)
Another Day in Paradise
I Missed Again
Hang in Long Enough
Throwing It All Away
Follow You Follow Me
Can't Turn Back The Years
Inside Out
Who Said I Would
Separate Lives
Drum Trio
Something Happened on the Way to Heaven
You Know What I Mean
In the Air Tonight
You Can't Hurry Love
Dance Into the Light
Invisible Touch
Easy Lover
Sussudio

Take Me Home












06/02/19 Napier

Against All Odds (Take a Look at Me Now)
Another Day in Paradise
I Missed Again
Hang in Long Enough
Throwing It All Away
Follow You Follow Me
Inside Out
Who Said I Would
Separate Lives
Drum Trio
Something Happened on the Way to Heaven
You Know What I Mean
In the Air Tonight
You Can't Hurry Love
Dance Into the Light
Invisible Touch
Easy Lover
Sussudio

Take Me Home












02/06/19 Vienna
04/06/19 Lyon
05/06/19 Stuttgart


Against All Odds (Take A Look At Me Now)
Another Day in Paradise
Hang In Long Enough
Don't Lose My Number
Throwing It All Away
Follow You Follow Me
I Missed Again
Who Said I Would
Separate Lives
Drum Trio
Something Happened On The Way To Heaven
You Know What I Mean
In the Air Tonight
You Can't Hurry Love
Dance Into The Light
Invisible Touch
Easy Lover
Sussudio

Take Me Home



Mike + The Mechanics:


The Best Is Yet To Come
Another Cup Of Coffee
A Beggar On A Beach Of Gold
Get Up
Out Of The Blue
Silent Running
Let Me Fly
The Living Years
All I Need Is A Miracle
Over My Shoulder
Word Of Mouth










07/06/19 Berlin
08/06/19 Aarhus
10/06/19 Bergen


Against All Odds (Take A Look At Me Now)
Another Day in Paradise
Hang In Long Enough
Don't Lose My Number
Throwing It All Away
Follow You Follow Me (feat. Mike Rutherford)
I Missed Again
Who Said I Would
Separate Lives
Drum Trio
Something Happened On The Way To Heaven
You Know What I Mean
In the Air Tonight
You Can't Hurry Love
Dance Into The Light
Invisible Touch
Easy Lover
Sussudio

Take Me Home



Mike + The Mechanics:


The Best Is Yet To Come
Another Cup Of Coffee
A Beggar On A Beach Of Gold
Get Up
Out Of The Blue
Silent Running
Let Me Fly
The Living Years
All I Need Is A Miracle
Over My Shoulder
Word Of Mouth










12/06/19 Stockholm
14/06/19 Hannover
15/06/19 Hannover
17/06/19 Milan
18/06/19 Zürich
21/06/19 Cologne
25/06/19 Prague


Against All Odds (Take A Look At Me Now)
Another Day in Paradise
Hang In Long Enough
Don't Lose My Number
Throwing It All Away
Follow You Follow Me
I Missed Again
Who Said I Would
Separate Lives
Drum Trio
Something Happened On The Way To Heaven
You Know What I Mean
In the Air Tonight
You Can't Hurry Love
Dance Into The Light
Invisible Touch
Easy Lover
Sussudio

Take Me Home










20/06/19 Nijmegen
22/06/19 Cologne
24/06/19 Munich
26/06/19 Warsaw


Against All Odds (Take A Look At Me Now)
Another Day in Paradise
Hang In Long Enough
Don't Lose My Number
Throwing It All Away
Follow You Follow Me
Who Said I Would
Separate Lives
Drum Trio
Something Happened On The Way To Heaven
You Know What I Mean
In the Air Tonight
You Can't Hurry Love
Dance Into The Light
Invisible Touch
Easy Lover
Sussudio

Take Me Home










23/09/19 Dallas
24/09/19 Houston
26/09/19 Tampa
28/09/19 Atlanta
29/09/19 Charlotte
01/10/19 Detroit
02/10/19 Pittsburgh
04/10/19 Buffalo
06/10/19 New York C.
07/10/19 New York C.
09/10/19 Louisville
11/10/19 Omaha
13/10/19 Denver
15/10/19 Phoenix
17/10/19 San Francisco
19/10/19 Las Vegas


Against All Odds (Take A Look At Me Now)
Another Day in Paradise
Hang In Long Enough
Don't Lose My Number
Throwing It All Away
Follow You Follow Me
I Missed Again
Who Said I Would
Separate Lives
Drum Trio
Something Happened On The Way To Heaven
You Know What I Mean
In the Air Tonight
You Can't Hurry Love
Dance Into The Light
Invisible Touch
Easy Lover
Sussudio

Take Me Home