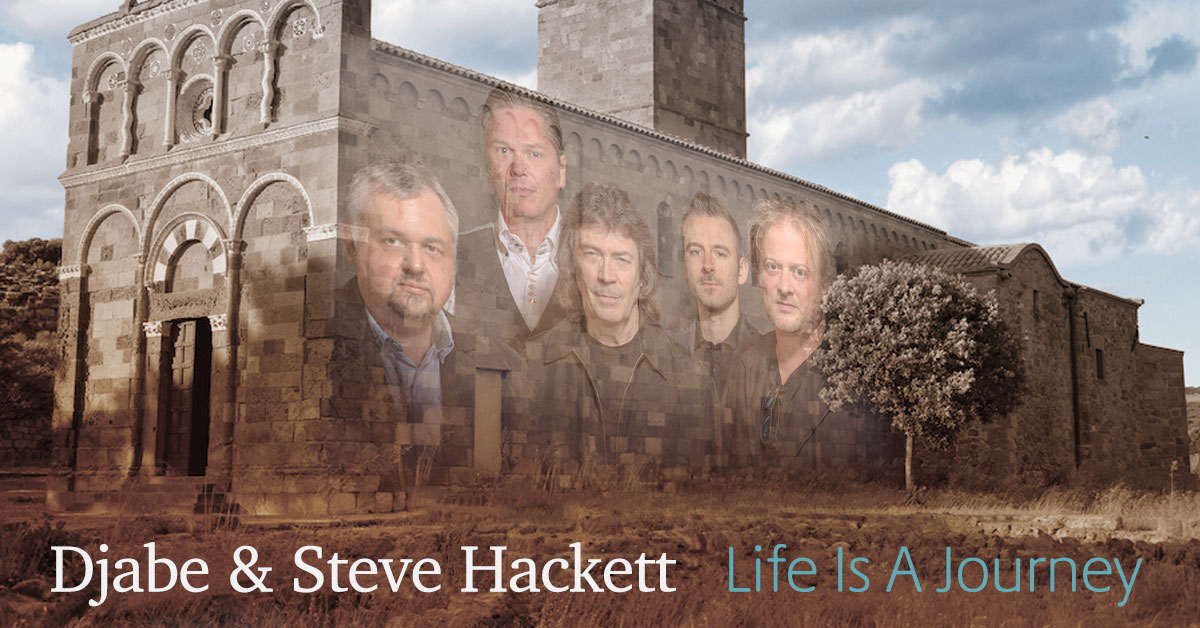 Djabe & Steve Hackett
Life Is A Journey – The Sardinia Tapes (2017)
Steve Hackett needs not be introduced here. The name Djabe, on the other hand, may draw a blank stare, so let me say a few words about this band first. Djabe is a jazz/fusion/world music band from Hungary who quite happily mix jazz with Hungarian folklore. Their name comes from Akan, an African family of languages, and means "freedom". Djabe was founded in 1995 by Attila Égerházi and other musicians. Over the years, their line-up has changed several times.
The collaboration between Steve and Djabe began when Attila took over the distribution of Steve's albums in Hungary in 1999. In 2002, he set up his first acoustic show in Budapest and produced the album Hungarian Horizons with him. In the year after that, Steve first worked with them on a Djabe album. They have played live together many times and produced songs as well. Steve has called Djabe "the best best I have ever worked with".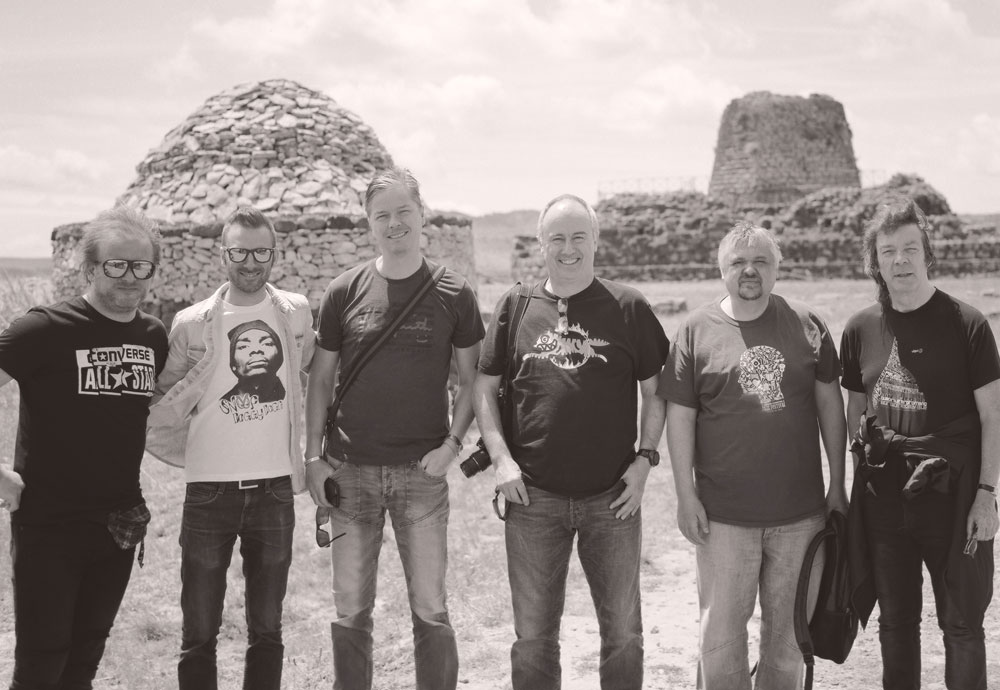 Though Djabe and Steve have played live together many times since then they had not got round to playing music in a recording studio. They always enjoyed performing together, so they decided to do that. They chose a special location for the recording and travelled to Sardinia for it. In a building adjoining the 1,000 year-old church of Nostra Signora di Tergu they set up their studio. Between jamming and recording sessions they explored the area and let themselves be inspired by the beauty of the island and its culture. After only three days they had enough material for an album. They recorded their sessions on analogue 24-track tapes. Tamás Barabás, Djabe's bass player then produced the album and its eleven tracks in Budapest.
Djabe consists of experienced virtuoso musicians who know their stuff. Except for Attila Égerházi, the longest-serving member is their bass player Tamás Barabás (since 1997). He plays a very colourful bass sound; his riffs can drive the melody forwards in the foreground, but he can also provide a gentle basis on top of which the other instruments weave their melodies. Attila Égerházi is a founder member of Djabe; he plays the guitar and keyboards, and it is through him that Steve found out about Djabe. Égerházi also played on Steve's album Out Of The Tunnel's Mouth, which shows how much he is appreciated. Of course, it is not always easy to note which guitar part is played by which musician. Áron Koós-Hutás is a real virtuoso on the trumpet. He joined Djabe in 2016. I do not like the trumpet all that much, but Áron inserts his trumpet parts so fittingly and harmonious into the overall sound of the music that it sound just right. The second guest musician besides Steve is the drummer. Gulli Briem is a jazz drummer from Iceland and a member of the band Mezzoforte. I really like the way he plays. He drums in a playful manner, puts down various layers of sound, but does not push into the foreground but carefully supports the track. I need not spend many words on Steve, just this much: If you expect a lot of "Hackett" you will be waiting in vain. Steve blends in with the band and plays his part in the music. You can easily recognize his solos, and sometimes there is a chord sequence, a small riff and you just know Steve played that – and that's it.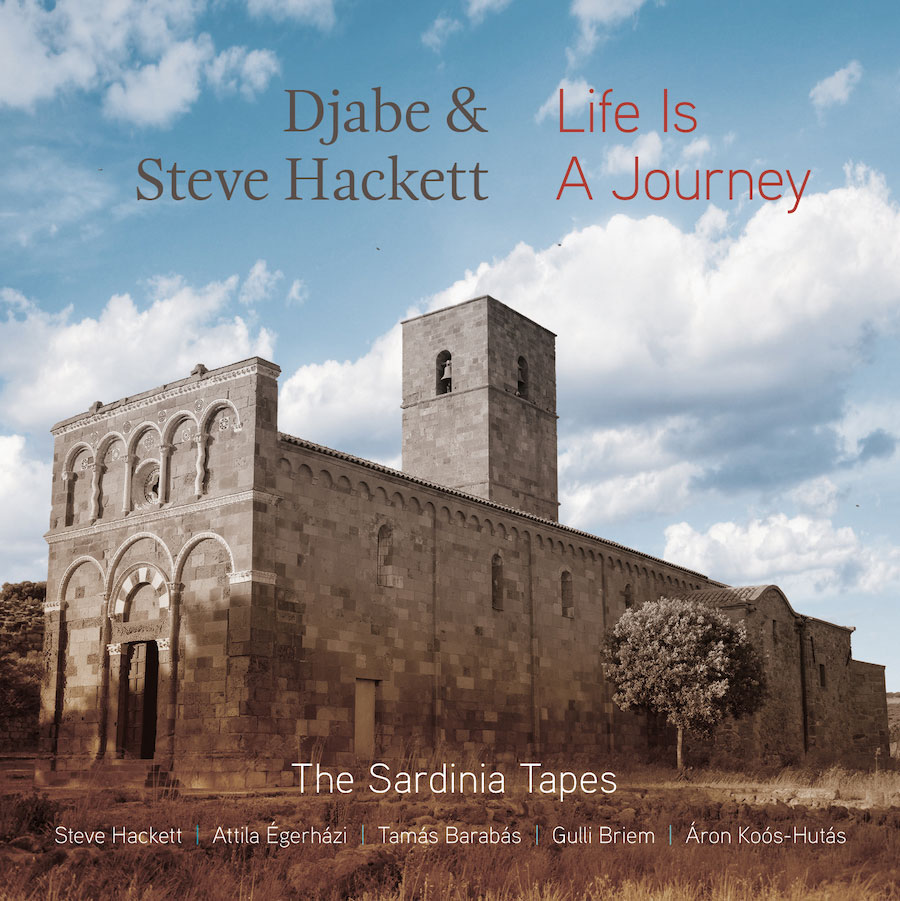 Now, what can we expect from the music? This is certainly not the Steve Hackett we know from his solo albums. Though I know his output quite well I could not name any song of his that resembled this music. According to Steve this music "washes out" the borders between progressive rock, world music and jazz. Apart from a few parts I cannot confirm that. This album is first and foremost a jazz album with some prog parts but without any world music elements.
The sound is very homogenous, light and smooth, though it has many intricately woven layers. I recommend a comfortable armchair and earphones. Instead of "Life is a journey" you could also say "this album is a journey", as the music does take you somewhere else. You can fall back into it as if it were a gentle cloud of sounds that carries you away. I sat down to "just briefly check out the album", but I got stuck and could not stop listening.

1 - Life Is A Journey - 9:41
The title song kicks off the album. Not the best choice, perhaps, because it is a bit quiet in the beginning. It is also the only song on the album to have vocals (backing vocals repeat the title line). The song changes in the middle becoming more complex and interesting. The last quarter is quiet again and slowly comes to an end.
Writing this (and having listened to the track for many times) I realize that this track mirrors life and its different phases.

2 - Golden Sand - 7:05
A smooth composition, ideal to relax to. A lonely beach, the sun goes down and throws this strong golden light onto a lovely natural landscape. The low angle of the light creates an interesting play of light and shadow in rich, strong colours. If you are into photography you know what I mean. That is what I see before my eyes when I listen to this music.
Towards the end there is a strong part where acoustic guitar is accompanied by a calm bass that brings in some fine accents. Steve adds his typical sustained guitar soundscape to the music.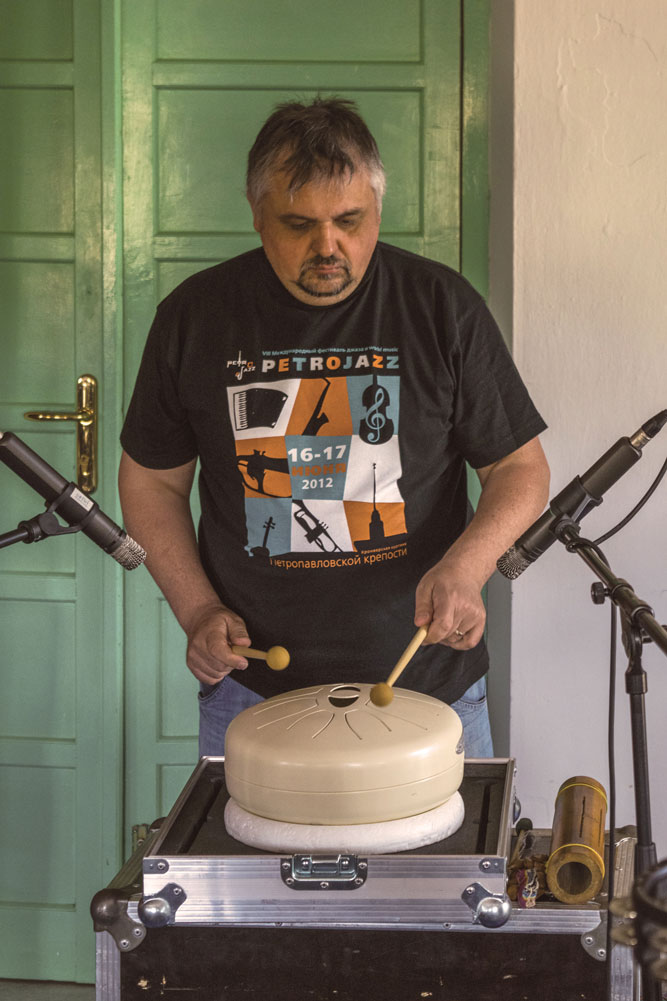 3 – Castelsardo At Night – 8:22
This track introduces the strongest part of the album. Castelsardo is a little village in Sardinia's North near Tergu where the album was recorded.
It begins with a bass melody that is accompanied by keyboard sounds. The Steve's guitar comes in (at least, I guess it's Steve) and the trumpet. This track, too, creates a mood or paints a picture that is taken up by each of the instruments and detailed in unobtrusive solos. Towards the end it is Steve again who weaves his guitar sound very tastefully into the overall sound picture.

4 – What's The News Antonio – 6:30
One of the highlights – and I would like to know where the title comes from. The album picks up momentum. The track begins with bass and a melody, to which it keeps returning after the instrumental solos. Tamás, the bass guitar player, does an outstanding job here – it is very worth while to listen particularly to the bottom end.

5 – Around My Mind – 11:30
This is the longest track on the album, and its second half contains some of the strongest parts on Life Is A Journey. The track begins quietly, and the first half is dominated by the trumpet. The track accelerates around the middle. Steve's guitar comes in very strongly, and we hear the most progressive part of the album. This is a real rocker but for the trumpet that plays a very accomplished solo. The song finishes quietly with another, shorter solo of Steve's.

6 – Beams Over The Nulvi Mountains – 6:07
A picturesque beginning. The trumpet represents the sunbeams over the Nulvi mountains. Nulvi is another village near the place where the album was recorded. Steve's guitar adds some colour and complements the trumpet. The song is quiet, it concentrates on atmosphere and mood – though one might also say that this makes it seem a bit simple and boring.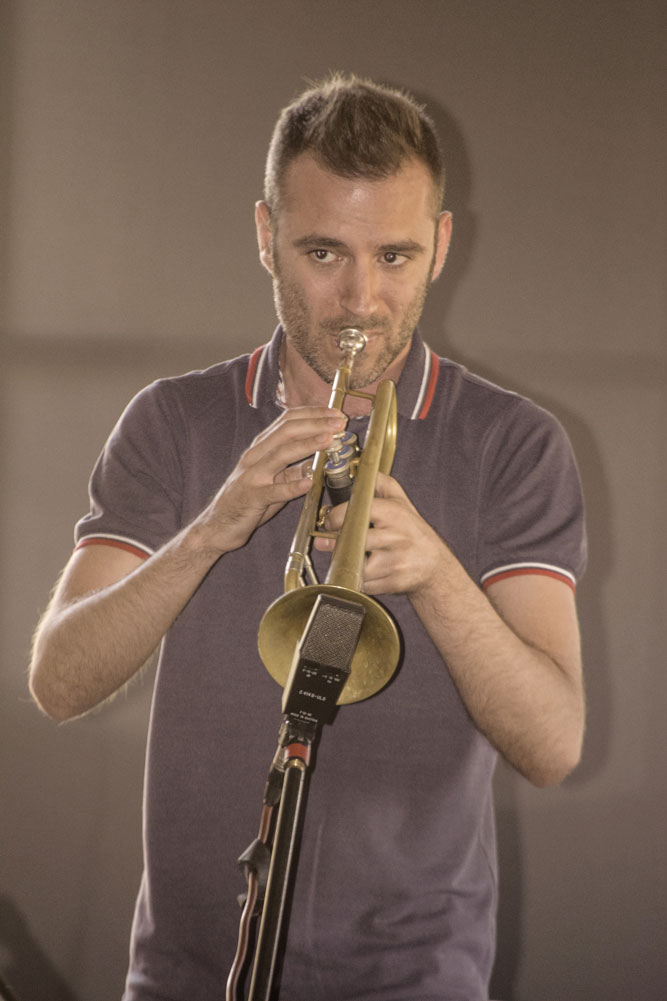 7 – Building A Nuraghe – 4:41
This is a shorter track and, to my mind, one of the weakest on the album. There is a strong focus on rhythm, and the instruments play repetitive tunes. The tracks grows on you, though, and I like it much better today than when I first listened to it. Nuraghe, incidentally, are prehistoric towers that have become a symbol of Sardinia

8 – Buzzy Island 4:13
Time to groove. Wonderful beginning with a great, rhythmic bass rhythm that pervades the whole track. The guitars and the trumpets add minor solos, while Gulli Briem burns off a fireworks on his drumkit in the background.

9 – I Will Always Remember – 6:32
Another quiet track with lots of trumpet, coloured by acoustic guitars. In the middle of the song, Steve plays in a way that reminds me of Walking Away From Rainbows in another context. You could also call it sugary.

10 – Wake Up 2:15
The shortest piece on Life Is A Journey, and the one with the most beats per second. As on Buzzy Island, drums and bass are the driving force, with Gulli Briem taking the lead here. A fine groove, good fun. This could have gone on for a couple of minutes longer; the song idea ought to have been developed further. Pity.

11 – After Limoncello – 5:49
A quiet song without a climax, a bit boring perhaps. Still, it contains all elements and peculiarities of the overall album, so you could say it was an average track

L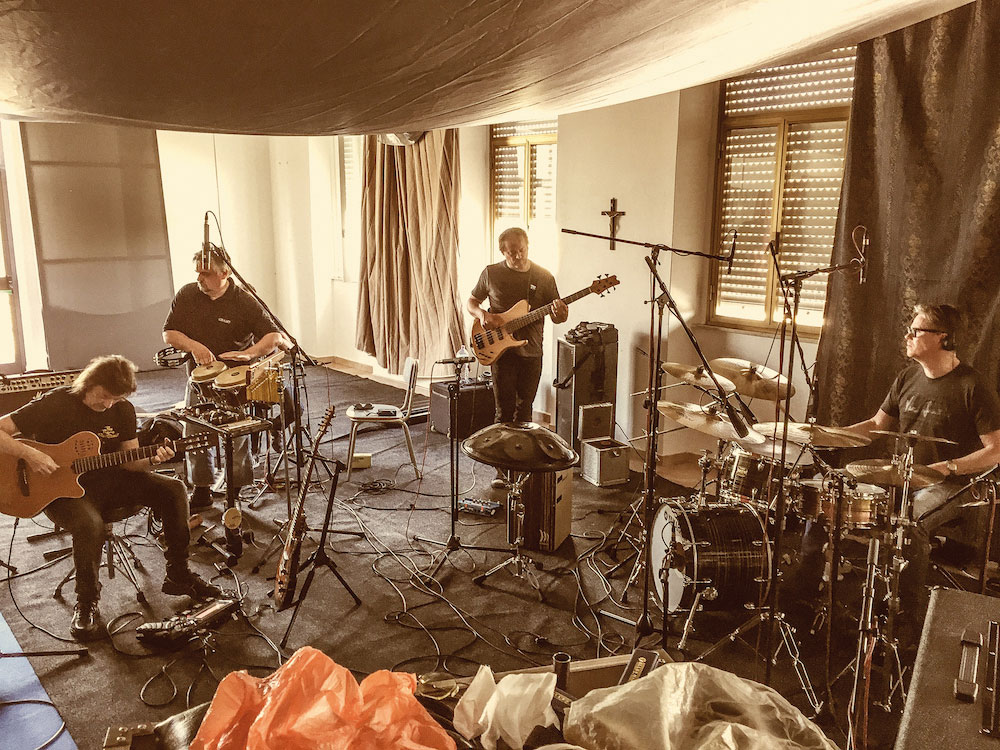 ife Is A Journey: The Sardinia Tapes is a very accomplished album. The tracks are very consistent, as is the album. The musicians are really most professional, top of the range. They work very well together, and everybody does their bit for the music. It is a (near) instrumental album, for there are no vocals except for the first track.
Most tracks are carried by the rhythm section, supported by atmospheric keyboard sounds. Guitars and trumpets add the melodies and embark on minor and major solos. The trumpet is an unusual instrument for many. Apart from the guitars it is the only instrument that goes into the foreground; that's what the instrument is like.

The sound is very atmospheric, smooth and chillaxing. It envelops the listener and takes them on a journey. A fine album for a comfy winter's evening in an arm chair as well as for a glass of red wine to enjoy while you sit on the patio and watch the sun go down on a warm sommer evening. My choice of words indicates that the music creates images and atmospheres in my head – which is exactly what people might criticize who do not like this kind of music. You could say it is all too soft and too streamlined. At times, the sound may seem too sweetly romantic, too ethereal, too schmaltzy even.
The tracks have similar sounds and structures, which is good if you like it and bad if you do not like these particular structures and sounds. The trumpet, too, is likely to cause strong opinions. I am not a particular fan of the instrument, but I do think is fits well and it played well on this album.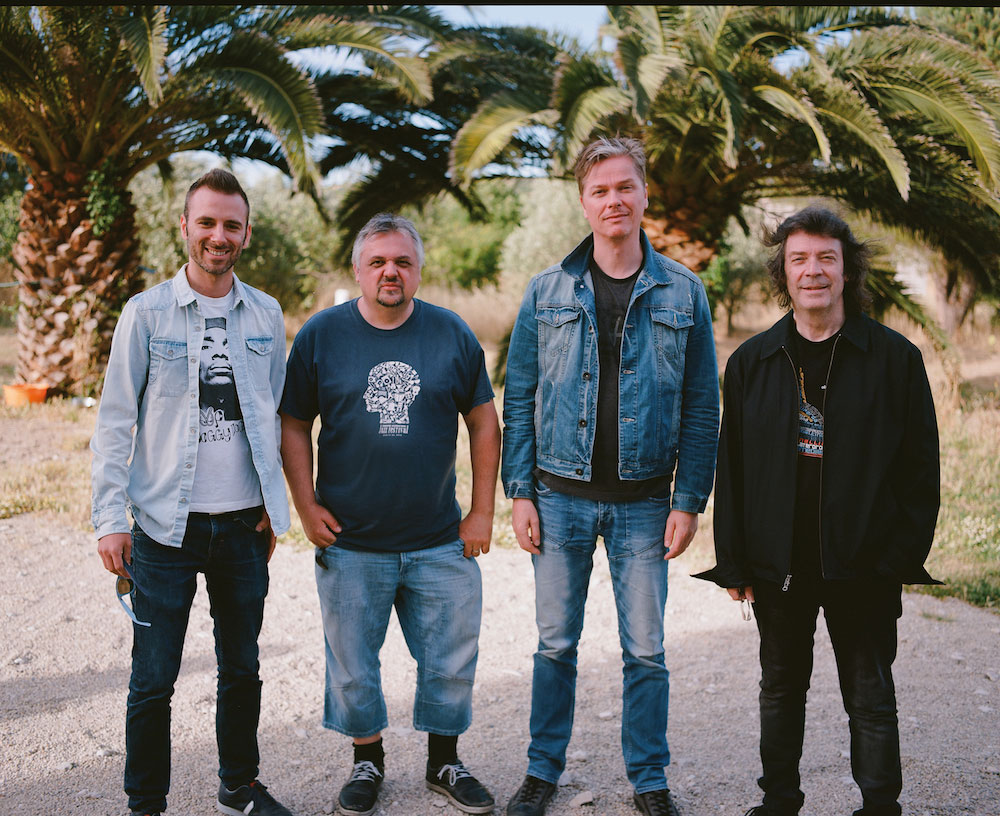 I think this is the best album Steve has made since his first albums. As in the classic Genesis period he appears to be strongest when he can add his bit to a larger piece, bringing something special to it with his particular talent for adding atmospheric sounds. Though I already noticed it on Squackett, it is much stronger here. Sharp tongues might say the album was so good because he does not sing or smother the tracks with too many ideas.
It is recommended listening for all who enjoy smooth, melodious jazz sounds. You can check out the tracks What's The News Antonio? and Around My Mind online (on YouTube).
Besides the CD there is a DVD with the audio content as high definition stereo and 5.1 dts mix. It also includes video material: A five-minute film on how the album developed (complete with the title track) as well as a recording of the pieces from a show in Budapest.
While Walking Away From Rainbows sticks close to the original version, they also play a very interesting instrumental version of Fly on A Windshield and an accomplished version of Please Don't Touch with the trumpet. The Budapest Jam is very funny – all six musicians take turns at playing a rhythmic jam with the same percussion instruments. The final track is a Djabe classic, Clouds Dance.
Line-Up:
Steve Hackett – Gitarre
Gulli Briem – Schlagzeug, Percussion
Tamás Barabás – Bass, Gitarre, Software, Percussion, Vocals
Áron Koós-Hutás – Trompete
Attila Égerházi – Gitarre, Keyboards, Percussion
Author: Zoltán Kelemen
English by Martin Klinkhardt

Photos: Djabe / Attila Égerházi
Life Is A Journey: The Sardinia Tapes
is available on CD/DVD and 2LP in the Djabe
webstore
, at
Amazon
and
CherryRed
.