Steve Hackett - "Out Of The Tunnel's Mouth"
It appears that the former Genesis guitarist has reached the light at the end of the tunnel without major injuries. The time since his previous band album Wild Orchids came out in 2006 was marked by major upheavals in Steve Hackett's life that led him into the afore-mentioned tunnel: He first divorced his wife Kim Poor, which ended a symbiosis of two artists who each inspired the other, and stopped working with his manager of almost 20 years Billy Budis. Tribute, the 2007 album of classical music, was the final release of Steve's on the Camino label owned by all three of them.

A new website named after his new publisher Hackett Songs, a new label Wolfworks Records and a new woman at his side show that with Out Of The Tunnel's Mouth Steve Hackett is ready to start over at age 59.

Is the album a new beginning musically? No. The musicians on the current production are familiar parts of the Hackett universe, and the new songs will not scare off anyone who knows his previous albums. The album was recorded in Hackett's living room in close cooperation with Roger King who wore the hats of co-producer, co-writer and keyboarder and did an amazing job at programming all the drum tracks. What has come out of this very intimate way of working?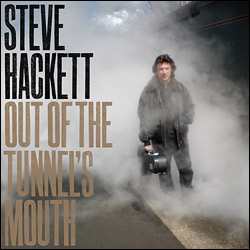 1 Fire On The Moon

(Hackett)
"The most honest thing I've ever written" is what Hackett says about the six-minute opening song of the album with which he also began his concerts last summer [2009]. The song turns the pain of separation and the hard farewell to a life that had meant security and well-being for a long time into intimate vocals accompanied by acoustic guitar picking and a Musical Box bit that are interrupted by majestic, longing choir parts with drums and "bolero" bass played by Yes legend Chris Squire. Steve makes his electric guitar sing again at the end.
2 Nomads

(Hackett / Lehmann)
The second piece begins with quick runs on a classical flamenco guitar a la Hackett. They turn into "gypsy grooves" when sparse percussion comes in. Hackett's homage to Andalusia grows into a fiery flamenco part complete with stomping and clapping before the piece turns into a fast rock number with a solo on the electric guitar.

3 Emerald And Ash

(Hackett / King)
Emerald And Ash is the longest song on the album. For the first five (of nine) minutes you will feel as if you were lying on a wonderfully comfortable sofa. After the brief orchestral intro, one will almost float away among the relaxed programmed grooves, gentle sounds from the piano and the bass and Steve's choral vocals. One floats even higher in the chorus where Anthony Phillips comes in with his aery 12-string guitar. Threatening intermezzo point at what the lyrics are about: "The honey trap may close softly around you before you know it". All of a sudden rough drums and weird guitars will open your eyes and ears.

4 Tubehead

(Hackett / King)
Hackett has a blast during this instrumental. Fast drumbeats and a galloping bass are the foundation for three and a half minutes of a "distortion thunderstorm" we rarely get to hear from Steve. This is Hackett fighting a guitar battle with (against?) himself. Distorted sounds from both keyboard and guitar, lots of riffs, tappings and strange time signatures make it a challenge to follow this tour de force.

5 Sleepers

(Hackett / King / Lehmann / Clabburn)
From the way this 8 minute song begins one could easily mistake Sleepers for a sequel to the Genesis classic Hairless Heart: A melancholy motive on the classical guitar is accompanied by a string ensemble. When the vocals come in the song turns into a soft ballad with a couple of piano notes, gentle drums and lots of ambient sounds. This is a typical Hackett song, though, and therefore things do not stay that way: "all the sleepers send you their dreams" was the text message that inspired this dream collage. It turns into a heavy blues rock part halfway through the song before the speed doubles and turns the piece into a hectic, soundtrack-like collage with orchestral bits in it.

6 Ghost In The Glass

(Hackett / King)
Jazzy Rhodes piano and improvisations on the acoustic guitar kick off this relaxed short instrumental. Later a wistful solo on the electric guitar is supported by cool drums, excellent fretless bass by Nick Beggs and an epic string section.

7 Still Waters

(Hackett / Lehmann)
Steve Hackett describes this 6/8 piece with its slow blues groove as "blues meets gospel in New Orleans". Lots of female voices in the choirs for the chorus sit next to bluesy guitar work on both electric and slide guitar.

8 Last Train To Istanbul

(Hackett / King / Lehmann)

The album closes with a mixture of sounds from the orient and Hackett's roots in western music. Steve's vocals and oriental orchestra cues take turns. Add to that several sitar solos by Steve, Rob Townshend on soprano sax, John Hackett on flute and Ferenc Kovacs on violin and spread it across a foundation of assorted percussion loops with some mighty drum beats.


Fans had to wait longer than usual for Steve Hackett's new band albums. If you liked previous records such as To Watch The Storms or Wild Orchids you will enjoy Out Of The Tunnel's Mouth. We are treated again to 45 minutes of varied and detailed music that shows influences from classical music as well as straight rock and excursions into world music. Not a bad starting point for those who would like to discover this millennium's Steve Hackett – and a welcome musical update for all who already know Hackett's solo works…

by Steffen Gerlach
translated by Martin Klinkhardt
The musicians and the production
There are a number of musicians on Out Of The Tunnel's Mouth, and some of them, notably Anthony Phillips, are quite a surprise. The album was recorded in Steve Hackett's living room. The numbers behind the musicians indicate on which songs they played.
NICK BEGGS – bass, Chapman Stick (2, 3, 5, 6, 7)
DICK DRIVER – double bass (5)
JOHN HACKETT – flute (5, 8)
STEVE HACKETT – guitars, vocals (1 – 8)
ROGER KING – keyboards, programming (1 – 8)
LAUREN KING – backing vocals (7)
FERENC KOVAKS – violin (8)
AMANDA LEHMANN – vocals (3, 5, 7)
JO LEHMANN – backing vocals (7)
ANTHONY PHILLIPS – twelve string guitar (3, 5)
CHRIS SQUIRE – bass (1, 2)
CHRISTINE TOWNSEND – violin, viola (5, 6, 8)
ROB TOWNSEND – soprano sax (3, 8)
producers: Steve Hackett, Roger King
More information
Steve Hackett has included a couple of comments about each song in the press sheet.
Fire On The Moon:
The difference between a long dark threatening tunnel and a triumphal arch is only one of perspective. Listen out for Chris Squire's bolero rhythm bass and Roger King's haunting keys.
Nomads:
Beneath the blur of the castanets...
Homage to Andalusia, Flamenco and the indomitable spirit of the gypsies.
Emerald And Ash:
To quote Milan Kundera, a truth and an illusion can wear the same mask.
This track features Anthony Phillips' glorious twelve string work.
Tubehead:
Death by Marshall Cabinet – A suitable end for errant dilettantes and all ye who resist conversion to the true faith...
Sleepers:
Death by Marshall Cabinet – A suitable end for errant dilettantes and all ye who resist conversion to the true faith...
The bizarro world of dreamscapes with all their unstoppable phantasmagoria.
From the gentle violin and viola of Christine Townsend and the rich bowed double bass of Dick Driver to Roger King's Drums from Hell and Amanda Lehmann's perfect harmonies
Ghost In The Glass:
The ghost of the past meets the ghost of the future...
Exquisite fretless bass playing from Nick Beggs.
Still Waters:
The pulse of New Orleans – Storyville put to song.
The Last Train To Istanbul:
Riding on the coat tails of the East on a runaway train from Europe. Killer solos from bandit crew en route... Rob Townsend, John Hackett and Ferenc Kovacs all playing like frenetic whirling dervishes.
Label and pre-ordering

Out Of The Tunnel's Mouth is released by Wolfworks Records. The German distributor is not yet known. It will not be available in stores anymore this year [2009] but can be bought only at Steve Hackett's concerts. You can also buy it from the web shop of Steve Hackett's official homepage. The album was to come out on October 05, 2009. The release was postponed for legal reasons, and the new date is now October 18, 2009. Material from the album will be played on the tour.
Links

Steve Hackett's official website
Train On The Road - tour dates 2009