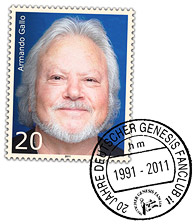 Long live 'it'

Armando Gallo about Genesis and 20 years of 'it'


When I was preparing to write my Genesis book in the summer of 1977 I envisioned the ultimate Genesis fan by my side. I needed his/her presence in order to pull out, from the many hours of taped interviews, the essence of Genesis story. I realized that I wasn't writing the book for the band, but for all the hard-head Genesis fans around the world. I wanted to reach all those people that discovered Genesis raw magic within albums like Nursery Cryme and Foxtrot. And then discovered Trespass and From Genesis to Revelation. With Selling England By The Pound came the confirmation of love for a great band; and then the celebration of The Lamb Lies Down On Broadway.

A Trick of the Tail was a pleasant surprise.

And when Tony Smith, Genesis manager came to my house in Los Angeles to see how the book was coming along and he played me an advance copy of And Then There Were Three. Well, that put a smile on my face as we both realized that Genesis, even without Peter, was destined to become a huge force in the music world.

The book was also ready for the new fans.

Genesis fans were always important to me. The book was for them. In fact, when I did a numbered limited edition of 1000 copies bound in leather I gave Genesis copy 1000, 999, 998, 997 and 996. Tony Smith got copy 995 (taken away by his wife when they divorced in the late '80). Number 1 and 2 went to Greg Krug in Vancouver and Ken Rubin in Los Angeles, two big Genesis fans: "If you do a leather-bound edition" they told me "I pay 100 dollars for it."

When I updated the book and published it myself in USA, in 1980 as Genesis I Know What I Like, I put the name and address of the first two fans clubs to appear in England and in Montreal, Canada.

A few years later I heard about it in Germany and Dusk in Italy.

And one day, out of the blue, I got a pleasant invitation from Helmut to come to Germany as a guest of the annual fan club meeting.

So I stopped in Frankfurt on my way back to LA from the Rome film festival in 2006 (I have been covering the movie world for the past 20 years) and I was met at the airport by Helmut who told me the great news that John Mayhew was also a guest.

John was Genesis' drummer in Trespass and when I was researching the book he couldn't be reached anywhere. That would have been our first introduction.

It was good to meet John that week end. He was a humble man and he didn't have an easy life after leaving Genesis and the music world all together. He was a carpenter at heart and after living in Norway and Australia he went back to England and he was now living in Scotland. Just the year before he finally got his first check for royalties due to him for world sales of Trespass.

"The couldn't find me" he said to me gracefully. Anthony Phillips met up with him the previous year at a Genesis Convention in London after so many years. "I gave him my address and he talked to Mike Rutherford," John told me. "And a few weeks later I got a letter from Genesis management with a check for £72.000. Hopefully this is my retirement." He added with a smile. It was sad to hear of his death a few years later.

We talked about his time at "the cottage" in the winter of 1969-70 when Genesis were trying to become a band and find their own sound. "I don't remember much of those days", John said, "I remember Peter always on the phone trying to get us a gig. There wasn't a phone in the house, so he had to go down the road to a public phone, always looking for coins. It was cold and we had little money and I do remember cooking lots of stews and making seats to fit in the van that we used to drive to gigs with all the instrument. It was tough and in the end I gave up music all together."

Helmut and the guys of it fan club were very kind and hospitable. We were in a town hall in a village called Welkers. The hotel was behind it and we all had dinner in a restaurant nearby. The beer was good and the company even better. The following day fans arrived from everywhere. I started shaking hands, autographing books, photos, a couple of T-shirts even. Energy started to rise. Try and have your hand shaken by a couple of dozen people who express admiration for you: it's pure electricity!

Before coming to Germany I went to Genesis management in London to pick up some slides to show to the it fans. Throughout the years I shot for the band or I left dupe copies of my slides with their office (I don't know why they didn't use the for the box collections¡K) So I fill them up on a carousel and did a good ol' fashioned slide show commenting each photo. Did anybody shoot a video of it? It came out so well that after the half hour presentation an incredible applause filled the hall. It was such a big, solid, heartfelt ovation that I started having goosbumps. And these beautiful people kept it up - applauding and applauding so much that I ran in front thanking everybody. Beautiful people, great smiles, cameras going, taking pictures of me! John Mayhew was applauding too, as he was seating on the side by the front row. And it was time to be interviewed by Christian.

The interview is still online and I went to read it a couple of times. It's a good souvenir of a wonderful week end with a bunch of gracious people who still do things with love in their heart.

Long Live it! And thank you for keeping the torch alive.

One Love,
Armando Gallo
www.armandogallo.com
(UA309 flight London-LA October 24, 2011)